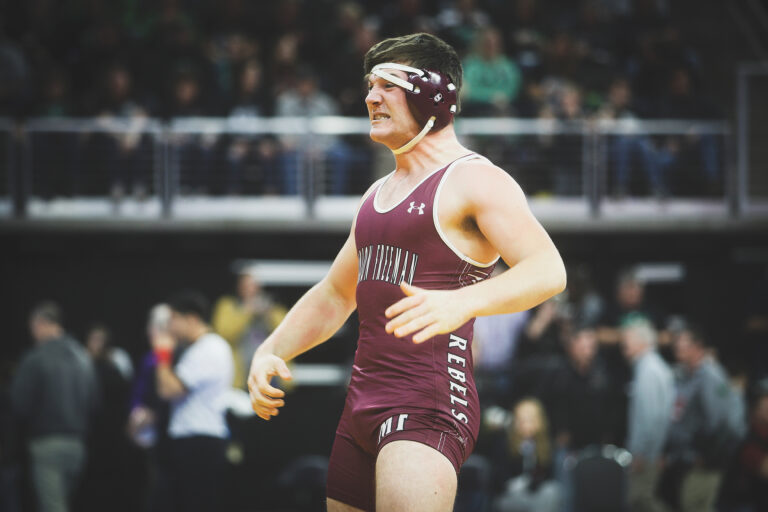 sports
SMITH POWERS WAY TO 6TH
When Freeman High School junior Clayton Smith took the mat against Winner's Preston Norrid in the quarterfinal round of the State Wrestling Tournament's Class B division Thursday, Feb. 27, this much he knew.
He knew that he had never faced the fellow junior, who had posted a 28-12 record during the regular season — not quite as good as Smith's mark of 38-10, but still plenty respectable. He knew that a win over Norrid would assure him his first state tournament medal, and that he could finish no worse than sixth. And Smith knew that an early lead in the match would be critical in what appeared to be an evenly matched battle at 220 lbs.
So when Smith got Norrid all wrapped up and on his back, and then pinned him mere seconds later, perhaps nobody in Denny Sanford Premier Center was more surprised — and pumped up — than Smith. The look on his face says it all.
"I had never wrestled the kid before, so I didn't know what to expect; I just went out there ready for anything," said Smith, whose win over Norrid came in just 1 minute, 11 seconds and about four hours after Smith won his opening-round match by fall in just 21 seconds. "It was over a lot quicker than I thought it was going to be."
Coming off a strong third-place finish at the Region 5B Tournament less than a week earlier, Smith — who was joined at state by Marion/Freeman teammates Ethan Ortman and Daniel Cremer — looked ready to go in the first round against Sisseton's Devon Appeal early Thursday afternoon, pinning the junior in just 21 seconds. That set up the quarterfinal showdown with Norrid.
"The first person who scores in a match like that, you kind of know how it's going to go," Smith said of his mentality going into his second-round battle. "So that first score matters a lot and I was fighting for it. And I ended up getting the pin."
Smith's win over Norrid put him one match away from wresting for the 220 lb. state title, but it also put him in a semifinal battle with KJ St. Pierre, a senior from Wagner who entered the postseason 35-0. Smith had seen St. Pierre earlier in the season; while he had him on his back and in position for an upset loss, Smith knew a win would be an upset.
"It's a big match," Smith said. "He'll out-wrestle you, but if you can throw him, it can turn the match around."
That didn't happen. Competing in his only match on the second day of the three-day tournament, Smith battled St. Pierre in the early going but found himself on his back before getting pinned by the eventual 220 lb. champion at the 1:11 mark. That moved Smith into the consolation bracket on Saturday, where he lost a pair of matches to finish sixth. Smith dropped a 4-2 decision to Wessington Springs sophomore Quinten Christensen (44-7) and then, in the fifth-place match Saturday afternoon, got pinned by Hot Springs junior Marcus Harkless (35-7).
"I think I could have done a lot better, but I'm also happy with what I got," Smith said after the tournament. "Last year I didn't place at all; being on the podium is a good feeling, but I'd like to be higher up. I just have to work harder to come back next year."
Smith wasn't the only Rebels wrestler to bring home hardware from the Class A and B State Wrestling Tournament, held over three days at the Denny Sanford Premier Center in Sioux Falls late last week.
Cremer (37-13), a senior from Marion and the Region 2B runner-up at 152 lbs., found his way onto the podium thanks to an eighth-place finish. This was Cremer's fourth state tournament and second state tournament medal; he was seventh as a junior last season.
"I know he wanted to place higher on the podium, too," Smith said of his friend and teammate, whose path to eighth place included two key wins: A 10-7 decision over Redfield Area's Cullen McNeil (28-13) in the opening round on Thursday and then a 6-5 decision over Sunshine Bible's Teigan Clark (30-11) in the second round consolation bracket on Friday.
Cremer's losses came on a 5-3 decision against Wagner's Preston Nedved (34-12) in the quarterfinals, a 12-3 major decision against Elk Point-Jefferson's Brody Weavill (36-12) in the third round consolation bracket and a 9-4 decision against Custer's Irail Griffin (41-12) in the seventh-place match.
"I watched him give everything he had and leave a piece of himself on that mat," Cremer's dad, Chad, wrote in an emotional and heartfelt Facebook post on Monday that spoke to Daniel's commitment and love for the sport and the program to which he was committed. "A young man that begged to wrestle like his brother at the age of three, that showed up at high school practice as a fifth grader asking coach to work out with the big guys, the kid I have watched become a leader and a mentor to the younger guys on the team, wrestled his final match this Saturday at the 2020 South Dakota State Wrestling Tourney."
Chad noted the coaches who worked with Daniel over the years — Chris Sayler, Bryce Sayler, Jeff Wollmann and his Chad's oldest son, Michael. "You did more than help him become a better wrestler; you mentored a young man," he wrote. "He has learned how to overcome adversity and handle it with grace and poise. In our hearts, we will forever be a part of the Rebel family."
Marion/Freeman's third state qualifier, Ethan Ortman (31-22), found his way to his first-ever state tournament win last week, defeating Bon Homme senior Riley Hellmann (20-18) in the first round consolation bracket. Ortman, who finished third at 145 lbs. in the Region 2B Tournament, actually put himself in a position to upset Canton's Seth Peterson (45-15) in the opening round, trailing at one point 2-4 before dropping a 10-6 decision; Peterson went on to finish as the 145 lb. runner-up.
"I told him we needed to keep it close," head coach Chris Sayler said after the match, "and he did."
"I gave it everything I had," Ortman said. "I left it all out there."
Ortman's win over Hellmann Friday morning kept him alive, but his season came to end in his next match when he was pinned by Redfield Area's Mason Fey (46-6).