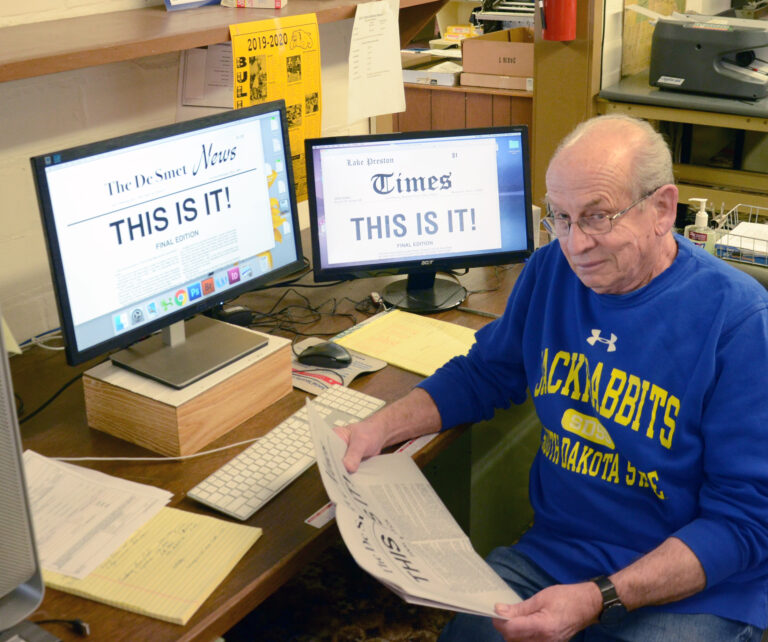 south dakota news watch
Pandemic puts SD weekly papers in peril
Loss of advertising and circulation revenues due to the COVID-19 pandemic are putting some South Dakota weekly newspapers on the brink of closure. Here is South Dakota News Watch reporter Bart Pfankuch with a report.
The financial crisis for the state's roughly 110 weekly newspapers hit home in April when the owner of the papers in De Smet and Lake Preston decided to close them after nearly 140 years in operation.
All newspapers are suffering from the shift of news to the internet and reduced interest in reading newspapers among young people. Daily papers have reduced publication days and cut employees. Weekly papers have cut pages per issue, and some are struggling simply to make ends meet.
Things have gotten worse during the COVID-19 pandemic, in which thousands of businesses have closed temporarily to stop the spread of the deadly virus, and many of those businesses are no longer advertising in their local papers.
Weekly papers are especially vulnerable due to location in small towns and their fairly low circulation numbers. But those small-town papers, publishers say, are critical components of a healthy democracy and are often the only way rural residents in South Dakota can know what their schools, government agencies and local residents are up to.
Losing those papers can create what are known as news deserts, where residents become less informed about their communities and small towns lose what in some cases is the only check on the actions and spending by government agencies and elected officials.
Weekly publishers are hoping they can ride out the pandemic, and bounce back when local businesses reopen. In the meantime, they are trying to find ways to cut costs and keep their small papers coming out each week.
For South Dakota News Watch, I'm Bart Pfankuch.
For much more on this story, please go online to sdnewswatch.org.