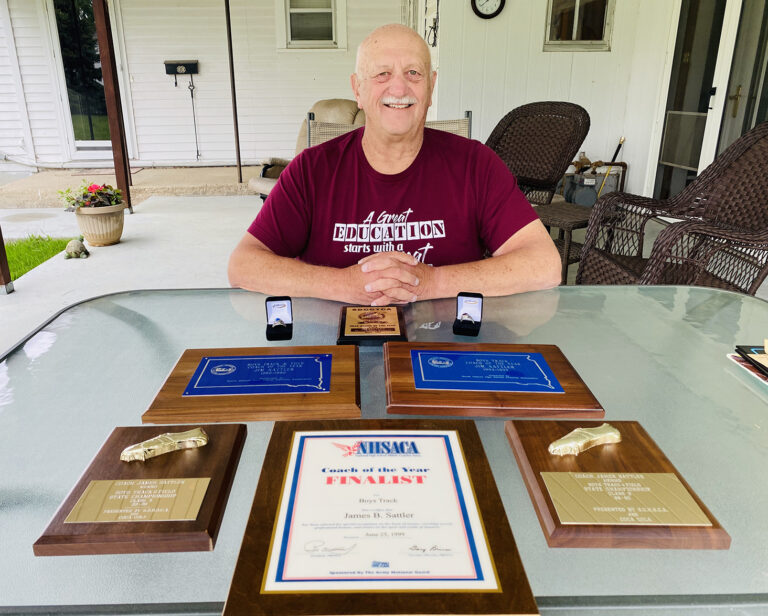 sports
THE DAYS OF HIS LIFE
Here is something you need to know about Menno's Jim Sattler: The guy was a heck of a track coach.
Shortly after his arrival at Menno High School in 1983, the Avon native quickly recognized both a need for improvement within the program and the potential that lay within a younger group of boys that would soon be coming up through the ranks. 
Sure enough, it wasn't but a few years later that Menno track became a picture of excellence in South Dakota's Class B ranks, the Wolves one of the most feared teams in the state and the program perhaps the greatest dynasty in Menno school history. Beginning in 1987, the Wolves embarked on a stretch of 11-straight Region 5B boys track titles and 12 in 13 years, winning most by as many as 100 points. The only team that disrupted what would have been a 13-year run was Freeman in 1998, the year a loaded squad stole the 5B crown before going on to claim the class B title.
The Wolves also memorably won back-to-back state championships in 1989 and 1990, came within a handful of points from winning it again in 1991 and finished in the top four at state seven times in nine years, from 1989 to 1998.
And Sattler's impact as a coach was also recognized on a state level beyond the titles, and even on a national level. He was named Boys Track Coach of the Year by the South Dakota Coaches Association following the 1989-1990 and 1994-1995 seasons, was named the South Dakota Cross Country and Track Coaches Association Head Coach of the Year in 1994 and was a National High School Athletic Association Coach of the Year Finalist in 1999, attending an awards ceremony in San Diego.
Here is something else you need to know about Jim Sattler on this, the 30th anniversary of that second state title: He remembers all of it like it happened last weekend.
He remembers that Ryan Oplinger won the pole vault at state both of the championship years, and that he cleared 13-0 his junior year and 13-6 his senior year. He remembers that the Wolves had 20 points the first day in 1989, qualified all five relays for finals and won the title with 48 points. He remembers that, in 1990, he had 16 boys competing in 16 events, and that two of them were freshmen in the long jump and another freshman competed in the triple jump.
He remembers the names Jeff Lee, Gary Ptak, John Van Stedum and Kenley Ulmer, who were state champions in both the 800- and 1600-meter relays in 1989 and still hold the school record in the 1,600-meter relay (3:29.27) … but how could he forget?
"Everybody in the state knew who they were, because …" 
But Sattler can't finish, because emotion overtakes him. The 72-year-old broke down on several occasions as he recalled those days on a picture pefect morning late last week while seated at a table on the back patio of his Pearl Street home, where back in the day he converted his brick garage into a weight room for the guys to come to and lift. 
So why the emotion, coach? 
"It's the kids and how lucky I was," says Sattler, who grew up in Avon and taught in Philip and Springfield before coming to Menno in the fall of 1983 to teach science and coach. "They were just good kids. Thirty years later, you still think about the effort. When we got to the track, they knew they were going to win it. That's just the mindset they had in those years."
1957 AND 30 YEARS LATER
Sattler admits there was a learning curve for both him and his student-athletes in those early years. He didn't know a lot about track when he came to Menno, and the Wolves hadn't found much success prior to his arrival, although the boys track team nearly — and probably should have — brought home the title in 1957 at Kernel Stadium in Mitchell. It would have been the school's second state championship in as many years; Menno won the six-man football title in 1956.
That 1957 track team saw Bill Headley win the 440-yard dash in 51.6 — which set a new state record — and finish runner-up in the 220, a race that Headley thinks to this day he should have won in a close finish with Bridgewater's George Gross.
"I stuck my chest out at the end and I thought I had him," Headley told The Courier. "It was close."
Headley was also the anchor carry on the winning mile relay team that also included Vernon Handel, Marvin Goehring and Elton Streyle. Goehring also finished third in the low hurdles to round out the scoring for the Wolves, who ended up with 17 points (five points each for the wins, four for Headley's second and another three for Goehring's third). 
But it wasn't enough to top Yale, which finished with 21½ points. Headley believes Menno should have won the title easily, but for a few mistakes. The biggest came on the team's 880 relay preliminary run, when the third runner, Streyle, slipped and fell on a wet track and dropped the baton before getting it to Headley for the anchor carry.
"The coach was yelling, 'get the baton, get the baton; you can still get third!'" Headley recalls. "All you've got to do is qualify for the finals!'"
Headley says he scrambled to find the baton but couldn't. Finally he went over to Streyle, who was face down on the track, and realized that "the kid was laying on it."
By that time, of course, it was too late and Menno lost what would have been valuable points. Headley says that haunts him to this day.
Still, the May 23, 1957 issue of the Hutchinson Herald reported that "it has been a successful year in track" and that "This is the best rating Coach Birger's squad has ever had."
Menno would find success in subsequent years, but only in small doses. Terry Gillette won the pole vault at state in 1959 and 1960 and, at the 1965 State Meet, Don Fischer won the high jump and the 880-yard relay team of Lon Streib, Ronnie Dubs, Gerald Gramm and David Wipf took top honors.
THE BUY-IN
It wasn't until the mid-1980s, though, that Sattler and the Menno boys began building something both longstanding and special that would turn the track program into a force to be feared.
"When the kids finally believed in themselves and actually thought I maybe knew what I was doing, that's when it started," said Sattler, who admits he had to learn a lot about track himself before he could start projecting that onto his students. "Early on, I was lost. I started going to track clinics and ran into a coach from Bon Homme and he convinced me that the backbone of a track team was the relays. I have believed that ever since."
Individual and inspirational conversations with students and parents were paramount as Sattler began building a program; "You have to sell yourself," he said. "You have to convince those kids that they can do it and that you know they can do it. It was an uphill battle for a while."
Sattler estimates that by 1986 — three years after he arrived and one year before that first Region 5B title — the Wolves had the talent and the buy-in to build something special. The only thing left to harvest was hard-nosed commitment. 
That was no problem.
"I think of that so often," says Donna, Jim's wife. "In those years, when those kids were in school, they ran all the time. Even after practice was done — on Saturdays, Sundays — you'd see kids running all over town. They just did it."
"10, 11 at night," says Jim. "You'd have the door open and you could hear them — thump, thump, thump, thump — going by."
The Wolves used both the dirt track and streets in and around Menno for their work and drew on strong leadership from the upperclassmen. 
"Those seniors and juniors took over and just said, 'This is what you've got to do,'" said Donna.
"Practice was scary sometimes," Sattler continued. "We ran times in practice that most track teams couldn't do at a track meet. If I went to a practice without a stopwatch, somebody would go back to the school and get it. They couldn't believe that I would come to practice without a stopwatch."
Like all dynasties, Menno's boys track program started feeding on itself in the form of hard work and unwavering dedication and it didn't take long for the commitment to the program to pay off. 
Sattler remembers once, when the Wolves got back from a track meet during the start of their success, that one of his runners — he can't remember for sure, but thinks it was Jeff Lee — came up to him and said he realizes how good the Menno boys were.
"Why?" asked Sattler. "What happened?"
"And he said, 'Coach, we got off the bus and somebody said, oh, no, Menno's here.'" 
PINNACLE OF SUCCESS
Region championships in 1987 and 1988 set the stage for Menno's biggest season on record. The Wolves took the momentum of a third-straight region title and 12 guys to the 1989 State B Meet at Howard Wood Field. 
Oplinger's win and a third-place finish by Jeremy Handel in the pole vault got the Wolves a quick 16 points and the start they needed on that first day of competition. But it was the relay teams — just like the coach from Bon Homme told Sattler when he was still green — that brought home the title.
The remainder of Menno's points all came from relays. The 3200 relay team of Jeremy Bezug, Todd Heckenlaible, John Van Stedum and Jeff Lee finished fourth to bump Friday's point total to 20  — the best in Class B after the first day of competition — and the first relay of Saturday won the gold medal when the 800 relay team of Van Stedum, Gary Ptak, Lee and Kenley Ulmer burned past the competition.
But by the time the Wolves took the track for the medley, not only had their lead evaporated, they were down 43-30 in the team standings to defending champion Chester. A runner-up finish in the medley relay drew them to within six, which meant the pressure was on in the final event of the day — the 1600 relay. 
That was no problem, either. 
Ptak, Van Stedum, Lee and Ulmer had the fastest qualifying time going into the finals and got the job done that Saturday afternoon, running to a championship in a school record-setting 3:29.3. The 10 points moved Menno past Chester in the team standings 48-43 and onto the winner's podium.
"As is customary, Menno took a victory lap," the Hutchinson Herald reported in the May 31, 1989 issue, "but this time Coach Jim Sattler led the way." 
Menno's first state championship since the six-man football title 33 years earlier cemented the Wolves' status as a track juggernaut and only fueled the fire. That more kids were in the pipeline only added excitement to the program.
"We had enough good kids to push the young kids, and those young kids saw the success," says Sattler. "I had kids place at the state meet who were sophomores who probably shouldn't have, other than they couldn't loaf in practice. I didn't have to do much. They were there to win."
Despite losing five seniors from the 1989 team, the 1990 season not only saw continued success, but even more of it. This time, the boys took 16 to the state meet in Spearfish. And, like the year before, the title hung in the balance of the last event of the day — the 1600 relay. But before we get to that, let's recap:
On Friday, Oplinger defended his pole vault title and placed sixth in the 110 hurdles and the 3200 relay team of Frank Schnabel, Brian Zeeb, Robert Buechler and Jeremy Bezug ran to victory by eight seconds. And Bezug placed sixth in the open 3200.
On Saturday, the 800-relay team of Ptak, Kris Kuhlmann, Tom Sattler and Van Stedum finished fourth and the 400 relay team of Corey Sayler, Lee Fischer, Ptak and Van Stedum placed third; their time of 45.2 broke the school record.
Also Saturday, the medley relay team of Cade Anderson, Sattler, Ptak and Van Stedum placed fourth, putting the Wolves ahead of James Valley Christian 36-34 going into the final race of the day. The problem was that, James Valley was not only in the 1600-meter relay along with the Wolves, but they had the second-best qualifying time, behind South Shore. That meant it was the Vikings' race — and state championship — to lose.
"And those kids going into that race were gassed," said Sattler, "because they had already been in three relays. And it was hot."
Who knows if it was momentum, adrenaline, karma or simply hard work paying off, but the Wolves got it done when it mattered most as the team of Buechler, Zeeb, Ptak and Van Stedum finished second in the race and well ahead of James Valley Christian, finishing off Menno's second-straight state track title with 44 points. Doland was second with 35 ½ points and the Vikings finished third with 32 points.
It no doubt made for a very happy 1990 graduation at Menno High School the following day.
SUBSEQUENT YEARS
While the region championships continued, the boys track team was unable to defend their back-to-back state championships the following years. Still, the boys continued to turn in strong showings. The Wolves were fourth at state in 1991, third in 1994, fourth in 1995 and third again in both 1996 and 1998.
"Every year you wondered where you were going to replace those seniors, and there they were," said Sattler. "I don't know if I can explain it except that they just worked hard at it. They had a lot of pride. And great leadership."
That their own two sons — Tom, Class of 1993, who today lives in Tea; and Kenton, Class of 1996, who today lives in Laughlin, Nev. — got in on those great track teams of the 1990s is particularly special to both Jim and Donna. Tom is an assistant track coach for the Titans and is sometimes asked what he remembers about the Menno track teams that nobody could beat.
"We had a target on our back all the time," says Jim, recalling his son's answer. "We had to mind our Ps and Qs, because people were always watching."
Sattler is quick to credit the kids and the work they put in, but clearly Sattler was the right man for the job, an effective coach and deserving of credit for the dynasty he built.
"He had a great group of kids who could do anything, and they respected him," says Jacque Liebl, the athletic director at Menno who came to the district in 1993. "He could be tough, but it's only because he saw the potential. He saw what they were capable of even before the kids saw it.
"They would do anything for him," she continues. "He was that kind of coach."
"If there was one message I tried to get to them it was, do what you're capable of; the rest will take care of itself," Sattler says. "They knew when I wasn't happy, but they knew when I was. I didn't jump up and down and spit nickels, but they knew it."
Sattler, who spent nearly his entire track coaching career without an assistant, says those glory days of Menno High School track will forever be a jewel in his crown of achievement.
"You can't imagine (how much fun it was), and for so long," he says. "I'd just sit up in the stands with a stopwatch and the instant the race was over the kids would be there wanting to know their splits, and then you'd get around to the field events to find out how the kids did — it's just something I'll never forget."
And it wasn't just those state championship teams; "You think about some of the kids who didn't win a state championship that had some great performances. I think about Matt Fischer winning shot put titles and Allan Fischer winning the hurdles and getting the all-class gold medal …
"It was just so much fun. It was gratifying for me, but it was even more so watching those kids develop and mature and take some pride in themselves. I like to think that maybe I had something to do with that."
Here's one more thing you need to know about Jim Sattler: He doesn't say it, but he thinks of those boys he coached as family. You can tell in his words of affirmation, apprecation and love, and you can feel it in his emotion.
Ptak, Lee, Fischer, Bezug, Guthmiller, Oplinger, Heckenlaible, Mettler, Van Stedum, and so many others …
Name after name, year after year, memory after memory, the greatest thing about the Menno boys track dynasty, perhaps, is that it leaves you with so many