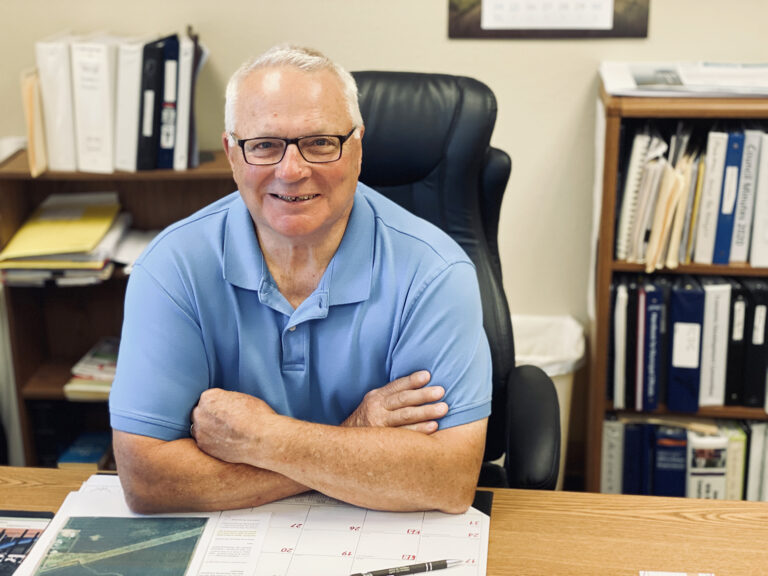 news
OFF HE GOES
We are put on this earth to serve.
It is that closely-held conviction that has led Sam Sorensen to active work in his church and other causes he believes in: to a management role with his wife, Linda, at the Bethany Food Pantry; to the organizer of the Freeman Fishing Derby; and to volunteer with the Freeman Lions Club, of which he is finishing his term as president.
That basic belief also played a large part in Sorensen's decision eight years ago to run for the office of mayor of Freeman, despite not having any background in city government. While that may have been the case, Sam's dad, Chet, who passed away in 2013 at the age of 87, was heavily involved as both the mayor of Freeman and an alderman in the years that followed and acted as an advisor as Sam was considering pursuing the seat, and ultimately decided to run. And that tipped the scales.
One successful election, four terms and eight years later, Sam is stepping aside as the city's top elected official; choosing not to seek election to a fifth term, he will hand the reins over to Michael Walter when the city convenes for a new fiscal year next Monday, June 8. Walter won election over Terry Waterman Tuesday night, June 2.
"When are you done serving?" the 71-year-old Sorensen asked rhetorically in an interview with The Courier earlier this week. "I went to my pastor and asked him that question and he said, 'When you want to be.' That's the only answer I can give you."
Sorensen, who was elected mayor with 65% of the vote in a race with incumbent Lonnie Tjaden in April of 2012 and hasn't faced an election since, said his decision not to seek re-election came amidst growing health concerns within his larger family. He has a son-in-law who has been battling cancer for 16 years and is nearing the end of his life, and his two older brothers, Tim and Keith, are also fighting the battle.
"That's a big part of this," he says.
CHALLENGES THEN & NOW
Sorensen, who has called Freeman home ever since his family moved here when he was a fifth grader in 1960, assumed office on May 7, 2012. He says those early years not only saw a learning curve, but plenty of challenges. 
One of the biggest was hiring Eric Seitz as police chief and the fallout that went along with it; Seitz ended up suspected and then charged with illegally obtaining controlled substances before pleading guilty to the Class 1 misdemeanor. While Sorensen and the council were measured about whether Seitz could return to the force, the criminal charge ultimately ended his relationship with the community, and Seitz resigned.
Turnover in the police department only continued in the months and years to come.
"My dad kept saying that keeping a good cop is the number one problem you're going to have," he said. "Boy he was right."
Other headlines in those early months and that first year included questions about a recycling center expansion — a tied vote of the council that Sorensen had to split in favor of the project — what to do about a crowded rubble site, whether to discontinue the 12 p.m., 1 p.m. and 6 p.m. siren, and whether to move forward with a major street project on the northern-most blocks of Main Street, which ultimately the council decided against.
And then there was the issue of the city administrator position, which was held by Dennis Nelson until his resignation in May of 2013 — one year after Sorensen took office. Three months later the council gave the job to Carroll Vizecky, who had been working for the city as sewer/wastewater superintendent. 
The relationship between Vizecky and the city was one that seemed strong at first but deteriorated over time. A mediator was hired in December of 2015 to deal with internal conflict among city employees and, from the fall of that year to March of 2016, the city accepted resignations from Cody Fransen as wastewater plant operator, Duane Walters as water superintendent, Diane Schnabel as administrative assistant and Lisa Edelman as city finance officer.
Vizecky's position was eventually eliminated and his employment with the city severed.
"When I started, we had headache after headache," Sorensen said, "but it made me stronger working through it." 
Of course, he says, there will always be challenges. 
In Sorensen's estimation, the biggest facing the city today is the major water tower repair he believes is a must to deal with the aging structure — "We have to; we have no choice" — and putting in a street that was promised south from the NorthWestern Energy building along the North County Road.
"And, yes, we need to get Main Street totally redone," he said. "But we've got to get some money together for that."
Those are costly infrastructure projects that will only be made more challenging by the impact COVID-19 is having on tax revenue. "That's really throwing a monkey wrench into things."
And Sorensen said he would still like to see new ballfields built in the undeveloped area in the northeast corner of the city, near Dollar General, to accommodate a robust youth athletic program. That land is controlled by the Freeman Community Development Corporation and designed for housing and business growth; Sorensen is disappointed the FCDC was unwilling to give some of that land to the city for the development of two new ballfields.
"They just wouldn't do it," he said. "What are we here for? We're here to help promote Freeman, aren't we? To bring people to town? That would at least help get something going out there. 
"That left a sour note with me." 
Still, while there have been challenges and disappointments, there have also been valuable lessons learned.
GROWING TOGETHER
One of the biggest lessons he has learned in his eight years as mayor is the value of being available to the public and listening to their concerns and ideas. When he first was elected mayor, Sorensen was still fully employed by Genex Farm Systems and didn't spend a lot of time at City Hall. It was only after he retired — around the time that the city eliminated the position of city administrator — that he really became engaged and took up an office inside City Hall.
"When I became mayor I was working yet, and I could only stop in once in a while," he said. "You don't get a handle on everything that way. I really think the mayor should be retired and be here (at City Hall). If somebody wants to come in and talk to the mayor, I'm here and we can get the issue taken care of. I'm not saying it gets resolved, but it's very important to be accessible.
"And you've got to listen; that's the main thing I've learned. Whether you agree with them or not, you've got to listen, because it might give you a little perspective."
Sorensen's increased presence at City Hall was also around the time that Fransen and Walters were rehired by the city, which was a key to ongoing growth and success as a municipality. 
"After the problem with the administrator got resolved, the biggest accomplishment was getting Dewey and Cody back," he said. "That was No. 1, because they could jump right back in the ball game. They know how to do everything and anything. That was big."
He doesn't say it, but one area Sorensen appears to be most proud of grows out of direct communication with residents as it pertains to nuisance properties, which has been an ongoing issue with the city for years.
"When I see people who grew up here and now live somewhere else — when they come home to the folks or grandparents and they say, 'What's happened to this town?' that bothers me," he said. "Those are the people I want to listen to. What are they seeing?
"We started asking (those property owners) to come to our meeting to talk about a time frame," Sorensen continued. "Let's talk this out rather than just going and giving them a citation. Who gets mad getting a citation? Everybody. So let's have this conversation. If you need two months, we'll revisit it in two months."
Sorensen believes that approach has not only been the right one, but also has worked.
"I think we've come a long way and I think people are finally getting the drift that we're proud of our town."
PARTING THOUGHTS
When asked if he has any regrets, Sorensen is quick to respond.
"None," he said. "My dad always told me, 'Do the best you can,' and that's what I've done. I haven't kept track of, 'OK, we did this and we did that,' because it's all been done to help the city. That's all I care about. The citizens are proud of Freeman; look what we've accomplished. Look at what we have. We are becoming a hub and we just have to keep pushing that."
In addition to advising the new mayor to listen carefully to what people are saying, he also encourages him to keep an eye on Freeman's best interests. 
"Do the best you can and do the right thing for Freeman," he said. "If you think it's right for the town, push it." 
Sorensen is grateful for his experience in city government the past eight years and believes that everybody should play a leadership role in some way at some point in their life.
"I think that all citizens should sometime serve on the city council or the school board or a church board, because you learn how things are run. Their eyes will get opened in a big hurry. It is not easy."
Sorensen said stepping away is tough. In fact, he said, he now wishes he would have thrown his hat in the ring for a fifth term.
"I'm regretting not running," he said, "because I love the job."
It's no wonder, then, that he's keeping the door open, and why wouldn't he? After all, following his dad's stint as mayor from 1977 to 1989, Chet spent time on the city council. Might Sam's trajectory be similar?
"Yeah, it might be, but I need a little time. But I don't think I'm done. As long as I got my health, why wouldn't I want to serve again?"