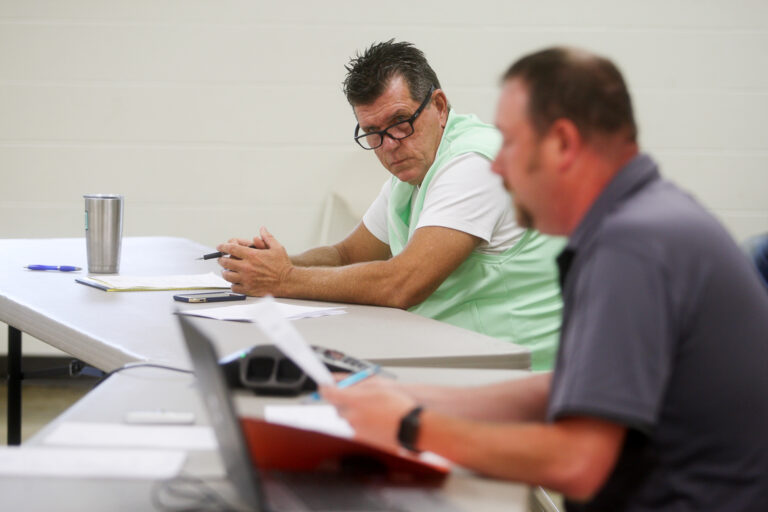 news
WALTER TAKES OFFICE AS MAYOR
It's a new-look Freeman City Council.
Twenty-eight years and two weeks after first taking the oath of office as Freeman mayor, Michael Walter is back in the chair after winning election over Terry Waterman in last week's June 2 election. The 64-year-old was sworn in as the city's highest elected official as the council reorganized at the Freeman Community Center meeting room for a new year Monday night, June 8. 
Blaine Saarie also joined the council Monday night after running unopposed for the expiring Ward 2 seat held by Russ Becker.
And Walter appointed Doug Uecker to the Ward 3 seat left vacant by the expiring term held by John Munkvold — an appointment that was approved by the council 5-0. Uecker, who was not in attendance Monday night, will work closely in the arena of economic development alongside Carol Eisenbeis, the city's marketing and development director.
Terry Jacobsen, representing Ward 3, was re-elected council president and Lonnie Tjaden, representing Ward 1, was elected vice president.
Charles Gering and Charly Waltner also began a new term on the council, representing Wards 1 and 2, respectively.
THE MAYOR'S CHAIR
For Walter, his seat in the mayor's chair comes more than 25 years after he left city government. Elected mayor in 1992 at just 36 years old after spending six years as a Ward 3 councilor, Walter served one, two-year term before deciding to step away. While he kept an ear to the ground for a while, it wasn't long before his priorities shifted to children who were growing up and a business started by his grandfather, Walter Funeral Home, to run.
"We had worked very, very hard," said Walter, who says the biggest issues in those days included a one-cent sales tax, annexation, and a shift in the city's waste management system — all of which were controversial. "I don't know that I was getting burned out, but I knew how much work was involved, and during those two years, my life became even busier."
But the real kicker, Walter said, was that the city's finance officer at the time, Lois Haar, was stepping down to move to Yankton. 
"That's a very important position for the mayor and I depended very heavily on her," he said. "She had my back, I had hers. That's how I learned how to do city government business. When I heard she was leaving, that's when I decided to pull the pin."
While Walter threw his hat in the ring for mayor in 2008 and was defeated by Philip Svartoien, who served from 2008 to 2010, it wasn't until recent years that he got serious again about city government. His interest in the well-being of the town — specifically, its condition, how it looks and an adherance to the ordinances that are in place — prompted him to run for mayor.
Walter ended up winning 64.5% of the vote on June 2, beating Waterman 259-141.
"I'm appreciative and excited about getting started," he said. "See if I remember how to ride a bike."
Watch for more on Walter's history, decision to run for mayor and what he would like to see accomplished, in weeks to come