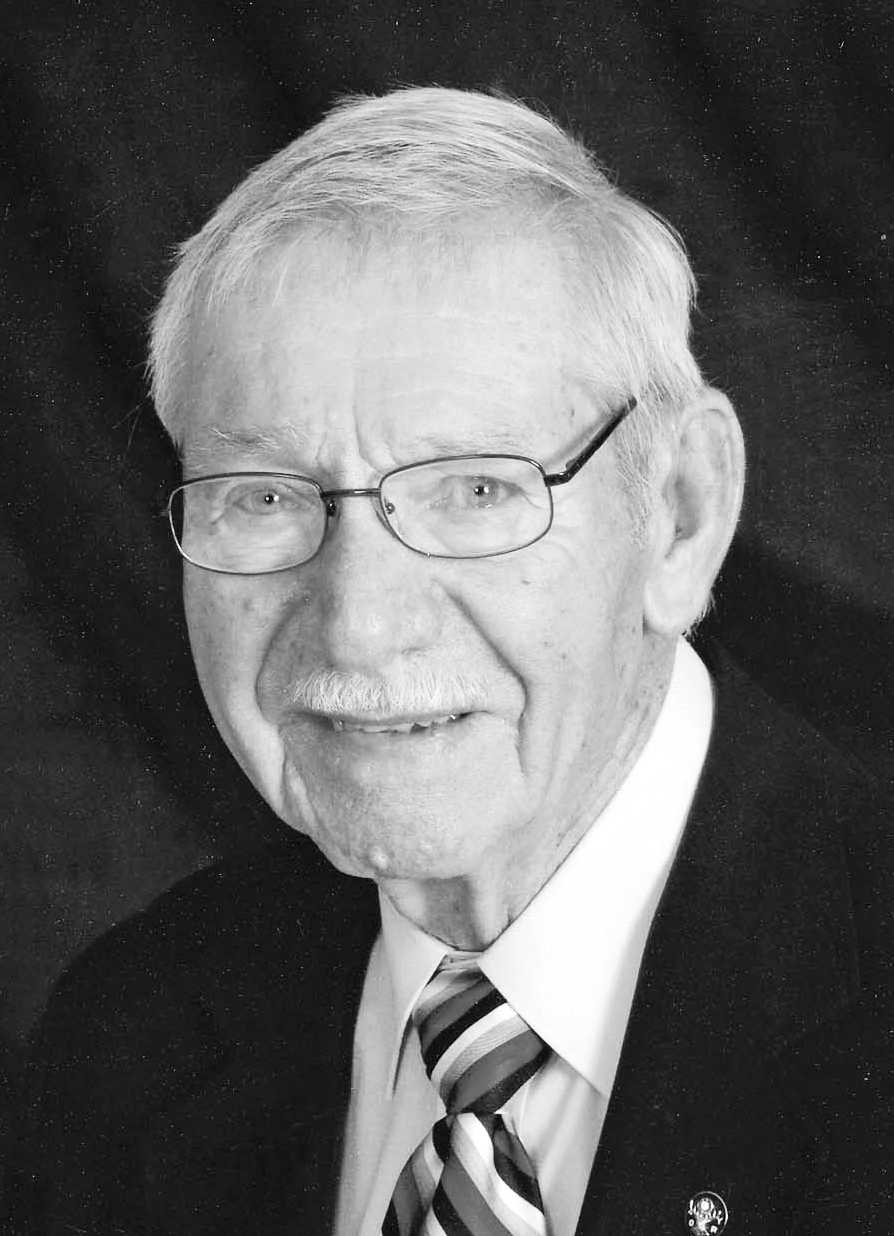 obituaries
Milton Handel
Milton Handel, 93, of Menno/Freeman, S.D., died Monday, April 13, 2020, at Avera Brady Health and Rehab in Mitchell, S.D. A private, family funeral service was held Friday, April 17 at Hills of Rest Mausoleum in Sioux Falls. 
Milton Richard Handel was born March 8, 1927 to Richard and Ella (Heckenlaible) Handel in Menno. After graduating high school in 1945 from Menno, Milton was drafted into the Army. He completed his basic training at Camp Wolters, Texas, and was then stationed at Fort Knox, Ky. He served in World War II, and in the fall of 1946 after the war had ended, he was honorably discharged. After the war, Milton and a few friends traveled to New York City and Washington, D.C. by train and hitchhiking. In 1947 Milton enrolled at the University of South Dakota, and in 1951 he graduated with a bachelor of science degree in applied science. He was a member of the Engineers Club while at college.
Milton was united in marriage to Elda Rolof in Menno on Sept. 4, 1949. A daughter, Teresa was born to this union. Elda passed away on Oct. 28, 1956. On Sept. 7, 1958, Milton was united in marriage to Rita Hein Miller. She had two sons, Terry and Deono Miller.  A daughter, Rena, was later born to Milton and Rita. Rita passed away on Aug. 3, 2018.
Milton began his career working for the South Dakota Highway Department in 1951 to 1954 in Tyndall, S.D. He then worked from 1954 until retirement in March 1992 as the Hutchinson County Highway Superintendent.
In 1995, Milton was inducted into the South Dakota Transportation Hall of Honor.  This quote from the 23rd Annual Transportation Hall of Honor program depicts his dedication and ethics:
"Milton provided leadership to new Highway Superintendents and had an unwavering willingness to go the extra mile. He was respected and admired by all who knew and worked with him, including State Officials, other County Officials, and the general public. Milton was truly the County Highway Superintendents' 'Superintendent'."
Milton enjoyed wood working, gardening, bird watching, and together with Rita, they traveled, camped and wintered in Texas for 23 years.  They loved spending time with their children and grandchildren.
Milton was a faithful member of the Salem Reformed Church, church choir, church consistory, American Legion, Elks, school board and state board for South Dakota Highway Departments.
He is survived by his children: Terry (Ingrid) Miller, Deono (Lonna) Miller, Teresa Handel Linn and Rena (Bruce) Oster;  12 grandchildren: Larry (Shari) Miller, Joseph Miller, Sharon (Thomas) Tazewell, Kari (Jeremiah) Kirchmeyer, Kristi (Billy) Schneider, Katina Miller, Rory (Sam Salstrand) Linn, Patrick Linn, Erica (Ben Kruetzer) Schaeffer, Erin (Sean) McClure, Brett Oster, Kevin (Lindsey) Oster; 21 great-grandchildren; three great-great-grandchildren; brothers Don (Beverly) Handel and Vern (Connie) Handel; sister-in-law Beatrice Hein; and many nieces, nephews and friends.
Milton is preceded in death by his parents; first wife, Elda Rolof; and second wife, Rita Hein Miller.