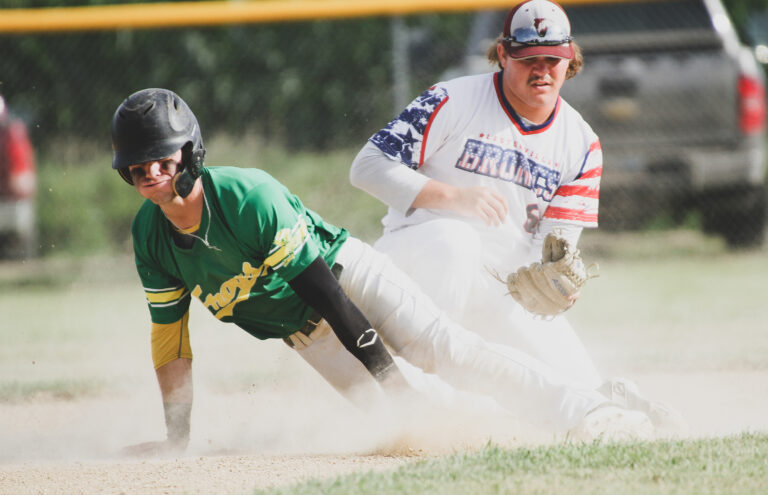 news, sports
BRONCS HOLD OFF MAD FROGS
JEREMY WALTNER | PUBLISHER
Menno managed to get the tying run to the plate, but pitcher Brandon Nickolite and the Lesterville Broncs staved off a bottom-of-the-ninth inning rally to claim a 7-5 win and a trip to the state tournament in District 6B amateur action in Menno Thursday night, July 30.
The Mad Frogs, who won their first game of the tournament before falling to Crofton and Lesterville, will have one more chance to get to state when they face Irene in an elimination game Sunday, Aug. 2 at 1 p.m. That game was originally scheduled for Saturday evening but postponed because of a wet field resulting from a hard afternoon rain.
On what was a beautiful night for baseball at the Lily Pad on Thursday, Lesterville scored in just two innings against starting pitcher Tate Bruckner, but it was enough to get the job done. The Broncs put up three runs on five hits in the third and four runs on five hits in the sixth to hold the advantage after falling behind 0-1 in the first inning.
Whereas Lesterville strung together timely hits for a pair of big innings, the Mad Frogs struggled to follow suit. Leading 1-0 in the bottom of the second inning and with the bases loaded, Menno couldn't plate a runner, and in the bottom of the fifth — following a Spencer Schultz leadoff double, Dylan Lehr hit-by-pitch and Macon Oplinger 2-RBI single — Oplinger reached second base with nobody out, but failed to score.
The Broncs took a 7-3 lead the following inning.
The Mad Frogs energized their fanbase in the bottom of the ninth, however, when Schultz connected for a leadoff home run and Oplinger followed with a one-out solo shot of his own. Adam Walter got on first base with a two-out single, but Nickolite shut down the last batter of the night and the Broncs were able to celebrate a state tournament berth.
In addition to his complete game performance from the pitcher's mound, Nickolite had two doubles and two singles for Lesterville.