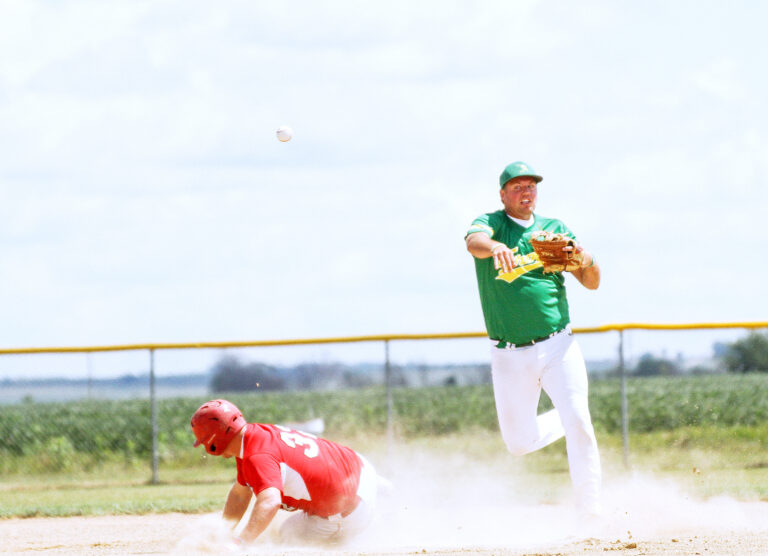 news, sports
MAD FROGS SHUT DOWN
JEREMY WALTNER  – PUBLISHER
For the Menno town team, a 13-8 win over Irene in the first round of the District 6B Amateur Baseball Tournament on Friday, July 24, put the second-seed Mad Frogs in the position they had hoped for — one win away from a return trip to Mitchell's Cadwell Park and the state tournament.
That's what makes their elimination so confounding and tough to take.
"I'm still kind of at a loss for words," Ryan Liebl said on Tuesday, thinking back to the three-straight losses that abruptly brought an end to what had been a good season. "To have that kind of talent and not get to the state tournament is frustrating, but baseball does weird things. That's why we love the game and, sometimes, hate it."
After beating the Cardinals in the opener, all the host team needed was one more win to advance to state, but the Mad Frogs lost a semifinal game to No. 3 Crofton 10-5 in the early morning hours of Wednesday, July 29 followed by a 7-5 defeat at the hands of No. 4 Lesterville Thursday, July 30. That set up the elimination game with Irene on Saturday, which had the Mad Frogs on their heels from the get-go. The Cardinals put up two runs in the first inning and, aided by three Menno errors, another three runs in the second to take an early 5-0 lead.
The hit brigade only continued as Irene plated four more runs in the fourth inning to take a 9-0 lead and ended up winning 10-1. Menno finished the game with five errors in the field and without an extra base hit, only tallying five singles.
"It was completely the opposite of how we played all year, but that's baseball for you," Liebl said.
As for hosting the tournament, the manager said a lot of work went into it but he's grateful for the support he felt from the community.
"We had a lot of great help from people around town," Liebl said. "It takes a lot to pull something like this off but I'm really happy with how it went. We had record crowds and a record gate."
Crofton ended up as the District 6B champion with a 6-2 win over Wynot, making Crofton Rep. 1 at state. Also representing the South Central League in Mitchell will be Irene in the No. 4 spot, Lesterville as Rep. 3 and Tabor as Rep. 2.
The Class B State Tournament starts Thursday, Aug. 6.
Menno's Dylan Lehr and Cody Ulmer will be competing as pick-up players for Crofton, which faces Salem Saturday, Aug. 8 at 7:30 p.m.