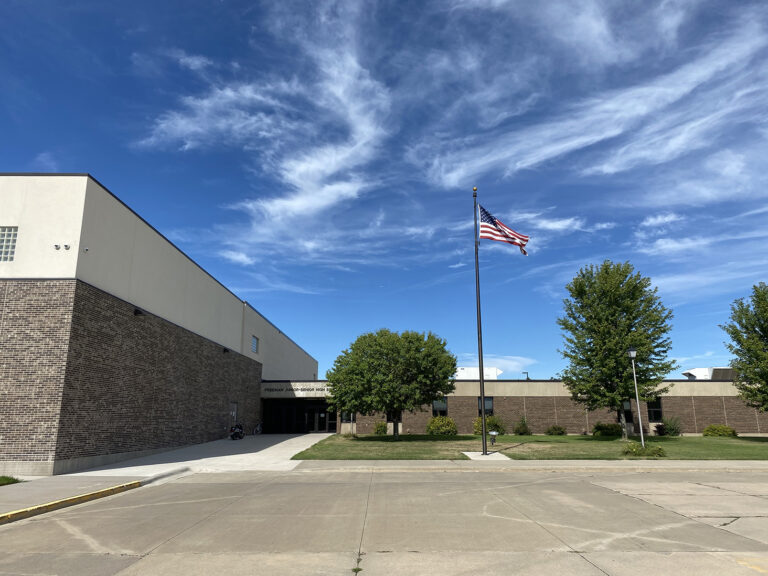 news
NEW: BOARD PRESIDENT QUESTIONS MASKS
JEREMY WALTNER  – PUBLISHER
School officials from Freeman Public unanimously voted to acknowledge the district's back-to-school plan released last week that attempts to mitigate the spread of COVID-19 but spent about 40 minutes in discussion — specifically about the recommendation to wear masks.
Board president Kyle Weier questioned why that was included in the plan when South Dakota Governor Kristi Noem has said otherwise.
"I watched a thing where Gov. Noem had basically made a recommendation that masks not be worn by young children, and I see we have it recommended," Weier said at the school board's regular monthly meeting Monday, Aug. 10. "The leader of our state, who has handled Covid probably better than most states, recommends not. Is there a reason (why Freeman Public is)?"
Superintendent Kevin Kunz, who put together the 28-page document based largely on discussions with state organizations and local data, said the recommendation to wear masks falls in line with what is coming from the Centers for Disease Control and Department of Health; both have said that face coverings are effective in preventing the spread of COVID-19, of which nearly 10,000 confirmed cases have been reported in South Dakota.
"If it gives us an opportunity to keep the building open longer, I don't know why we wouldn't at least try it," Kunz said. "Nobody likes to wear them, but if it's the difference between us having to close down or keep (the doors open), let's at least give it a try."
Weier countered: "Noem is working hand in hand with people you're not working hand in hand with," he said. "Her recommendation is coming from somewhere."
Weier added that he wasn't necessarily opposed to masks but wondered what went into the decision to recommend them.
"I'm asking questions because questions have been asked of me," he said.
Board member Mark Miller also questioned the recommendation to wear masks, suggesting they may have a counter effect when worn by younger children.
"I've seen kids that have been required to wear a mask and it's on their head or it's upside down or they're touching it — seeing it as a fun game," Miller said. "CDC is looking at people who wear masks properly, but when you're dealing with kids, there are age requirements that say below (a certain point) they do no good.
"Is it going to bring fear into the school?" Miller continued. "Is it going to bring constant agitation? Would it actually help? There's definitely two sides to it."
There is one extenuating circumstance at the elementary level when students in one class will be required to wear masks. Kunz acknowledged there would be some education when it comes to how to wear a mask properly, and K-8 Principal Shane Voss said they are working on making provisions to give those students plenty of opportunity to remove their masks throughout the day.
And Voss defended the recommendation.
"It's everywhere that they're saying to wear masks," he said. "You can't go to Sioux Falls without taking a mask with you — you can't get in to most of the places (without one). It would be one thing if Freeman was the only one in the area asking for masks, but we're not. Everybody's requesting that.
"We're just trying to do the best we can to make sure that people are going to be safe," Kunz said. "I certainly don't expect everybody to agree with everything that we're doing."
Miller said he wishes the board would have been given the chance to be part of the planning process for a return to in-classroom learning.
"We've been asked a lot how much (we) as a board been actively part of the decision-making process, and I have to say close to none, and people are saying, 'Why?'" he said. "We as a board need to be more involved in this situation. I think there's a lot of policy-making going and I think we need to be better involved in this.
"Rather than being told this is what we're going to do and this is how it's going to happen, there's a large group of people out there saying, 'Where are you as a board?' I think we need to adjust that long-term here."
"This is not policy, though," Kunz responded. "This is day to day — how we're going to handle different situations as they come up in the building. Some things might change even before we get into the building. I fully anticipate us having to change multiple times between now and the first two or three weeks of the school year."
Besides, he said, board members were included in emailed updates from the task force studying how to safely return to school, as well as drafts of the plan, "and when I sent that stuff out, I didn't have anybody who said anything back to me one way or another," he said. "I've had phone calls from people; some people not necessarily too excited about how we were going to do those things, but I give then credit because they're at least willing to call and ask."
Kunz and Voss both said that, when it comes down to it, if a teacher feels it's necessary to require his or her students to wear a mask, that decision should be respected.
"There are going to be some staff where, if they're working one on one with a kid, they might, for their own comfort level, say, 'Please put on a mask.'" Kunz said. "I don't think it's unreasonable to ask a kid to do that."
"I think you have a responsibility to make your staff members feel safe; that's one of my biggest concerns."
"Planning for the worst, hoping for the best; that's what it all boils down to," said board member Corey Gall, who noted that there will be students who will choose to wear masks, and those decisions should be respected. "I hope they don't get made fun of by others who aren't wearing them — like, 'You're a chicken; you're wearing a mask.' Well, no, they're just being safe. That's an important thing, too."
And Gall added that self-policing by families of the district and paying attention to the possible spread of COVID-19 is important.
"We don't want to have our district get shut down by this thing and I hope there are a lot of families out there that take that into consideration," he said.
Kunz said if there are families who do not want to send their children to school for in-person learning — either because they don't want to run the risk of COVID-19 exposure or they don't want to be in a situation where they are forced to wear a mask — the district will make remote learning available.
As the year progress, he said, "there's a real possibility that could happen."
To watch the Aug. 10 school board meeting, click on the YouTube link at the bottom of the home page at freemansd.com. The discussion about the back-to-school possibility happens about 38 minutes into the meeting.
A link to the back-to-school plan is also available at the school's website.