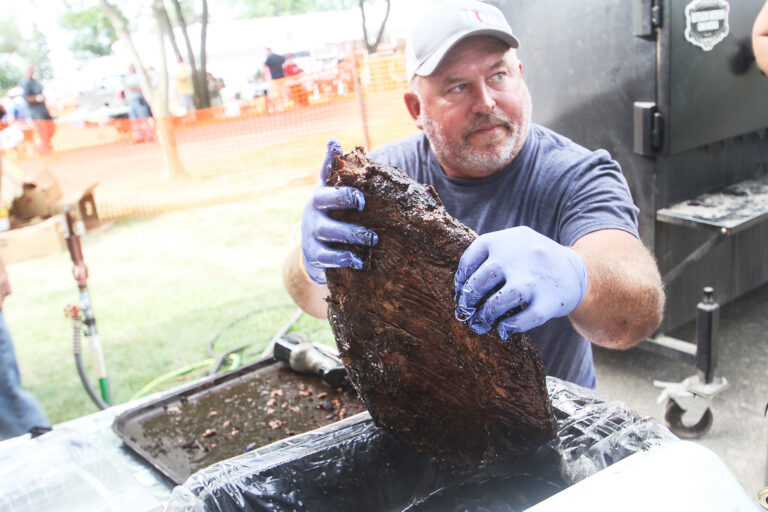 news
FOOD GOES FAST AT COOK-OFF
JEREMY WALTNER – PUBLISHER
Those who wanted to get their fill of ribs and brisket needed to get to the Freeman Volunteer Fire Department's Firehouse Rib Cook-Off early, or at least relatively close to the 5 p.m. serving hour, because food ended up being in short supply.
By 7 p.m., it was gone.
"That was the bummer part," said Freeman firefighter Chad Soulek, the founder and chief organizer of the department's annual rib cook-off, which returned for its seventh year Saturday afternoon and evening, Aug. 15. "But it was just good to see people out talking and laughing and having a good time again."
The shortage of food was caused, in large part, by seven area fire departments that had planned on attending but called it off at the last minute because of concerns over COVID-19. That resulted in 17 teams cooking 468 racks of ribs as opposed to 24 teams cooking the full 500 as planned.
"If we had the full amount, I think we might have been alright," said Soulek, who noted that 20 briskets, eight pork butts, 200 hot dogs and three gallons of beans were also available. "All gone," he said. "Just amazing."
The 2020 cook-off once again benefited from beautiful weather, just as has been the case each of the past six years. Temperatures never even reached the 90s, there was no humidity and not even so much as a breeze.
"What a day," Soulek said, who gives the city credit for opening up the swimming pool to give kids something to do; this year there was no water fight or corn on the cob-eating competition because of COVID-19. Soulek also credits C&B Operations and some of its employees for helping set up on Friday. "That's the fastest it's ever gone."
The other positive that came out of Saturday's cook-off was the drive-up option made available for those who didn't want to spend the evening in a larger group of people but wanted to enjoy barbecue while helping out the fire department. Beginning around 5 p.m. and continuing for the next 90 minutes, vehicles pulled up to the off-sale area along Wipf Street to purchase full racks of ribs and/or a half or whole brisket.
"That was great," Soulek said. "We'll be doing that every year."
Winning the ribs competition was Brian Anderson with Turkey Ridge. The brisket winner was the fire department from Centerville, which was represented by Freeman community native Kory Henrichs.
Soulek estimates Saturday's event raised more than $20,000 for the department, which will help outfit two firefighters with new suits.