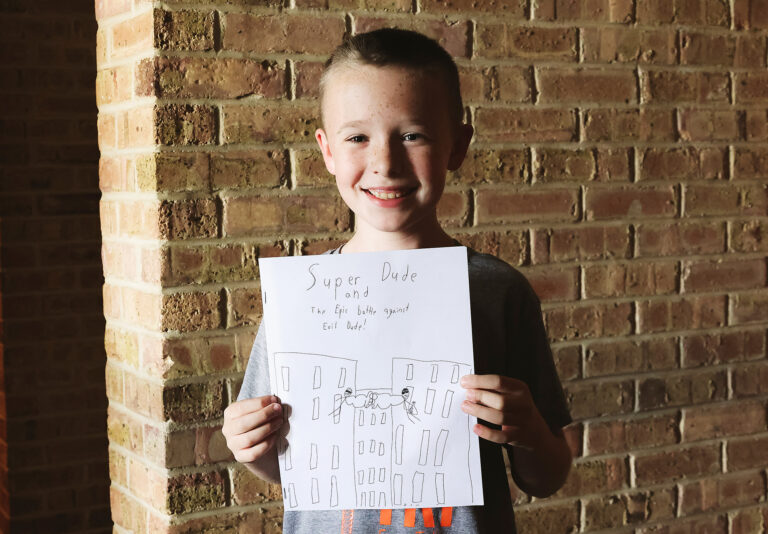 news
CARTOONIST IN BLOOM
JEREMY WALTNER  –  PUBLISHER
Owen Andersen says that ever since he was a little kid he has liked to draw. But it wasn't until he discovered and read Dog Man, the graphic novel series by cartoonist Dav Pilkey, who also authored the popular Captain Underpants books, that he decided to take his drawings to a new level.
"I was like, Hmm, comics," says Owen, a sixth grader at Freeman Public. "I should write some of those."
And so he did.
The 12-year-old has been writing comics for the past several years to share with family and friends and to re-read on his own. Now, starting this week, he will be writing a weekly comic for publication in The Courier. Owen's Comic Corner makes its debut on page 11A of this week's edition.
Owen started with "random stuff," like a stick figure who kept shrinking until he discovered his love for food, and more and more ideas starting to come to him. He estimates his collection of writings currently stands at 30.
While Dog Man was his initial inspiration, Owen's subject matters develop organically — "all up here in my mind," he says, tapping his temple with his index finger.
His comics range from stand-alone stories told through a series of panels to longer strips that span several pages. One of his favorites is a recurring character named Super Dude, who found a pair of sunglasses that gave him powers. Super Dude has giant muscles, can jump really high and is exceedingly good looking.
"Sometimes his handsomeness makes bad guys faint, which is kind of funny," says Owen, who wants to be an author or a cartoonist when he grows up because he wants to entertain his audience.
That's one of the things he likes best about writing cartoons — "trying to find ways to make people laugh."
Through Owen's Comic Corner, he's now getting his chance like never before.
Owen is the son of Freeman residents Mike and Emily Andersen. He has two younger brothers: Quentin, 10; and Nolan, 7.