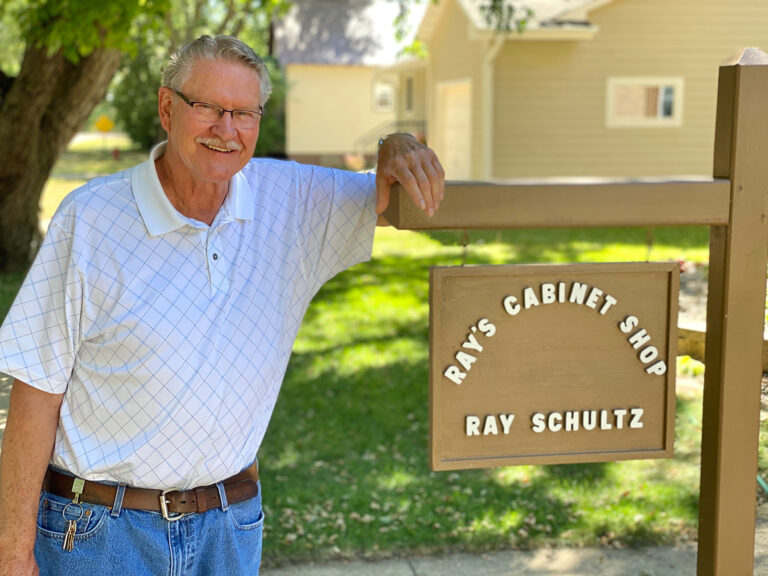 news
THE CABINET MAN
JEREMY WALTNER  –  PUBLISHER
For those who know Ray Schultz, it's hard to imagine him doing anything other than what he has done professionally for the past five decades — build cabinets.
But that's not what the lifelong Freeman resident set out to do when he graduated from Freeman High School in 1963 and enrolled at Southern State College in Springfield.
Instead, Schultz, who retired from cabinet making this year after 50 years in business, wanted to be an industrial arts teacher before quickly realizing that teaching wasn't for him.
Turns out neither was college.
So the tall, young man known for his basketball ability on the court for the Flyers returned to his hometown after one year at Springfield and went to work for Jake Eisenbeis, who had a cabinet-making shop in Freeman. Still, it would be another five years before Schultz settled in as this community's premiere cabinet builder.
Following his stint with Eisenbeis, the young adult in his early 20s was laid up following knee surgery when Morris Kaufman, who owned and operated Kaufman Feed Mill, asked if Schultz would haul a load of feed for him. He wouldn't have to do much, Kaufman told him; the farmer would unload it.
Schultz said yes.
"The next day Morris says again, 'You want to take out a load of feed?'" Schultz said. "I said I would and the next day he says, 'Why don't you just go to work for me?'"
So he did — for the next five years.
It wasn't until then that Schultz, at the age of 25 and toward the end of 1969, decided he wanted to build cabinets on his own terms, as part of his own business. He left his job with Kaufman and pursued a business of his own that would be in direct but friendly competition with his former employer, Jake Eisenbeis.
"I went to the banker and asked if he could help me out if I wanted to start a cabinet shop," Schultz says, thinking back to that visit with Glenn Waltner at First National Bank. "Glenn asked me if there was enough business for two people — Jake was still building — so I went to Monte (Wollman) at the lumber yard and asked a lot of questions and went back and answered Glenn what he had asked me. And he says, 'Yeah, go ahead, I'll finance you. Just don't burn the bridges behind you,' meaning, don't buy too much stuff that I don't need to start with. So I got my basic tools and that was it."
GROWING UP
Schultz and his sister grew up in Freeman at the corner of Cherry and College streets — two houses down and across the road from his current home at 747 S. Cherry, where he and his wife, LaVonne (Aman), have lived since 1971. He was left without a father at age five after his dad, Gust, died of a massive heart attack while shocking corn as a sideline job to his primary work as a railroad man, and spent his senior year largely on his own while his mom, Lena, dealt with health issues.
Woodworking classes at Freeman Public, a natural gift of understanding both the art and science of carpentry and the reality of independence forced by the circumstance of his growing-up years laid the foundation for what would come.
Following his one year in Springfield, one year with Jake Eisenbeis, five years with Morris Kaufman and that visit to Glenn Waltner at First National Bank, Ray's Cabinet Shop was born.
Schultz's first place of work as a business owner was a rental from Sylvia Dubs — a building constructed by John A. Kleinsasser west of her home at the corner of Fourth and Dewald that had been used to make mail carrier windows. Ray and LaVonne, his high school sweetheart he married in November of 1964 at the age of 20, conveniently lived nearby, across the street to the east of the Dubs home in a house that still stands. He rented the building — a spot now occupied by a double garage — for $40 a month.
Schultz and Ray's Cabinet Shop settled in in 1970, and in October of that year, Schultz was featured in the one and only advertisement he would ever need in a spot in the Courier paid for by Bill Morefeld, who had the meat locker in town at the time. Schultz was completing his first major project at the time — a kitchen for Mrs. Clara Magdema, who along with her husband had just built a new home in Freeman.
"Bill said, 'When you get that kitchen done, go over there and have the paper take a picture of you and I'll do some advertising for you,'" Schultz said. "From there it was just word of mouth."
The advertisement featured a youthful-looking Schultz standing next to both upper and lower Formica kitchen counters inside the shop west of the Dubs home. It read:
"As a student at Freeman High School, Ray Schultz enjoyed woodworking and shop courses. After graduation he took further woodworking training at Southern State College … He undertook and completed an ambitious project of building all the furniture for his own home. About a year ago Ray went into business for himself, and he has had a busy time of it since then, building kitchen cabinets, built-in closets, bathroom vanities and other fine cabinetwork."
As for the cabinets shown in the picture, they "have all walnut Formica fronts, making the kitchen area a most pleasant, attractive spot in her new home."
That's all Schultz would need.
THE LAST 50 YEARS
From October of 1969 until early in 2020 — roughly 50 years — Schultz built a reputation as an outstanding woodworker who specialized in kitchen cabinetry but also crafted a host of other types of furniture, from islands and hutches to vanities and pantries.
Schultz relocated his business to its current location after he and LaVonne moved to Cherry Street in the early 1970s; he bought and moved an old chiropractic clinic from its location across the street to the west of what is now Saaire Auto Body to his backyard in the middle part of the 1970s and added another 12 feet a decade later.
The only down time, he says, came in the early 1980s.
"People weren't spending money; they didn't have money," Schultz says. "The interest rate was 18%. I went out and shingled barns and chicken houses just to get some work. I almost quit back then, but things got better."
Somewhere along the way he picked up matting and framing to complement his cabinet shop, all the while getting up at 6 a.m., working by 7 a.m. and continuing until suppertime at 6 p.m.
"You really got to be disciplined when you have your own business," he said. "You can waste a lot of time doing something or going somewhere.
Schultz estimates he averaged eight full kitchens a year, along with other random jobs that kept him busy, and has cut well over a million feet of wood over the years. During that time, he and LaVonne raised a son, Scott, he added to and upgraded his shop to include a table saw, drill press, chop saw, surface planer, joiner, and he even made his own heating press for Formica work early on, before the odor of fumes prompted him to switch over to wood — primarily oak.
All the while he subscribed to the work ethic and philosophy that has sustained him: "Take your time and do it right," he said.
Schultz has built kitchens as far as Mission, outfitted multiple kitchens for repeat customers and is well-represented in neighborhoods across Freeman. That includes Walnut Street Village, where in 1997 he completed his largest project ever that included 11 kitchens, 22 bathrooms (full and half) and other outliers.
He has seen his costs increase from $15.50 to $140 per foot for base cabinets, countertops jump from $7.50 per running foot to $16.50 and rollers increase from $3.25 to $8.50, and that was a number of years ago. And a sheet of plywood has gone from $7.50 to $55.
He has worked with oak, ash, hickory and other woods; for one of his last major projects, Schultz built an entertainment center out of wood from an 80-year-old corn crib. While no doubt satisfying, by the end of last year, age and instinct told him it was time to quit, and Schultz put away his tools at the beginning of the year to give his 75-year old hands a permanent break.
While he still works with pictures and matting and framing from the basement of his home, his woodworking shop is quiet, replaced by a fishing hobby that has seen more action in recent years than ever before and the opportunity to be an engaged husband, father and grandfather to a family he adores.
"When you get into business for yourself, you'll know when it's time to quit; it just comes," Schultz says. "Do I miss it? To a degree. Physically I'm not near as strong as I used to be. That's a big part of it.
"I always wanted to make 50 years," he continues. "Last year was getting tougher and tougher. My wrists were starting to hurt me and one day I just decided that was it."
So this is it, no regrets, no questions asked. Lots of time for fishing. Lots of great memories.
"I never had a job because I loved what I did," Schultz said. "It was the people (who made it what it was). I had a great run."