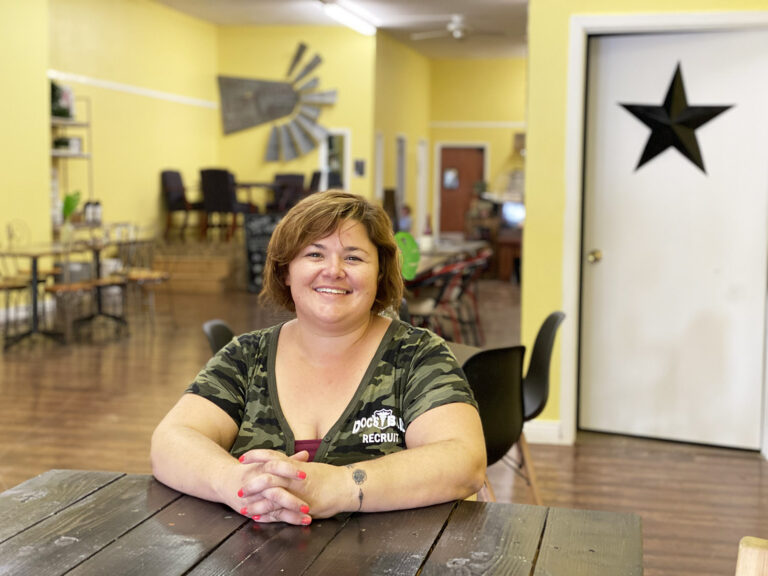 news
DOC'S MESS HALL OPEN FOR BUSINESS
JEREMY WALTNER – PUBLISHER
A Main Street building that was home to The Kairos bookstore/gift shop for 30 years and most recently served as Delicious Flavor — a bakery owned and operated by Brenda Blue and her daughter, Harley — is back open for business under new ownership and management.
Doc's Mess Hall opened to the public last Monday, Sept. 7 as an extension of Doc's Bar one building to the north. It is owned by Doc's Bar founder Josue (Sway) Torres and new business partner Amy Beck, who has managed Doc's Bar since shortly after its opening in April of 2019. It features baked goods and coffee in an inviting space that has been brushed up — complete with a military theme — as well as seating for diners ordering breakfast, lunch and dinner items that come out of the Doc's Bar kitchen.
Doc's Mess Hall is managed by Amy's sister, Anna, and open from 5:30 a.m. to 6 p.m. Monday through Saturday. Amy says the plan is to offer full breakfasts in the near future, once a four-foot doorway is opened up on the north wall connecting Doc's Mess Hall with Doc's Bar to allow for easy access between the two buildings.
The opening of Doc's Mess Hall — which includes renovated event space on the second floor that doubles as the new Dreamations Preschool operated by Freeman 26-year-old Autumn Huntimer — represents a renewal for a business that Beck says was close to closing last year.
"It was me pushing Sway to not close and trusting me that we could do this," says Beck. "This would not have happened if it weren't for me. He will admit that fully."
Sway, who is working at a VA hospital in California, was not available for comment early this week.
Beck said the coronavirus pandemic actually helped establish Doc's Bar as a reputable place to eat the past six months. With residents not wanting to travel outside of town and with curbside pickup available shortly after COVID-19 became a serious concern, folks turned to Doc's. "People tried our food and really liked it," she said. "We started gaining the trust of the people and getting more business."
That's what prompted Beck to urge Sway, not only to stay open, but to expand. One of the driving forces, she says, was the need for additional, more family-friendly dining space.
"We're small and people are drinking and families don't want to be around that; we get it," she said. "So we started looking at other places. We looked next door and thought this was the best option."
The space inside the former Delicious Flavor was not only suitable for dining, but also for a return to what it had previously been — a bakery and coffee shop. So Doc's entered into a contract for deed with owners Adam and Meranda Van Ningen, gave the place a facelift and started on an expansion of their business.
Doc's Mess Hall features a variety of coffees, baked goods by Elena Hernandes and plenty of room for seating — all encompassed by a military theme that will offer a salute to local and area soldiers.
"We went through every part of this place to do it right," Beck said. "It's been fun to see it all come together."