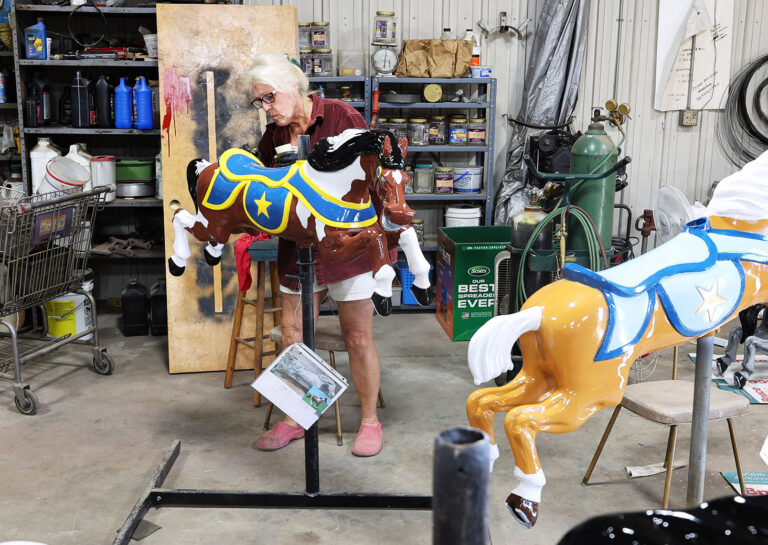 news
ROUND AND ROUND IT GOES
Part 1 of 2
JEREMY WALTNER  –  PUBLISHER
From its earliest beginnings more than 30 years ago through the present day, the Menno Pioneer Power Show has strived to be a family-friendly event, with activities and attractions for folks of all ages.
That, of course, includes children.
A small Ferris wheel, barrel train, minigolf, inflatables and even a tractor pull for kids have enticed the youngest of the guests for years, giving them something to do while Mom and Dad check out the activities for the "bigger" kids.
To that end, the newest attraction at the 34th annual Power Show, which returns to Pioneer Acres on the north edge of Menno Saturday and Sunday, Sept. 26 and 27, is sure to be a hit.
A working carousel is scheduled to make its debut at this year's show — a project of the David and Bubbles Mensch family that has come with support from the larger Menno community.
"We're trying to keep it a family affair, so I decided it would be nice to have a carousel," said David, who was instrumental in establishing the Power Show in the later part of the 1980s, first as a threshing exhibition and then a must-see event that spent 10 years at the city park before moving to Pioneer Acres. "There are shows like this around the country that have carousels, and this is a 1940 to '45 vintage machine, so it does fit in with the show in that respect."
The carousel Mensch is talking about comes from Oak Creek, Wis., and was purchased by the Mensch family for $6,000 in April of 2010. It has since been gifted to the Menno Pioneer Heritage Association, which owns the Pioneer Acres grounds and governs the Power Show.
David had been on the lookout for a carousel online and discovered the find through eBay, when he came across Jerry Lemke, who had inherited the carousel from his father who operated a small, traveling carnival operation across southern Wisconsin in the 1950s and 1960s.
"This is the last ride he had; the rest he had sold," said Mensch, who said the carousel was in disrepair when he bought it; the machine was no longer working and the horses were in serious need of some TLC.
It was the horses, in fact, that held the real value.
"When we bought it, he said, 'You're buying the horses and getting the rest for free.' The entire ride was completely junk."
The machine itself was manufactured by C.W. Parker of Leavenworth, Kan. — an origin discovered by a marking on a gear during the rebuilding process — but the horses were made by the Theel company; "Someplace along the line the guy had replaced the horses," he said.
There are 18 of them, each made of aluminum that were badly in need of restoration. That meant sandblasting every one of them to remove the many coats of paint, eliminating excess aluminum, applying auto putty to fix any blemishes, sanding and then repeating multiple times until they were ready for painting. Mensch estimates 30 to 40 hours went into each horse, just to get it ready for hiw wife, Bubbles, and her painting crew.
Bubbles was charged with painting and took her cues from their 10 grandchildren and the other adults in the family, each of whom picked out a color scheme and will have their name attached to a horse. Only traditional, primary color schemes were allowed to keep the ride true to its vintage status.
"Everybody had input," Bubbles said. "It has been fun, and it will be fun, but right now it's a pain in my …"
She doesn't finish, instead saying that, because they are painting on bare aluminum, multiple coats are required so the lines and edges can be followed to precision. It's tedious, time consuming and worth it. Once the painting is done, each horse is finished by Menno artist Mickey Harris, who adds his personal style and flare to each piece.
That's just part of the effort that has gone into this project. More next week.