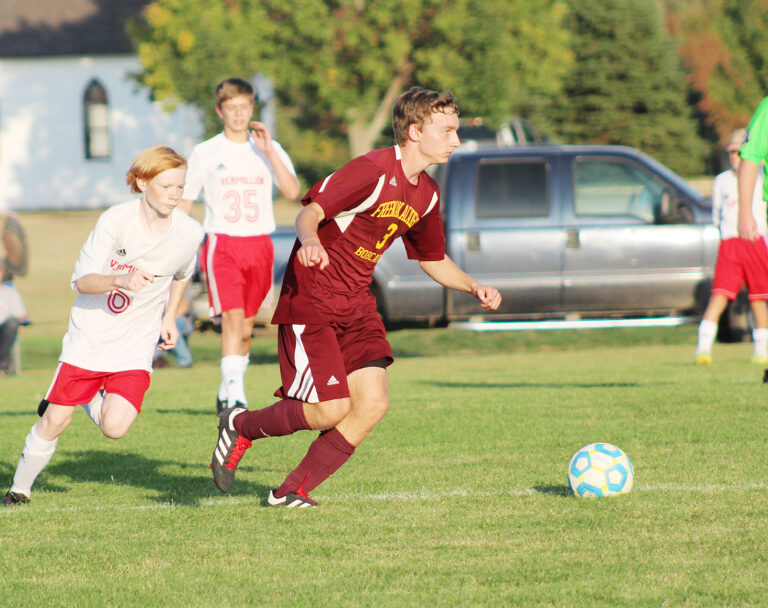 sports
HAGGERTIES, BOBCATS FINISH CAREERS WITH WINS
JEREMY WALTNER – PUBLISHER
This past summer, before the 2020-21 school year began, Gavin Haggerty found himself facing a tough decision. Should he complete his senior year at Freeman Academy — the school from which his mom, Heather, and older brothers Ryan and Brennan had all graduated — or open enroll elsewhere?
The question was born out of Freeman Academy's decision to forgo a varsity soccer schedule and, instead, because of low numbers and the level of experience on the team, compete at the junior varsity level. For a 17-year-old incoming senior who shoulders a profound love for the game — and also happens to be really good at it — it was a blow.
"It was a little disappointing not playing at the varsity level and getting to play against good competition," said Haggerty, whose parents would have supported him in a decision to enroll in another school district with a stronger soccer program if that was what he chose to do. "It would have been fun to see what we could do."
But Haggerty ultimately decided to spend his senior year at Freeman Academy, the school he had attended since he was a fourth grader, and, thus, settle for a junior varsity season in his final year of high school.
"I didn't want to leave the team, because I've been playing with some of the guys for multiple years now and have kind of built up a bond," he said, adding that his appreciation for Freeman Academy carried a lot of weight. "I like the school; they have a good education program and I like the teachers. Going somewhere else — I might not have liked it."
It may not have been the varsity season he would have preferred, but things turned out OK for Haggerty and the 2020 Freeman Academy soccer team, which ended its season in Huron on Saturday. The Bobcats finished with three wins, two losses and one tie, including victories in their final two matches of the season — a 3-2 win over Vermillion at home Thursday, Sept. 24 and a 1-0 win over James Valley Christian Saturday, Sept. 26. And Haggerty was in all four of those goals, scoring three himself and assisting Dustin Cardona on the other.
"It feels pretty good after not having some not-so-great seasons the couple years before," said Haggerty, a six-year letter-winner with the Bobcats. "It was nice going out with a bang, even if it was only JV."
Dan Haggerty, Gavin's dad and the soccer team's head coach the past 10 years, said he didn't know what to expect out of the 2020 season, but is satisfied with a 3-2-1 final record.
"It finished out OK," said the coach. "I'm happy with the season; when grading yourself on wins, losses and ties, when you have more wins than loses, it can be considered a successful season."
And the Bobcats were competitive in all but one of their six matches; games against St. Thomas More, Hot Springs, Sioux Falls Christian and Groton were canceled because of either travel time or COVID-19 or a combination of the two. Only Douglas/Rapid City Christian handed it to Freeman Academy by a score of 6-1 and that's only because the Patriots chose to play its varsity squad.
"They were unwilling to play a JV game against us," said Dan, who was playing with a team led by Gavin and fellow senior Gabe Miller, four inexperienced juniors and rounded out by five sophomores, two freshmen and an eighth grader. "They were up 6-0 by the time they put in any of their bench players. And then with literally minutes left they put in the bottom of the bench, or what I would consider their JV players.
That's certainly not the way Haggerty coaches.
"There were games where I could have let Gavin loose and we could have won 8-0, but what's the point of that?" he says, pointing to the Bobcats' 4-0 win over Southwest Minnesota Christian on Sept. 10. "Why would I run up the score like that?"
As for Gavin's decision to play for Freeman Academy his senior year, Haggerty said that showed some maturity on his youngest son's part.
"Although the level of soccer wasn't up to the standard that he would have liked, he still participated and was a leader on the team," he said, noting Gavin's ability on the field was a big part of the success the Bobcats saw this past fall. "We don't win any game if he's not playing. He either scored the goals or assisted them or prevented so many goals from being scored because of his defensive play and control of the ball."
Gavin played primarily in the middle of the field, but he also had the green light to go where he wanted or felt he needed to, said Dan.
"Other players had to learn how to fill that spot and I got that as the year went on," he said. "One player doesn't make a team. You have to have supporting players and we obviously had some."
Stepping down
Haggerty told The Courier that this season was his last as the head soccer coach at Freeman Academy.
"I am planning to step down," said Haggerty, who has coached the past 10 years, along with one year when he and his family moved to Freeman in 2002, and has in recent years been assisted by Andre Eisenbeis. "I've been pretty up front about that with the players and, once I'm done fully with my coaching duties and getting the uniforms all turned in, I will be informing the athletic director that she needs to look for a coach for next year."
Haggerty says he has enjoyed the ride.
"Obviously getting to know the kids on the team, no matter what school they were from, was great and it's fun to see and work with kids outside of the school setting and church setting — to be able to relate to them on a different level."
And he is particularly grateful for having the opportunity to coach his three sons; in every one of the last 10 years, there has been a Haggerty on the field. That includes the 2015 season, when Ryan was a senior, Brennan was a sophomore and Gavin was a seventh grader.
"Just being a part of that journey with them," he said. "I couldn't replace that with anything."
Haggerty says there's no reason Freeman Academy shouldn't be able to field a team going forward. Of this year's roster of 14, only Gavin and Miller will be lost to graduation.
"I think there are younger kids coming up that would be interested in playing," he says. "You get a couple more junior high kids or somebody else who decides they want to try the game of soccer, and you can get back up to 15 kids; there's no reason they can't continue to have a program. They may have to play at the JV level for a couple of years until they can build up some numbers, but that's not my decision to make any more."
As for Gavin, his playing days are far from over. He will soon begin his third year playing for the Dakota Alliance Soccer Club and he hopes to play at the college level. Gavin says he is looking into engineering programs at the South Dakota School of Mines and Technology, Northwestern College in Orange City, Iowa and Gustavas Adolphus College in St. Peter, Minn.
But that's for later. For now, he simply has one last message for his team.
"Thanks for a great last season," he told The Courier. "I had fun playing and being with the team."