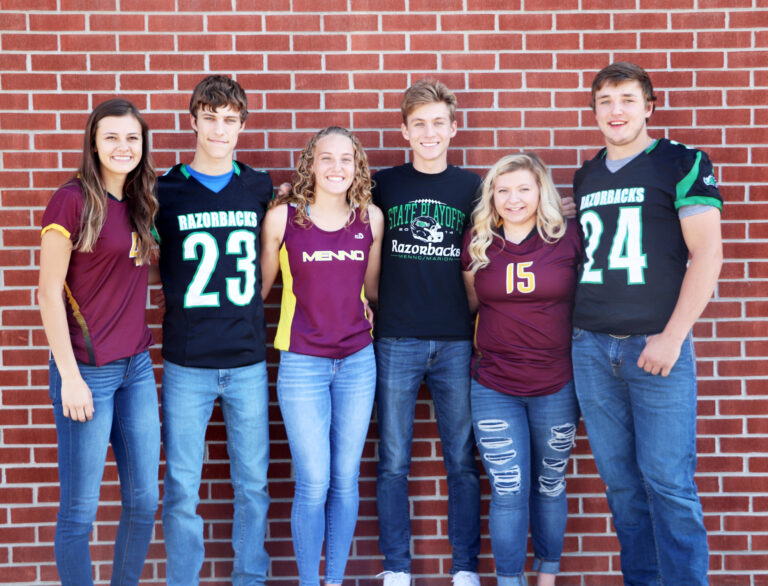 news, photo day
MENNO HOMECOMING THIS WEEK
Students and staff at Menno Public School and the larger Menno community will get their chance to celebrate homecoming this week under the slogan, "The Wolves will stun in 2021."
The traditional coronation will formally get things started Monday night, Oct. 12 and a parade on Friday, Oct. 16 will highlight the week. Coronation begins in the old city/school gym at 7 p.m., with the parade starting at 1:30 p.m. This year's theme is "Roadtrip" — landmarks and destinations.
A 1 p.m. pep rally will precede the parade.
The Menno/Marion Razorbacks will host Parkston in Menno for the Oct. 16 homecoming football game.
Standing for royalty this year are, for king: Brady Fergen, son of Chris and Chrissy Fergen; Levi Bender, son of Henry and Janelle Bender; Josh Heckenlaible, son of Todd and Lori Heckenlaible.
Queen candidates are: Kylie Harriman, daughter of Dustin and Kristin Harriman; Morgan Edelman, daughter of Kevin and Lisa Edelman; Jesse Munkvold, daughter of Ordell and Paula Munkvold.
Crown bearers are Damien Bailey, son of Scott Bailey and Megan Gibbins; and Ryian Huber, daughter of Chris and Molly Huber
Ushers are: Treyton Sayler (Head), son of Mark and Emily Sayler; Tyler Massey, son of Frank and Stacy Massey; Austin Pillsbury, son of Keith Pillsbury and Dan and Nicole Schaeffer; and Strider Rich, son of Kirk Varud and Sara Rich.
Usherettes are Bridget Vaith (Head), daughter of Dean and Jennifer Vaith; Paityn Huber, daughter of John and Michele Huber; Grace Nusz, daughter of Scott and Amy Nusz; and Anna Kludt, daughter of Bryan Kludt and Melissa Kludt
These are the dress-up days scheduled for next week:
Monday: Red Carpet Day
Tuesday: Decades Day
Wednesday: Tacky Tourist Day
Thursday: Election Day
Friday: School Spirit Day
Other activities during the week will include a class banner competition on Monday, a dodgeball tournament on Tuesday, male volleyball on Wednesday and powderpuff (girls playing football) on Thursday. There will not be a homecoming dance this year.