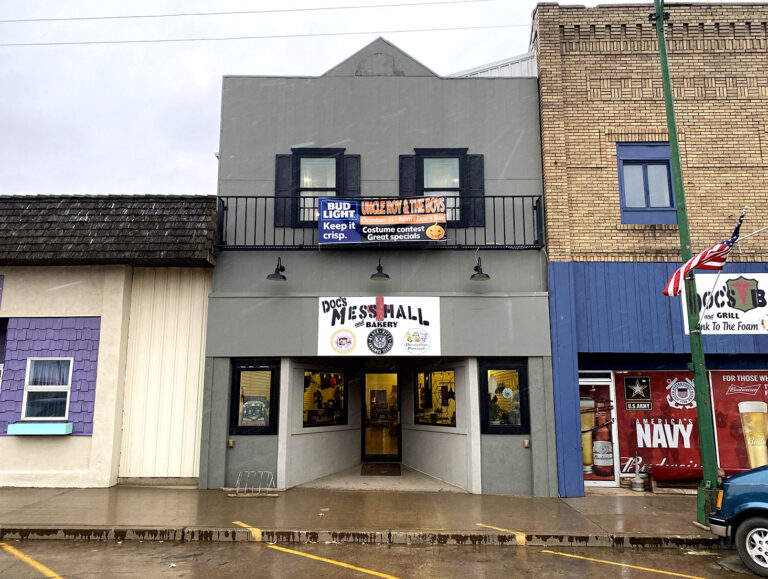 news
BUSINESS OWNERS RESPOND TO CITY CONCERNS
JEREMY WALTNER  –  PUBLISHER
Safety concerns raised by Freeman city officials about a preschool located on the second floor of a downtown business have generated a response from the building's owners, Amy Beck and Josue Torres (Sway), as well as the preschool director Autumn Huntimer.
The responses come following the Sept. 28 and Oct. 13 meetings of the Freeman City Council, when officials expressed concerns about Dreamations Preschool operating on a second floor with only one exit — down the stairs and through the building that doubles as Doc's Mess Hall on the ground-level floor.
Dreamations Preschool opened on the second floor of the former Kairos bookstore and, most recently, Delicious Flavor Bakery, on Sept. 14 after a renovation. It serves children at three age levels — 3, 4 and 5 — and has included an after-school program for children through age 12. Huntimer told The Courier on Tuesday that she has since learned that an after-school program needs to be licensed by the state — which hers is not — and that it would be discontinued immediately.
The city of Freeman took no action at either of its meetings, but suggested the preschool is in violation of fire codes because it does not provide for a second exit.
"I don't want to put her out of business, but I don't want to be responsible (if something happens)," Freeman Mayor Mike Walter said at the council's Oct. 13 meeting.
"Is she licensed? That's the question," added councilor Charly Waltner.
The council wondered about jurisdiction and agreed it would be best to have Freeman Fire Chief Cody Fransen visit with those at Dreamations Preschool/Doc's Mess Hall.
But Amy Beck told The Courier Tuesday morning, Oct. 20 that nobody from the city has talked to them face to face about their concerns, including the fire chief.
"Nobody," said Beck. "We had to find out through the city council minutes."
The minutes Beck is referring to were published in the Sept. 24 issue of The Courier in the "Other Business" section; they read, "Tjaden (Lonnie) asked about adequate exits for the preschool located on the second floor on Main Street. The fire chief will be directed to look into it."
And the minutes of the Oct. 13 meeting, which were not submitted in time for publication this week and will be printed next week, notes that "Tjaden said he talked to the Fire Marshal and there needs to be two separate usable exits for a daycare or preschool. He said that even with two exits, a second floor cannot be used for any children under second grade."
Beck said the State Fire Marshal's office was scheduled to visit the preschool Wednesday, Oct. 21 after Beck reached out to Meranda Van Ningen, with whom she has a contract for deed for the property, and that Van Ningen said, "I'll see what I can do."
Huntimer, Beck respond
The council's discussions have stirred up dissent from those involved with the Main Street business.
Huntimer told The Courier early this week she was told that, because hers is a half-day preschool, it does not need to adhere to state licensing regulations, which require a second exit.
Deb Bigge, licensing specialist with the South Dakota Department of Social Services, confirmed that with The Courier on Tuesday.
Still, Huntimer said, she is adding an exit off the front balcony to make sure the children are as safe as possible.
And in a Facebook message by Huntimer on Oct. 17 and shared on the "Living in Freeman, SD and the Greater Freeman Area" Facebook page, she wrote that she is "following every regulation and code I am required to follow. I am legally (sic) and registered through the state. Dreamations Preschool is fully insured, we have fire protection, we have taken extra safety measures to ensure the children are safe while upstairs."
Huntimer, who has a CDA (Child Development Associate) credential, questioned why she wasn't informed of the issue earlier, and "Why have I not received any communication directly to me as the business owner of the topic being discussed?"
She also stated she has heard the city is trying to create a new ordinance "which will make my legally operating preschool illegal."
She also said the statement that Dreamations is not equipped with two fire exists "is incorrect."
When visiting with Beck on Tuesday morning, The Courier asked her about the two exits. Beck initially said there was a second exit — a ladder that can be dropped down off the front balcony — but then confirmed that the ladder wasn't scheduled to be installed until later this week.
"There will be (two exits)," she said.
Beck's response to the council's concerns also included an email sent Monday afternoon, Oct. 19 to city officials, Torres and The Courier that included a litany of grievances.
"Where is the common courtesy to let us know we need to defend our business or that you think we are destroying our great town of Freeman?" Beck wrote. "Why are you not involved in what we are doing? How are we so hated by some of you? We are bringing joy and comfort to this town. We have new and sometimes extreme ideas. Why is that so bad?"
Beck confirmed in the email that they are waiting for a 25-foot ladder to arrive for installation on the second-floor balcony.
She also said it is her understanding that Freeman Academy uses the second floor of Music Hall for first graders and wondered, if children younger than second grade aren't allowed on a second floor, how is that OK?
But Nathan Epp, Head of School at Freeman Academy, told The Courier that is not happening.
"We can't and we don't," he said, noting that the school is inspected every two years and that the State Fire Marshal makes it clear that students younger than second grade cannot, by law, be on a second level. Epp noted, however, that when Freeman Academy established its 1-4 program in 2012, students were on that top floor. "But that stopped when the State Fire Marshal told us that was not allowed."
It was for that reason, Epp said, that when Freeman Academy was discussing options for its kindergarten and preschool program, it knew that the second floor of Music Hall was off limits.
In her email, Beck also encouraged city officials to come and see the business.
"I'd invite all of you to walk through our doors, take a tour, give opinions to make anything better, sit down have coffee and breakfast just for the hell of it," she continued. "Please, stop being strangers and speak to me or Sway or an employee about what's going on … What you are doing to us is actually breaking me. Can we all just get along and handle business in a much better civilized way?
"Please respond and explain any and all of my questions."
Beck told The Courier Tuesday morning that she hadn't received a response from a single city official.
Torres, however, did reply.
"I provided an opportunity for the council to walk the spaces mentioned in your email Amy and only one individual stopped by," he wrote. "The council's lack of interest in our open invitation several months back is a clear sign in their bias against us and our establishments.
"All of these 'concerns' that are now all of a sudden being brought up could have been addressed months ago. Instead the council decided it was not in their best interest to come walk the 100 ft.," Torres wrote in his email.
The city's response
City councilor Blaine Saarie, who had worked with Beck on several other compliance issues earlier this fall, told The Courier the city is not trying to get the business shut down.
"No, absolutely not; we want to help them," he said. "We're trying to give them some tools to work with to adhere to the laws set up by the state. None of us are trying to shut them down.
"The city council wants all businesses to succeed; we benefit from that."
Mayor Walter agreed that the city of Freeman is not out to shut down Dreamations Preschool. But, he said, the lack of a second exit should be — and is — of concern to officials.
"If something happens, and we know there's a preschool up there and we don't want to say anything because we don't want to hurt feelings, are we true stewards of the citizens of Freeman?" he asked. "Are we doing what we're supposed to be doing?"
He also expressed frustration that those involved, after hearing about the council's concerns, didn't come and talk to anybody from the city.
"If you hear the city has a problem with what you're doing, who would you go to?" he asked. "You'd go to the city."
Walter said Huntimer's suggestion that the city may be trying to enact an ordinance to shut her down is unequivocally false.
"I don't even know of an ordinance we could enact," he said. "And even if we could, we would not."