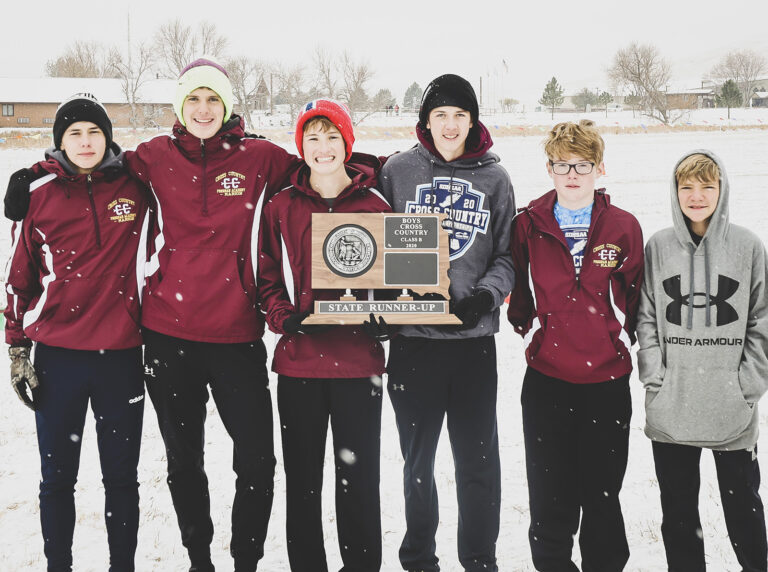 news, sports
FA/MARION BOYS 2ND IN STELLAR DAY FOR BEARCATS
JEREMY WALTNER  – PUBLISHER
The 2020 State Cross-Country Meet will be remembered for the wintery weather conditions that moved across the Black Hills Saturday morning, Oct. 24.
Freeman Academy runners and fans will remember it for something else, too: One of the best all-around finishes in recent memory, if not program history.
Titus Roesler and Tavin Schroeder led the Freeman Academy/Marion boys to a runner-up finish in the Class B standings with fourth- and 12th-place finishes and sophomore Jada Koerner surprised even herself with a third-place showing in the Class B girls race as hundreds of runners and fans bundled up to combat the cold and snowy conditions that made Hart Ranch look more like a winter playground than a golf course.
"It was a very good day," coach Suzanne Koerner said even before finding out that the Freeman Academy/Marion boys finished second as a team for the fourth time in the past six seasons. "I'm just so happy to be here; we are making memories."
Roesler's memory came in 17 minutes and 17:46 seconds; he finished behind a pair of runners from Bison and Warner's Cody Larson, who ran away with his third straight Class B title with a 15:54.61 clocking. Considering where the senior was positioned during the meet of the final race of his prep career — well back from the front of the pack — his fourth-place finish was remarkable.
"I was scared, but I also trusted him," Koerner says of Roesler's decision to choose a slower pace before turning on the burners later in the race. "I would have run it differently, but that was his strategy. He got caught behind some people but did an amazing job of moving up. He knew what pace per mile he needed."
Roesler, 10th at state a year ago, 36th in 2018 and 63rd as a freshman in 2017, was certainly happy afterward.
"I don't think I could have run a better race," he said not long after finishing the 5,000-meter course. "I did a lot of moving up."
Roesler confirmed his strategy was, in fact, to play it safe early on. He said he worried that, if he went out too fast too quickly, it would impact him negatively during a critical time later in the race. "I just can't hold that pace," he said.
As for the 20-degree temperatures Saturday morning, Roesler said it wasn't much of a bother; "I didn't really notice it once the race started."
Given how well he has been running in recent years, the number of miles he puts in for training and how much he understands the science of the sport, Roesler's finish at Hart Ranch wasn't necessarily surprising.
What was a bit of a surprise was the 12th-place finish from Tavin Schroeder, a freshman who has enjoyed an outstanding season as the Bearcats' No. 2 runner. He finished in 18:05.72 and a second-and-a-half from 11th. That's a significant improvement over the 2019 state meet, when he finished 36th, and was a strong half-minute faster than his region race in Platte on Oct. 14.
"Oh my; wow," said Koerner, who coaches alongside Marion's Jerry Kippes, when asked about the final race of Schroeder's breakout season. "That blew me away; I was (just) hoping for a medal for him (top 25."
Of course, Freeman Academy/Marion can't claim a team finish without a third runner in the mix, and the Bearcats had that in Tavin's older brother Thalen, who finished in the front half of the 124-runner field. The junior's time of 19:27.49 was good enough for 52nd and allowed his team to slip past Northwestern by a single point in the team standings.
The Bearcats were also represented by junior Tim Epp, who was 55th in 19:32.99; and eighth-grader Finley McConniel, who finished 95th in 20:41.24.
Tavin Schroeder said he was proud of the whole gang.
"It was a lot of fun," he said after the race. "I think our team has improved a lot since last year."
The Roesler/Schroeder-led Bearcats were fifth as a team in 2019.
Cheers motivate Koerner
It hasn't come up much in conversations with The Courier, but Jada Koerner knows she has big shoes to fill. After all, she comes from a family of outstanding runners. Notably, her mom and coach, Suzanne, was a three-time state champion for Freeman Academy in the early 1980s; her oldest sister, Lillie, was the Class B champion her senior year in 2011; and her older sister Clara finished off her prep career with an inspiring fifth-place finish in 2014.
Jada's third-place finish on Saturday proves that she is doing just fine.
"I just went for it," said Koerner, whose accomplishment on Saturday is so remarkable largely because she lost valuable training during a bout with mono over the summer and struggled getting back to where she wanted to be during the season. "I could hear people cheering and I knew it was possible, but I didn't think it would actually happen."
This is the fourth state meet medal the sophomore has earned; she was 23rd as a seventh-grader, 10th as an eighth-grader and 20th last year as a freshman. She said encouragement from her fans on Saturday was a significant motivator in her ability to move from seventh to fifth to fourth and then, late in the race, to third.
"That's pretty much the best she could do," Suzanne said, struggling some to find the words to summarize her feelings. "I can't believe it. Amazing."