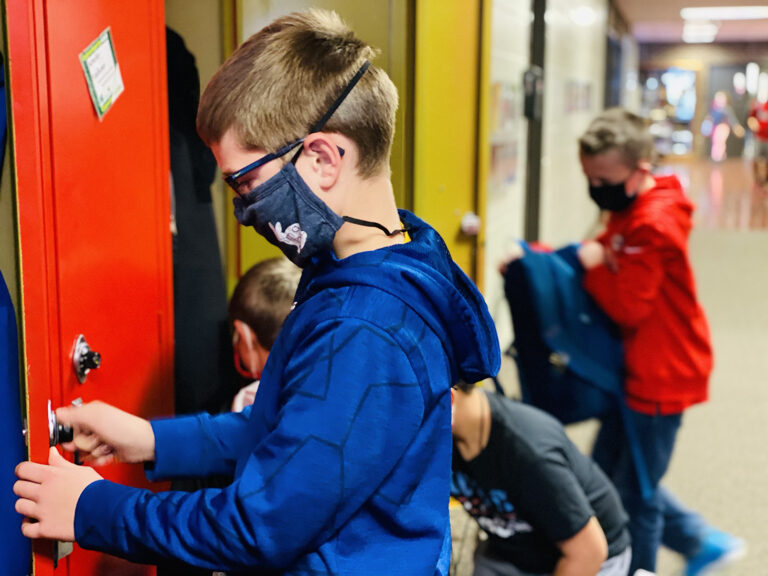 news
'COVID-19 IS A MONSTER'
JEREMY WALTNER  –  PUBLISHER
As COVID-19 cases surge across South Dakota — active cases went from an average of 2,594 the third week of September to 8,983 the third week of October while average daily hospitalizations went from 58 the third week of August to 332 the third week of October — the coronavirus pandemic continues to have a major impact locally.
The most recent example can be found at the Tieszen Memorial Home in Marion, where nursing home residents and staff have been battling illness since the middle of October and have seen several deaths result from it.
"COVID-19 is a monster," said Laura Wilson, facility administrator for the past 12 years and an employee there for more than four decades. "It's one of the worst things I have seen in my 42-year career. We are having a horrible time trying to stop this."
Wilson said the unpredictability of COVID-19 is especially concerning. Staff members at the Tieszen Memorial Home have followed preventative protocol since the pandemic arrived in the United States in mid-March — including wearing N95 masks — but have been unable to mitigate the spread of the disease as South Dakota cases have skyrocketed this month. Staff have been tested twice a week at a minimum, Wilson said, with residents tested between three and seven days, depending on symptoms.
"We had the best-laid plans and have been following infection control to a tee, yet it has spread horribly," she said. "Nothing can prepare you for this. One or two, OK, but when you have multiple cases in a single day, it's highly concerning and very difficult to control."
Wilson said that, since the outbreak, staff members have gone to wearing face shields in addition to N95 masks — which have been in use for months — "but once the cat's out of the bag …
"It has no rhyme or reason," she said of COVID-19. "It's presenting itself in so many ways."
She noted that indicators of a case aren't as simple as a temperature check; it can also include a runny nose, slight cough and even can be found in people who are a-symptomatic.
"It's awful; I don't know how else to describe it," said Wilson, whose father and son have both tested positive for COVID-19; her dad is well on the road to recovery, while her son, an associate at Sam's Club, is in his second week of the disease after picking it up from a co-worker who wasn't forthcoming with his diagnosis and infected much of the department.
"Yeah, this is personal," she said. "I've never seen anything like it."
Wilson said a resident introduced the virus to the Tieszen Memorial Home in late-September and additional confirmed cases started on Monday, Oct. 12 with six nursing assistants testing positive that Thursday, Friday and Saturday, leaving the facility short-staffed.
"What do you do?" said Wilson. "You just have to prioritize; you only take care of the necessities and beg, borrow and steal any staff you can get. Who in their right mind would want to come work in a nursing home when you've got Covid going on?"
While most staff members have since recovered and have returned to work this week, "it's those 10 days …" she said.
That, in and of itself, is enough of a challenge; it says nothing of the emotional impact endured by those with confirmed cases in the residential community. When speaking with The Courier on Tuesday, Wilson didn't say exactly how many residents have been confirmed cases, but said it is widespread. And two obituaries published this week — Joyce Schrag and Maxine Ortman — tell the stories of residents who died while at the Tieszen Memorial Home. The obituary of Schrag even lists COVID-19 as the cause of death.
"You don't know if they have another day," Wilson said of nursing home residents and other seniors who have tested positive. "They don't have the defense mechanisms or systems working like younger people."
According to the South Dakota Department of Health, as of Tuesday, Oct. 27, of the 375 COVID-19-related deaths in the state, 271 were people age 70 and older while 324 were 60 and older.
"Wake up and smell the coffee before you can't smell the coffee," Wilson said, a reference to one of the more common symptoms of COVID-19 — the loss of taste and smell. "This is not about you. It's about the people who don't have a fighting chance."
And that's the biggest frustration for Wilson — people who don't take preventative measures seriously, especially when it comes to wearing face coverings, or who don't legitimize the threat of COVID-19.
In fact, it goes beyond frustration.
Given all she has seen, the disregard some have for the seriousness of a health care crisis that has disrupted more lives than will ever be known, not to mention the more than 1.1 million people who have died worldwide from COVID-19, including 226,000 in the United States and 375 in South Dakota, angers Wilson.
On COVID-19 being a political tool: "Tell that to a family that's having a funeral," she said.
On going out in public: "If you don't need to go to someplace, don't go," said Wilson, who hasn't been to a restaurant since February and is doing all of her shopping online. "I can't take that risk."
On wearing masks: "It's so easy," she said. "I don't need people telling me 'I'm not going to wear a mask.' Stay away from me then."
Wilson said she is frustrated by schools who don't mandate masks.
"Be open, but be safe," she said. "There should be no reason these kids shouldn't be wearing masks all the time except while they're eating. There's no excuse for that."
Tier 2 at Freeman Public
The surge in cases has prompted administaration at Freeman Public to tighten its stance on face coverings and require students and staff to wear them when social distancing is not possible, like in the crowded hallways between classes.
The district last week had also considered transitioning to a hybrid learning structure to reduce the number of students in the building at one time, but will first transition to Tier 2 (yellow) and crack down on mask usage. Tier 3 (red) would mean a total shutdown of the building.
In an email sent to staff and school board members over the weekend, Superintendent Kevin Kunz thanked staff for their input and said he hopes the move to Tier 2 will prompt those in the building to take this pandemic more seriously.
"If that transition does not result in an increased awarness for COVID-19, as well as a consistent action in terms of really trying to mitigate its spread," Kunz wrote, "we would then consider rolling out a hybrid learning model beginning the week of Nov. 2.
Under that model (tentatively), students would be broken in to two groups, with Group A attending class in person and Group B learning remotely on Mondays and Tuesdays and vice-versa on Wendesdays and Thursdays. Flyer Fridays would be held every week.
As for the move to Tier 2, Kunz explained the rationale in the email.
"Confirmed positive cases of COVID-19 within our buildings.
"Substantial community spread of COVID-19 in Hutchinson and Turner counties according to SD DOH definitions.
"An increasing number of close contacts identified in our buildings over the course of the past three weeks.
"Elevated positivity rates in test results reported to the SD DOH over the past three weeks (< 35% or more in several instances).
The transition to Tier 2 will result in very few changes to the elementary building (an increase in face covering use in common areas primarily), as they have been incorporating several mitigation strategies since the beginning of the school year," Kunz wrote. "At the middle/high school level, this transition will result in requesting that students wear face coverings in common areas (hallways, bathrooms, lunch lines, etc.).
"Essentially, the easiest way to view the use of face coverings would be to say that when a student is seated (in the classroom, lunchroom, etc.) they would not be asked to wear a face covering; however, when they are up and moving, they would be asked to wear one. That should be a pretty simple rule to interpret when broken down in that manner. Additionally, we will need to reinforce the need to physically distance students from one another, when possible.
"Remember, there are two perspectives from which we should view mitigation of COVID-19:
"What are we doing to help limit the spread of the virus (prevent others from getting sick)?
"What are we doing to help limit the number of people that would be required to quarantine in the event that we confirm positive cases of COVID-19 in the building?
"Based upon our current situation, protocols, and policies, face coverings would help to limit the spread of the virus and hopefully limit the number of people that actually get sick. Physical distancing would help to limit the spread of the virus, but also have a very high impact on the number of people that would have to quarantine in the event of a positive case of COVID-19."
Editor's Note: The Courier had planned to, this week, include additional reporting about Freeman Public's discussion about a possible partnership with Marion, as well as discussions between Menno and Scotland about a possible football co-op, but opted to give space to the COVID-19 developments instead. Watch for those stories next week.