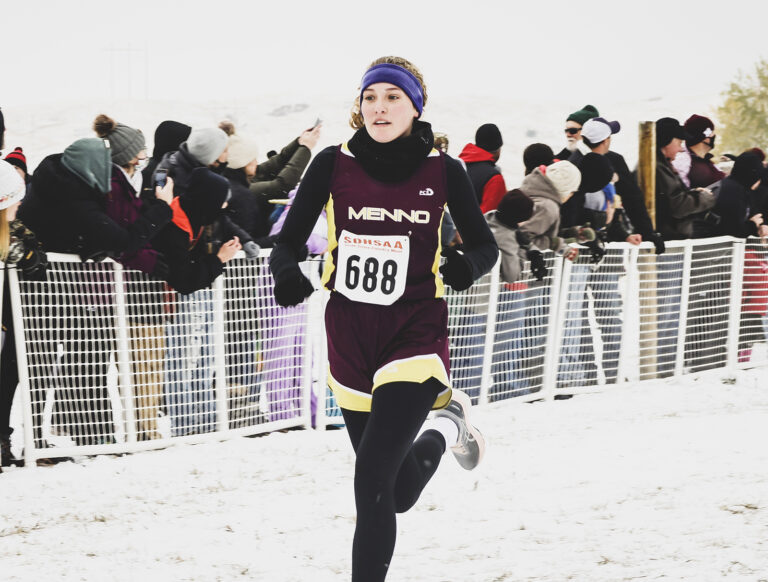 news, sports
EDELMAN SAYS GOODBYE TO XC
JEREMY WALTNER  –  PUBLISHER
The final cross-country race of Morgan Edelman's career is one she will remember, not for the finish, but for the weather conditions she and the 119 other runners competing in the Class B field endured.
"I only fell once," the Menno senior said following her 55th-place finish in her seventh and final state cross-country meet held in snowy, slippery and cold conditions at Hart Ranch Golf Course just south of Rapid City Saturday morning, Oct. 24. "It was not fun; I couldn't feel anything."
Edelman remembers a region meet in Freeman two years ago that came with similar weather conditions, "but this one was worse." And she doesn't say if or how much the weather got in the way of her ability to post a strong finish in the final act of what has been a memorable cross-country career, but it had to have been a hindrance.
"I felt good right away, but then I tightened up," she said. "It kind of went downhill from there."
The poor weather conditions of Saturday were anticipated and prompted the South Dakota High School Activities Association to start the races at 9:30 a.m. rather than 10 a.m. and shorten the time between each race. Class B ran first followed by Class AA and, finally, Class A.
"I like cross-country, but I knew how cold it was going to be," Edelman says. "I just kind of wanted to get this one done."
While she admits she was relieved to have the race over with, she also said she will miss the sport she has been a part of the past six years.
"I'm going to miss it next year; it's fun running — at least when it's nice out," said Edelman, who now has a basketball and track season to look forward to pending a disturbance from COVID-19. "It's been up and down, but for the most part it was fun and I really enjoyed my teammates throughout the years."
That's what she'll miss most, she says.
"We all were so close and had fun together. That's been the best part."
Edelman's final state cross-country meet line is as follows:
2020 – 55th (22:21.35)
2019 – 17th (21:07.79)
2018 – 45th (21:38.08)
2017 – 55th (22:14.33)
2016 – 41st (22:24.52)
2015 – 12th (21:00.07)
Also for the Wolves
Ashton Massey and Kadeyn Ulmer are both still underclassmen — Massey a freshman and Ulmer a sophomore — yet, between them, they have seven state cross-country meets under their belt. And all of those qualifications have come thanks to top-20 finishes at the region meet.
And so it was that both joined Edelman at Hart Ranch for the 2020 state meet on Saturday, with Ulmer finishing in the front half of the pack and Massey in the front two-thirds.
For Ulmer, his 51st-place finish (19:27.24) was the best of his four years running at state; he was 100th (20:22.70) as a seventh-grader, 86th (19:27.89) as an eighth-grader and 102nd (20:19.97) last year. That's remarkable considering he suffered a displacement fracture in his collarbone playing football for the Menno/Marion Razorbacks early in the season.
"Three weeks sitting around didn't help anything," he said. "It was difficult getting back into shape after that, and it's been colder than normal."
But Ulmer bounced back nicely, finishing 13th at the Region 3B Meet in Platte on Oct. 14 — the same place he landed as a freshman last year — before finishing strong on Saturday.
"I'm maybe a little behind where I would like to be, but I think you can say that at any point in the year, even when you're healthy," he said. "It's all about setting expectations."
While Ulmer is happy with his finish, the well-spoken sophomore said being a positive influence on a young team is the biggest takeaway from this unusual season of 2020; the boys team this year included seventh-graders Erick Buechler and Izayah Ulmer, eighth-grader Nathan Sayler, and freshmen Julius Carr (who joined Ulmer at state on Saturday), Isaac Fergen and Hunter Masterson.
"Trying to help them out (mattered) almost more than anything — almost being a pace cart in practices, trying to get them where they need to be (in later years)," he said. "I'd rather be really good for one year than have an OK team for three. They're coming along really good; our team is great."
It's those teammates and the runners from other schools that make cross-country fun, Ulmer said.
"It's the people; the people are great," he said. "Even when we're running, we've got conversations going on, even at state, people talking to each other; all the encouragement."
Carr, who slipped into the state meet field with a 20th place finish at the region meet after originally being counted 21st, finished 107th in his first state meet with a 20:58.73 clocking.
As for Massey, her 66th place finish (22:43.90) was the lowest of her career thus far — she was 41st last year and 36th as a seventh grader. But it was a solid season for the freshman, who says a change in her mindset made a big difference this year.
Coach Cindee Mutchelknaus says it was great to see the young runner enjoy a solid season.
"She had an amazing year," said Mutchelknaus, who said the weather conditions of Saturday's state meet really bothered Massey. "Elements like that bother some runners more than others, but she improved so much this year. She placed in every meet (prior to state) and has come such a long way."