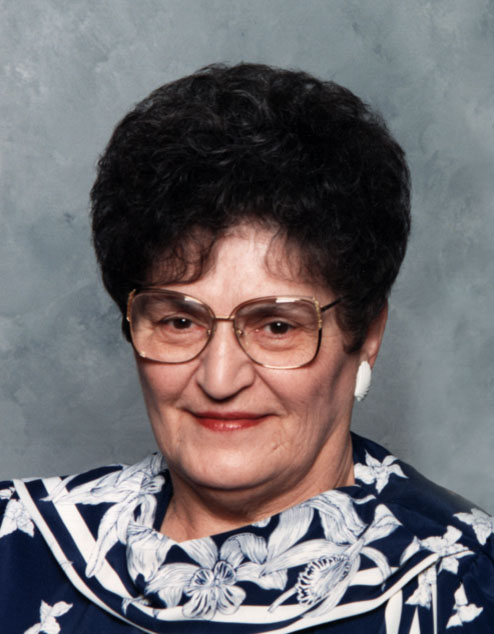 obituaries
Lillian Walter: 1924-2020
Lillian Walter, age 96, of Huron, S.D., passed away Saturday, Oct. 24, 2020 at Avantara-Huron. A private family graveside service will be held, with a celebration of life being planned for next summer. Interment will be in the Bethel Church Cemetery.
Lillian Wipf Walter was born Oct. 10, 1924, at Onida, S.D., to Zack B. and Anna (Wollman) Wipf. When Lillian was 4 years old., her family moved to St. Paul, Minn., where she received her education. Lillian was very active win her church youth group and sang in the choir, many different small groups, and a trio with her two sisters.
On Oct. 4, 1933, her mother passed away leaving three young daughters. On Sept. 4, 1934, her father married Matilda Waldner. To this union were born 3 daughters and a son.
In 1940 Lillian moved to Yale, SD. She accepted Jesus as her Savior and was baptized and became a member of the Bethel Mennonite Church of Yale. She taught Sunday school, participated in Women's Missionary Society, and was the Sunday school secretary for many years.
On Oct. 3, 1942, she married Marvin H. Walter at her parent's home near Yale. They were married by her uncle, Rev. Joe E. Wipf, and Marvin's mother prepared the meal of sauerkraut and stew. They moved to a farm north of Yale and lived there for 30 years. In 1972 the family moved to Great Bend, KS, where Lillian worked at Fuller Brush Co. and Zip's Gas Station as a bookkeeper. Marvin and Lillian celebrated their 50th wedding anniversary in 1992. They moved back to Huron in May, 1994, due to Marvin's failing healthy with Parkinson's.
Lillian loved her family, grandchildren, great-grandchildren, and reading. Her favorite Bible verse was Philippians 4:13. Her faith in God was evident in every aspect of her life. Christian education was an important part of her life, and she avidly supported James Valley Christian School with much prayer and resources. Lillian was a constant prayer warrior for her family, friends, and any request made known to her. Lillian loved having company and visiting. She enjoyed sports and watching her favorite teams: the Minnesota Twins, the Minnesota Vikings, and the Kansas Jayhawks.
Grateful for having shared her life are her sons Errol (Bonnie) Walter, Huron, and Marty (Karla) Walter, Conway, Ariz.; eight grandchildren: Michell (Kevin) Peterson, Leawood, Kan.; Jeremy (Kristi) Wallman, Yale, S.D.; Ryan (Dorothy) Walter, Suffolk, Va.; Rusty (Tina) Wallman, Median, Minn.; Derek (Lauren), Mica, and Blake Walter, Conway, Ariz,; and Beau Walter, Little Rock, Ariz.; 16 great-grandchildren: Luke, Morgan, Jada, Nolan and Eleanor Peterson; Landon and Jerrad Wallman, Yale; Lily, Noah, Emelia, Oliver, Levi and Annalise Walter, Suffolk, Va.; and Barrett, Grant and Delaney Wallman, Median, Minn.; son-in-law, Willard Wallman, Huron, S.D.; two sisters: Jane (Wipf) and Dennis Decker and Rose (Wipf) and Eugene Brenner both of Huron.
She was preceded in death by her parents, Zack B. and Matilda Wipf and Anna (Wollman) Wipf; husband, Marvin in 1994; her daughters Janette (Jan) Wallman in 2003 and Nita in 2019; 3 sisters and brothers-in-law: Edna (Wipf) and Christy Hofer, Rita (Wipf) and Eddie Lehman, Adeline (Wipf) and Eli Walter; brother and sister-in-law, Zack and Sherry (Frenge) Wipf; 2 brothers-in-law: Ted and Marge (Hofer) Walter and Capt. Joseph and Katherine (Kennedy) Walter.
Honorary pallbearers are all of Lillian's grandchildren and great-grandchildren.
Pallbearers are Jeremy Wallman, Kristi Wallman, Daryl Walter and Kevin Hofer.
Visit www.kuhlerfuneralhome.com