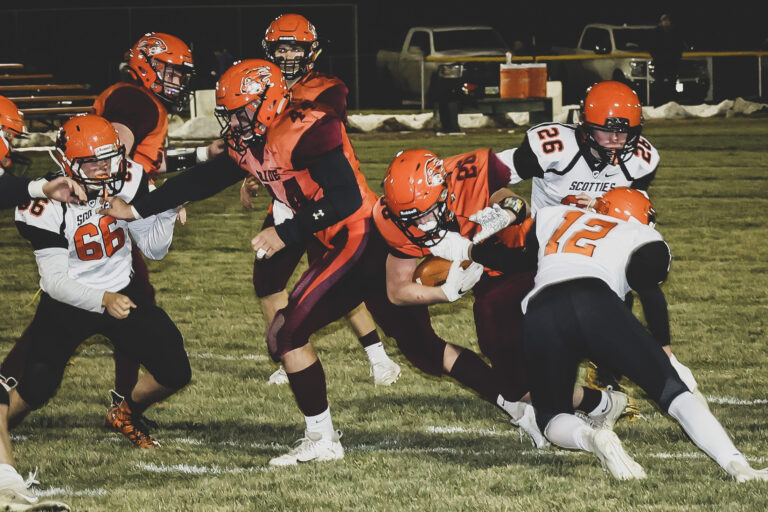 news, sports
PRIDE POWER PAST PHILIP, INTO SEMIFINALS
Revenge, they say, is best served cold.
To that end, Canistota/Freeman is hoping next Friday night is downright frigid.
The two-time defending 9A champion Pride (9-1) and this year's No. 4 seed in the playoffs earned their much-anticipated rematch with Howard — both the top seed and the state's top-ranked team — thanks to blistering 50-0 win over No. 5 Philip in the quarterfinals Thursday night, Oct. 29.
Howard memorably outlasted Canistota/Freeman 16-14 in a triple overtime thriller during the regular season that altered the trajectory of the rest of the season; in the following week's South Dakota Prep Media Football Poll, it was Howard — not Canistota/Freeman — in the top spot. More importantly, though, the Tigers' Sept. 11 win prevented the Pride from playing for a coveted Cornbelt Conference championship that has eluded them in four years as an otherwise stellar cooperative.
"You know how important that is," a fired-up head coach James Strang told his players as they huddled in the northwest endzone after Thursday night's impressive win over the Scotties. "They took that from us; you're going to hear me yapping about that all week. We have the chance to take it back. We have the chance to beat the No. 1 team in the state."
Howard remains undefeated on the year at 9-0 following its 56-13 quarterfinal win over No. 8 Castlewood in Thursday's quarterfinal round.
Kickoff is at 7 p.m. in Howard Friday, Nov. 6.
The winner of the Canistota/Freeman-Howard matchup will play in the state 9A championship game in the DakotaDome Thursday, Nov. 12 at 7 p.m. against the winner of the other Nov. 6 semifinal game pitting No. 2 Wall against No. 3 Warner. Both teams are 9-0.
THE 50-0 ROUTE
The Pride's win over Philip in Canistota on Thursday was a no-doubter despite a rough start.
Long touchdown runs by quarterback Tyce Ortman on each of the team's first two possessions were called back because of holding penalties and Canistota/Freeman was forced to punt both times, eliciting loud cheers from a Philip crowd that was good in size considering the 245-mile drive across the state.
But the Pride's defense did its job by forcing the Scotties into punt situations on their first two possessions, and when Ortman found senior speedster Collin Helma for a 36-yard touchdown reception on Canistota/Freeman's third offensive opportunity late in the first quarter, the maroon and orange were off and running.
The Pride put up 22 points in the second quarter to take a 28-0 lead at the half and quickly turned the game into a running-clock situation (a 35-point second-half lead) after quickly forcing and recovering a fumble and then scoring their fourth touchdown of the night less than 30 seconds into the third quarter to make it 36-0.
The game ended with Canistota/Freeman's third touchdown of the third period and seventh of the game before the teams even reached the fourth quarter.
The Pride are now 9-1. Philip ends its season 7-3.
"We did some nice things," Strang said of his team's showing against the Scotties. "They were stacking the box and we were able to get the passing game going a bit, which is something we've been trying to get rolling all year long."
Canistota/Freeman did that thanks to an air game that yielded 22.3 yards per pass for a total of 158 yards — more than half of the 292 yards of total offense. Helma and Logan Katzer each caught 56 of those yards for a touchdown apiece while Isiah Robertson recorded 27 receiving yards and Clayton Smith caught one ball late in the game for 17 yards that led to the final touchdown of the night.
"It's nice to see that happen," said Strang of the Pride's strong passing game. "We were able to protect a little better tonight, give Tyce a little bit more time to do some things, but ultimately our running game needs to be efficient. We need to stay ahead of the chains."
And the head coach noted again that starts with the line.
"We need to be a little better getting hats on hats and running our feet and getting vertical," he said. "The one block or half block isn't good enough. We've got to stay on our toes and keep moving forward."
While the coaching staff is constantly preaching improvement, the offense showed just how deep the playbook goes against Philip. Five different players found the endzone on Thursday: In addition to Helma and Katzer's 56-yard touchdown receptions, Isiah Robertson and Ortman each rushed for two touchdowns and Blake Anderson found the outside corner for another.
But the star of the show was Canistota/Freeman's defense, which held the Scotties to 57 yards of total offense and just one first down; by comparison, the Pride had 16.
"Defensively I thought we did an amazing job," said Strang. "There were some talented kids out there on that Philip team and we did an amazing job of setting our edges and controlling what we can control."
Eight players had two or more solo tackles: Anderson and Ortman had four; Riley Heiberger had three; and Helma, Noah Kleinsasser, Trace Ortman, Robertson and Austin Matthaei each had two.
And Cole Papendick blocked a punt.
HOWARD REMATCH
The coaching staff — and certainly the players — know what awaits them next Friday when they travel to Howard for a rematch the whole state will be watching.
"We've got a whole different beast next week," said Strang, who notes it was the Tigers whom the Pride defeated in their first 9A title in 2018 but who currently holds the upper hand. "This is an opponent we know very well, and they know us very well. This is something that has been building."
While the head coach would prefer to face Howard in the DakotaDome in Vermillion in a title game, he welcomes the chance to play them for a second time this season.
"I'd like the opportunity to meet them in a championship game, but we'll play them at any point and time," he said. "We ended up on the same side of the bracket this year so we're going to travel to Howard and see if we can't get a win."
Whatever happens, Strang is just thrilled to be a part of this cooperative.
"It's an amazing group," he said. "They continue to work together; they continue to improve. I think the best thing about these young men is that they hold each other accountable. I hope they're not playing for me. I hope they're not playing for any other reason than to play for each other, because they all have put in so much time and energy to get to where they're at right now.
"And they're going to be successful," he continued. "They're going to be successful – and in life – as a result of the effort and the energy they put into this game of football."