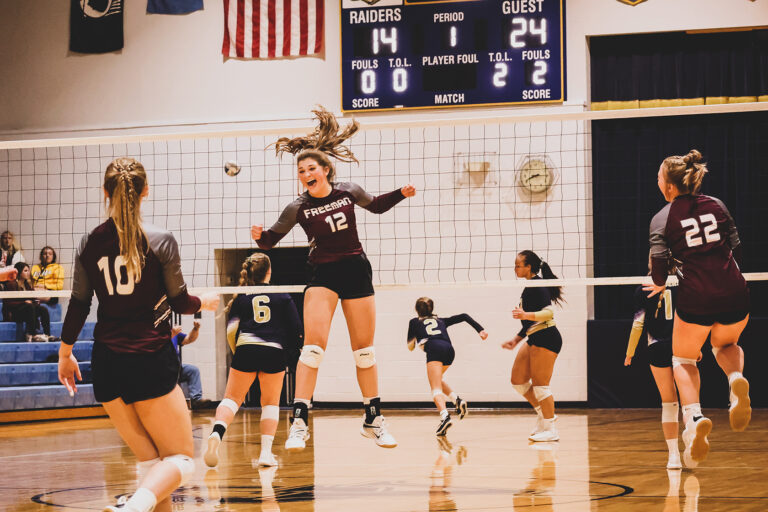 sports
TEAM EFFORT FUELS IMPRESSIVE WIN; A FULL REPORT
BY JEREMY WALTNER  |  COURIER EDITOR & PUBLISHER
You don't have to remind the Freeman High School girls of the old cliché, "There is no 'I' in team."
They proved it Thursday night.
Competing for a spot in the SoDak 16, the Flyers outplayed and overwhelmed higher-seed Gayville-Volin in the third and final round of the Region 5B Volleyball Tournament by using balanced offensive production and relentless defensive protection to take down the Raiders 29-27, 25-18, 25-15.
The win left Gayville-Volin players and fans stunned on their home court; the Raiders finished their 2020 campaign with a 16-4 record. Meanwhile, Freeman and its fans reveled in an inspiring, unforgettable upset victory that moved them into a SoDak 16 showdown with Chester Area in Chester Tuesday night, Nov. 10.
"This is what we've seen in practice all this last week," second-year head coach Kendra Arens said after the match as players emerged from the locker room wearing wide smiles, eager to embrace friends and family members. "These girls wanted it, they have a goal and they're getting after it. They have been pushing themselves beyond belief and tonight they proved what they can do."
The Flyers are 17-5 and the SoDak 16's 13th seed while Chester Area — also the Flyers — are the third seed and 20-2. Freeman has lost to Warner in the SoDak 16 each of the past two seasons.
SHOWDOWN IN GAYVILLE
A back-and-forth first set that electrified the gym in Gayville indicated a match for the ages was to come. Both teams had leads throughout that opening frame, momentum swings were aplenty and the Flyers and Raiders both had multiple game points as the set reached the 25-point mark before Freeman finally put it away at 29-27.
"Getting that first set under your belt is big because it shows you that you can do it," said Arens. "When it's tight like that, that goes back and forth, and you get that win, it sets the tone for the rest of the match."
The Raiders bounced back quickly, though, and built an 11-4 lead in a critical second set, but it was all Flyers after that. Freeman outscored Gayville-Volin 10-3 to tie it at 14-14 and outlasted the Raiders thereafter for a 25-18 set win and 2-0 match lead.
"Hits were on, blocks were on, they were covering tips; we were all working together," said Lily Wipf, a junior libero whose outstanding and steady play in the back row anchored Freeman's ability to keep the Raiders from regaining any sort of momentum the rest of the match. "It was great."
By the time the third set rolled around, there was no stopping the momentum generated by balanced play across the court — including strong defense at the net that included six blocks from senior Rijjy Peterson and another four from sophomore Kate Miller — and the Flyers cleaned up the sweep with an easy 25-15 set win.
Afterward, coaches and players were quick to credit the play of their scrappy libero.
"Lily Wipf played amazing, phenomenal volleyball tonight," said assistant coach Rylie Christensen, who noted court coverage was a big part of the preparation that went into the match against a solid hitting Gayville-Volin team, and it paid off big time. "We read their hitters like we have never read hitters before. We have focused and worked on that in practice so hard; coach and hit at them and said, 'These are the holes, we've got to pick those balls up' and we sure as heck picked those balls up tonight."
Wipf's 36 digs led the team, but the Flyers got an additional 19 from Peterson, 11 from Miller and 18 more from four other players for a team total of 84 — that's 84 would-be Gayville-Volin points that were wiped off the board.
Arens echoed Christensen's praise for the stability Wipf brought to Thursday night's match.
"She was exceptional," she said. 'Wherever that ball went, that's where she was."
"Oh Lily, she's freaking amazing," said Peterson, who has consistently led the Flyers on the court all season long. "I could give her a kiss on the lips right now. She's so good. She moved so well tonight."
"I'm just paying attention to the hitters and trying to read them," said Wipf. "The more you play, the more you know where they're going to go, so I just tried to follow and keep up with them — just do what I can do to help my team out."
The Flyers were equally impressive on offense as they were on defense, which Arens said is something else the team worked on in the days leading up to the region showdown with Gayville-Volin.
"We have worked all week on speeding up our offense," said the head coach — "quickening up that set for that attack."
"We were quick on our feet, for sure," said Pankratz, who will play volleyball for Dakota Wesleyan University next year. "We ran a lot of quick balls and they just weren't ready for it. That's what we needed to do."
Arens told her team in the locker room after the match that this was a complete team win.
"I said to them, it takes more than even just those six that are out there; it takes everyone giving 110% on the court, on the bench, in practice. It takes the whole team to do what we just did out there."
But Wipf was quick to praise the oldest on the team.
"The seniors are great," she said. "They're all encouraging and all work really hard and keep a positive attitude and keep us going. We're unstoppable when we're playing like that."
In addition to Peterson's team-high 15 kills, Freeman got 14 from sophomore Kate Miller, four from sophomore Erin Uecker and a combined five from seniors Mesa Mehlhaf and Odalite Pankratz. It was a balance of power that thrilled Peterson.
"I get almost 10 times more excited when they get a kill than when I get a kill," she said of her teammates. "I could be having the worst night ever, and when they get a kill, I go nuts. It makes me so happy to see them succeed like that."
Setting up the hitters was senior Cara Maske, who like Wipf was steady in her approach all night long; of the Flyers' 35 set assists, she accounted for 32 of them.
"I thought our coverage was really good tonight and we hit — we hit really well," she said. "We've been practicing that and picking up our game and it really paid off."
NOTES FROM GAYVILLE
• Freeman's victory over Gayville-Volin Thursday night was not unlike the one that came a year earlier, when the No. 3 Flyers swept the No. 2 Raiders 25-23, 25-19, 25-13 to advance to the SoDak 16. And in both 2019 and 2020, Freeman lost to Gayville-Volin during the regular season, only to avenge the losses when it mattered most.
• Christensen used one word over and over again when asked about the girls' mentality prior to the match: Focused. "They knew what we were coming here to do," said the assistant coach. "We showed up to take care of business."
• There was no shortage of energy from both sides of the court early on in Thursday's match. The Raiders and their fans were particularly loud when Gayville-Volin won the first two points in the opening minute of the game and, as the teams traded points and momentum the rest of the way, the back-and-forth between the two camps was exactly what you'd expect from a high-stakes postseason game. But as the Flyers established themselves as the better team, the energy became one sided. "We were loud; we got excited," said Peterson. "Sometimes it's hard for us to get excited about things, but Gayville is always a big game. We go nuts; we go 24-7. It's a fun game."
• For the Flyers and their fans, there was no shortage of smiles afterward, either. "I'm stunned," said Maske, whose face was lit up like a disco ball as she grinned from ear to ear. "I can't even find words; we've been playing with each other since junior high and have come so far. It's just crazy." Pankratz called it, simply, a lot of fun. "I love these high intensity games," she said. "It really gets the adrenaline going.
• The Flyers haven't lost a volleyball match since Sept. 26, when they took the court for four matches at the Sanford Pentagon in Sioux Falls. They closed out the regular season by winning nine in a row, made it 10 straight by beating Irene-Wakonda in their first match of the Region 5B Tournament Tuesday, Nov. 3, and they will now take an 11-match winning streak in the contest against Chester Area.
• Freeman Public has been to just one State Volleyball Tournament in program history — in 1998, when the Flyers upset top-seed Rapid City Christian before finishing fourth. This year's team, of course, would love nothing more than to take the court at the Huron Arena Nov. 19-12 for state. "We're ready," said Pankratz. "That's our one goal." Said Arens: "These girls have proven time and time again that you do not quit until there are three sets with 25 at the end of them. They're ready to take care of business this year. They're focused and they're ready to go."
SODAK 16
Here are the eight matches and locations that will determine the eight teams that will play at state. All will be played Tuesday, Nov. 10.
No. 1 Northwestern vs. No. 16 Timber Lake (Mellette)
No. 2 Warner vs. No. 15 Faith (Warner)
No. 3 Chester Area vs. No. 14 Freeman (Chester)
No. 4 Colman-Egan vs. No. 13 Kadoka Area (Colman)
No. 5 Bridgewater-Emery vs. No. 12 Philip (Emery)
No. 6 Faulkton Area vs. No. 11 Kimball/White Lake (Faulkton)
No. 7 Hitchcock-Tulare vs. No. 10 Ipswich (Tulare)
No. 8 Castlewood vs. No. 9 Corsica-Stickney (Castlewood)