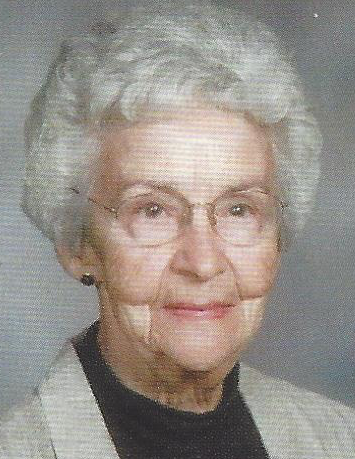 obituaries
Arleen Amert: 1921-2020
Arleen Amert, age 99, passed away on Friday, Nov. 13, 2020 at Heritage Senior Living in Madison, S.D.
A private family inurnment will take place at Graceland Cemetery in Madison. Memorials can be directed to Lake County Food Shelf, PO Box 61, Madison, SD 57042 or Graceland Cemetery Fund, PO Box 163, Madison, SD 57042, or donor's choice.
Arleen Ruth Schrag was born March 11, 1921 in Turner County, S.D., to William and Martha (Graber) Schrag. She attended a small rural elementary school and then graduated from Freeman Academy in 1938. She was baptized upon Confession of Faith at the Salem Mennonite Church, rural Freeman, S.D., in 1935. Arleen earned a one-year teaching certificate at Freeman Junior College and taught in country schools in Faulk and Turner counties for four years. She continued her education and earned an associate degree at Eastern State Teacher's College, now DSU. Arleen then taught English and music at Rutland High School for three years.
Arleen met Henry after the war and the two were married in Madison in 1946. To this union four children were born. Henry and Arleen spent the next 50 years running the family business they started, Amert Construction Company. They were faithful, active and devoted members of the First Presbyterian Church in Madison.
In addition to raising her children, Arleen mentored many others and treasured lifelong friendships with them and with many of the people she and Henry worked with over the years. As a child Arleen played violin in a family string quartet, and she had a deep and abiding love for classical music. She taught herself to play the piano as a youngster and making music with others was second nature to her. She was an inveterate and intrepid traveler, both with family and on her own, and she cherished those memories. She never passed up a chance to go on a cruise, and whale watching was a particular joy. Arleen also greatly enjoyed participating in Writers, Inc., both the creative process and the creative people she found there.
Arleen is survived by her two sons, Richard Amert (Peggy Young) and Don (Donna) Amert, both of Madison; one daughter, Susan Amert of Newark, Delaware; nine grandchildren and nine great-grandchildren, and a large and loving extended family.
Preceding her in death were her parents; her husband Henry in 1996; her daughter, Kay Amert, in 2008; and three siblings: Doris Alsgaard, Gerry Cox and Bill Schrag.