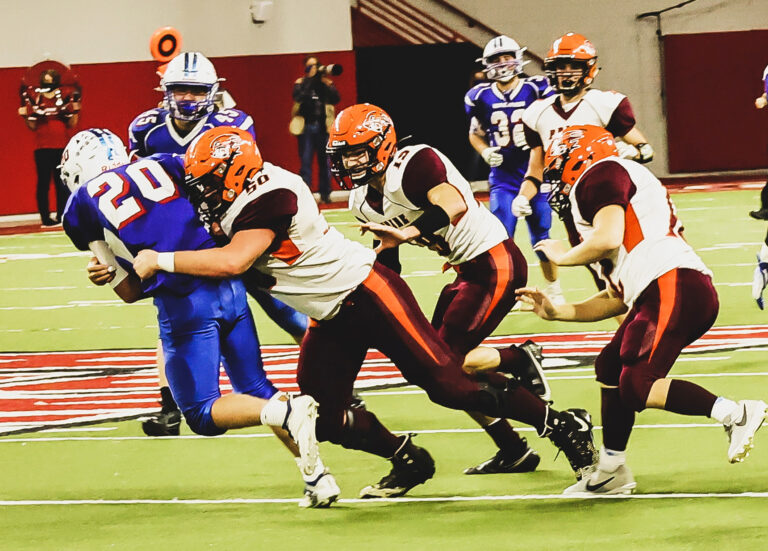 sports
DEFENSIVE DOMINANCE CARRIES PRIDE TO TITLE
JEREMY WALTNER  –  PUBLISHER
More than 3½ years ago, when the coaching staff and players of the newly formed Canistota/Freeman football cooperative got together to come up with a team name, it wasn't hard for them to settle on their pick, even if it took a little time.
The team would be the Canistota/Freeman Pride.
"After many months of discussion, research and thought, a consensus has been reached on a mascot that we believe embodies the feelings that we all share for our communities, our sport, and exemplifies a promise for the future of this co-op," the team wrote in a statement. "Pride: the term that resounds with our players and coaches as a testament to who we are and the standard to which we will hold ourselves."
Standing on the field of the DakotaDome in Vermillion Thursday night, Nov. 12 after watching Canistota/Freeman claim its third-consecutive Class 9A championship behind a defensive effort for the ages, James Strang, the team's head coach, reflected on that decision and what the idea of pride means to him.
"I tell you what, there's a reason for that," he said following the 12-0 grind-it-out win over Warner — the lowest scoring game in Class 9A history. "It's about pride in your communities, because we have two amazing communities that support these young men in everything they do, and pride about what we do on the field. It's so great to have that idea of pride in everything you do; and it's more than football. It's about the type of person you're going to be when you finish high school, when you go out into the world and when you have a family of your own.
"I'm so proud of the character and the effort that these young men have put forth from the start," Strang continued. "I'm so happy with these seniors and this next group that's going to come up and hopefully do the same thing."
Canistota/Freeman's championship win on Thursday night and the three-peat that it was comes on the heels of a dominant three seasons under the leadership of Strang and his support staff and, this year, an impressive playoff push that saw the Pride fighting for everything they earned. Ranked second in the state but seeded fourth in the playoffs, the maroon and orange had to knock off top-ranked and top-seeded Howard in the semifinals and then survive a legitimate threat from No. 3 Warner in Thursday's title game to get the job done, all while playing with a massive target on their collective backs.
That they were able to do both — hold off the Tigers 12-7 on their home field Nov. 5 and then outlast the Monarchs in Thursday's championship — speaks to the character and determination of the Pride.
"Effort," Strang said. "The games have been tight this season and that's one thing I can always say about this group — effort. Defense wins championships and defense takes effort and it was a team effort tonight. I'm so proud of these boys."
Freeman senior Clayton Smith, the big lineman who wears No. 44, acknowledged that this year's title run took more work than the previous two.
"Last year and the year before, it seemed a lot easier; it seemed like we had more talent on the field," he said, a reference to the impact that players like Trey Ortman, Bailey Sage and Micah Swensen had on the field. "We knew that we had a lot of people who had to step and work together to accomplish winning a state championship.
"We were thinking three-peat from day one."
The battle was on
Following the Pride's semifinal win against Howard, quarterback Tyce Ortman said the championship game against Warner was going to be another defensive battle, and boy was he right. Look no further than five turnovers in the first half that prevented either team from establishing momentum. The Monarchs, seeking their first-ever football championship, gave the ball away twice on fumbles and their freshman quarterback, Hunter Cramer, threw a pass that was intercepted by Canistota senior Blake Anderson late in the second quarter.
The Pride, meanwhile, had troubles of their own.
Ortman lost a fumble on a fourth-and-short in the first quarter and then threw an interception at the Warner 1-yard-line late in the second quarter. Not only that, but penalties hindered Canistota/Freeman's ability to move the ball down the field; for the game, they were flagged six times for 55 yards.
"Seems like the first half we've been playing," said Strang. "I keep talking about efficiency — not turning the ball over and penalties — and what do we do? We come out and we step on our toes."
While both offenses struggled to sustain momentum in the first half, Canistota/Freeman was just a little bit better thanks to an elite playmaker in Ortman, who just this week was named MVP of the Cornbelt Conference. Ortman, who hopes to play for the Jackrabbits at South Dakota State University, has been the foundation of the Pride's offense all season long, accumulating nearly 1,800 yards and putting up 34 touchdowns — 14 through the air and 20 on the ground.
And, against Howard in the semifinal, it was Ortman's ability to manufacture a 36-yard touchdown run in the second half that proved to be the difference in the 12-7 win.
"You can't let him get space or he's going to hurt you," Warner head coach Kerwin Hoellein told the Argus Leader in the 9A championship preview published on Nov. 11. "Obviously, we're going to have to read him and make sure that we have people getting to him."
It worked — for a while.
The Monarchs held Canistota/Freeman to a three-and-out on its possession, forced the Ortman fumble on its second and then took advantage of two Pride penalties and their third possession of the game to force another punt late in the first quarter.
But on the Pride's first possession of the second quarter and fourth of the game — following a Warner fumble forced by sophomore Noah Kleinsasser — Ortman got loose for a 49-yard run that took Canistota/Freeman to the Monarchs 19-yard-line and, four plays later, the quarterback kept it himself from seven yards out for the game's first score.
With 8:37 to play in the first half, it was 6-0 Pride.
Canistota/Freeman had the ball two more times in the red zone with a chance to extend the lead but came up short both times.
"They did so many things defensively that we had to adapt to on the fly and try to make things happen," Strang said. "Amazing football team in Warner. They're extremely well-coached and they did so many things that caused us fits throughout the course of the game.
"Just a tremendous effort from them."
Strang didn't say much in the locker room at halftime. Instead, he was matter-of-fact.
"I said, 'It's easy boys. We've got 24 minutes to get three, and that's what it's going to take — 24 minutes.'"
The team's offensive coordinator, Brad Struck, wasn't so nonchalant.
"Coach Struck got a little bit owly with them," Strang said. "He's like, 'We're in a 6-0 ball game. We stepped on our toes too many times. Understand what's going to make us successful in the second half and it's not going to be deflated or down and out.'
"And it took all the way to the bitter end to get it done."
"We knew that our offensive and defensive line was going to be key," said Struck, who has been with the Canistota football program since the fall of 2007 and has spent the past three seasons flying solo as the team's offensive coordinator. "I told them we've got the best line in the state and we're going to use it to get the win. The boys proved me right."
The second half
With junior running back Isiah Robertson battling a sprained ankle suffered in the Howard game — against Warner he had three carries for eight yards, all early — the Pride were without a key offensive weapon.
"He's a burner," Struck said of Robertson, noting that his speed makes him particularly effective running an option or a sweep — two elements of the Pride's offensive attack that were compromised because of the injury.
So Struck stuck with what he had the most confidence in — the ability of Tyce Ortman.
"Put the ball in the hands of your playmaker," he said. "That's where we felt the most comfortable."
And, as if on cue, midway through the third Ortman made one of the biggest plays of the game by taking the snap, finding a gap and getting free for a 64-yard touchdown run to give his team a 12-0 lead.
"I don't even know how he got through there," said Strang. "Tyce just does a great job. It seems like he isn't moving, but once he finds his seam, no arm tackle is going to bring him down. He's got tremendous leg drive. That showed tonight. It was a huge run."
"It was to the right side and I saw it clogged up, so I bounced it out to the left side and the line did great," said Ortman, who finished the game with 253 yards rushing on 27 carries. "They did a great job of blocking all night."
Warner responded with a solid drive that ate up the rest of the third quarter clock and included a fourth-and-1 conversion near the Pride 10 that kept the Monarchs' hope of trimming the Pride's lead to one touchdown alive.
Then came the series of the night.
Facing a first-and-goal from the 9, Warner worked the ball to the 3 and then to the 1 to set up a third-and-goal. But Ortman hit senior running back Ty Cramer in the backfield for no gain and then, on a key fourth-and-goal from the 1, Riley Heiberger busted through the line to help wrap up — and stop — Cramer for a key possession change.
"We've been in that position many times," said Smith. "We've had lots of practice stopping somebody at the goal line. That's when we dig in. If we didn't, they would have scored and it could have been a different game."
"I couldn't believe it," said Strang. "They're marching down on us, I'm scratching in the dirt, I'm throwing 40s at them, I'm bringing edges, and they're marching it right down my grill. I guess it took until the one to figure out we needed to stop them from scoring. Just tremendous effort to make that happen."
"Coach sent the full house," Ortman said. "It was all or nothing right there."
The Pride ended up stalled deep in their own territory on their next possession, but a 55-yard punt by Freeman senior Collin Helma pushed the Monarchs back into their own territory, and Canistota/Freeman shut down Warner on their next four plays with 6:04 to play, and the game was as good as over.
"Tremendous effort; that's what it comes down to," said Strang. "They never blinked, they never batten an eye, and every time the ball was snapped, they gave me everything they had."
"Our defense was huge, just like every game," Ortman said. "Our defense is always big. It's all responsibility-based, and when everybody does their job, good things happen."
Following Warner's turnover on downs late, the Pride had one thing left to do: "Run the ball and eat up some clock."
That's what they did, surviving a first-and-15, all three Monarchs timeouts, a bobbled snap and two fourth down conversions to finish out the game — and the three-peat.
"It's unbelievable," said Smith. "Not many people out there get to experience something like this. It couldn't have been any better."
"History in the making," he continued. "You don't think about it when you're playing, because it's just a game. You're not thinking about making history, but that's what happened."
"It's nice to come out on top," said Struck. "These boys, they work hard. It takes a group effort like this to do something special."
"A threepeat — it's huge," said Ortman. "I don't know what else to say."
Canistota/Freeman's defense held Warner to just 143 yards of total offense and scoreless for the first time all season — by far. The Monarchs' previous lows were 25 points in the regular season and 20 in the quarterfinal round of the playoffs; both came against Ipswich/Edumunds Central in what were 25-24 and 20-14 wins.
Eleven players recorded both solo and assisted tackles for the Pride; Ortman led the way with seven solos and a pair of assists while Tate Tieszen had six solos and two assists and Blake Anderson tallied five solo tackles and two assists.
Ortman finished with 295 total yards, 253 of which were on the ground. Noah Kleinsasser added 23 yards on eight carries and Helma caught one pass for 15 yards. Helma also punted twice for 87 yards and had one kick return for 24 yards.
Clayton Smith gets a hand up in an attempt to block a Warner punt in the third quarter of last week's championship game.
The Freeman senior was part of a stellar defensive effort.