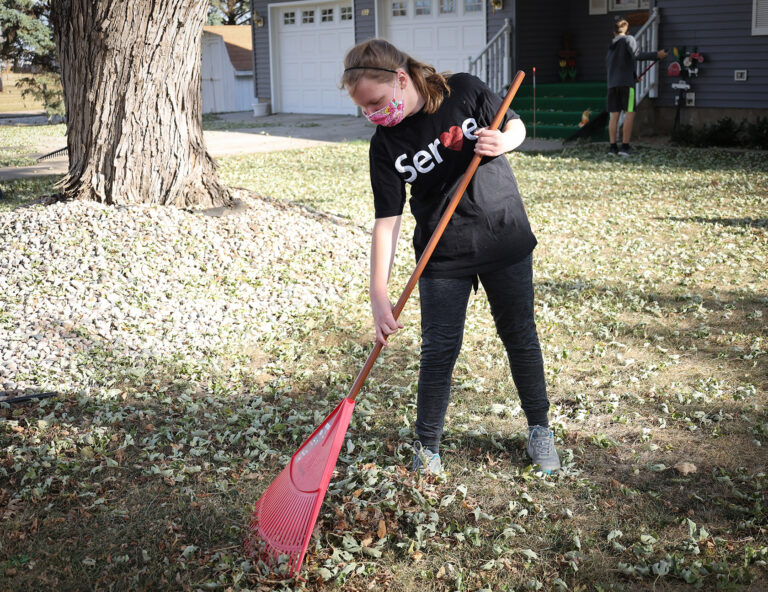 news
SERVICE TO OTHER AT HEART OF LEAF-RAKING EFFORT
JEREMY WALTNER  –  PUBLISHER
When Freeman Academy students and staff reported for school on Friday, Nov. 6 it was a different kind of day — and it had nothing to do with concerns about COVID-19. Instead, it was the school's annual Community Service Day in which members of the student body and faculty fan out across the town to rake leaves.
No payment or donation is accepted.
It's an annual tradition that goes back to the early 1970s and falls in line with one of the school's primary objects — to teach students that service to others is one of life's cornerstones.
"That's one of the things I always appreciated about the school when I was a student here, and also now that I've been a teacher and administrator," said Nathan Epp, a 1989 graduate of Freeman Academy who today serves as head of school. "I feel very strongly that students need to understand that, as part of a community, we have a responsibility to have a mindset of service toward  others."
"We feel very strongly that we need to give back to our community, and this is a simple way we can do that."
This year's Community Service Day was originally scheduled for Friday, Oct. 30, but with less-than-ideal weather that day — and with a forecast in the 60s on Nov. 6 — the school opted to postpone it by one week. While windy, it proved to be the right call as students in grades 4-12 were divided up evenly and joined by staff in visiting 22 spots around town on what was a lovely fall day.
"I think students overall appreciate the opportunity to get out of the classroom, to do something that's a little bit more physical," Epp said. "Everybody's exhausted by the end of the day, because it's a busy day."
And while it's impossible to know the kind of impact it may have on the students, it more than likely will be something they remember for the rest of their lives. Epp certainly does from his days as a student.
"I remember climbing on roofs cleaning out gutters and things like that, and we're just in a different world now where we can't do those types of things, but the people who we go and help really appreciate it," he said. "It's not something they can do on their own; they don't have time or they're just not physically able to do it, so they really appreciate us doing it for them.
"I think that does have an impact with some of the students," Epp continued. "They might not realize it as much right now, but I think, as they get older, we hear often from students coming back about the impact that they have. Doing simple things like taking a day off to go work at the meat canning when it's here, that's something that our students have appreciated, as well. I think it's part of a larger mindset. Even though this is a really simple thing, it's good for students to understand the importance of service."
The following history was taken from an account published in the Courier in November of 2017 to go along with a service day story.
It started in 1971
Once upon a time, fall in Freeman meant a haze of smoke as city residents would rake their leaves into piles and then burn them. It was not uncommon to drive along the streets that looked as though they were shrouded in fog.
But that began to change in the early 1970s thanks to PURE, which stood for Persons United for Recycling and Ecology, a local organization started at Freeman Academy in 1971 as a student-driven effort to increase the community's attention on ecology.
It began when FA student Rudy Brockmueller read Everyman's Guide to Ecological Living during a consumer education course. The book piqued his interest and, according to a 1973 Courier article, Brockmueller sent away for more information. He wanted to get involved in ecology in a real and practical sense and began researching ways that Freeman's garbage could be recycled. Brockmueller, Dennis Lehmann and David Ortman, along with consumer science teacher Kathy Harris and other students, helped establish PURE. During the 1972-73 school year, the group reported 30 members.
Besides selecting materials for recycling, students collected leaves each year to avoid the choking smoke that resulted from burning leaf piles. In 1975, the fifth year that students had collected leaves, the city banned open burning.
PURE was active until the late 1970s and, in the 1980s, morphed into a community group called Earthkeepers that decided to resume recycling efforts in Freeman. The FJC/FA campus served as the collection point for recyclable items for a number of years. Eventually, city of Freeman assumed recycling responsibilities.
But Freeman Academy continued to have a work/service day.
"This was a way to live out what we believe," Marlan Kaufman, interim president at the time, said in a story published in 2000. "This is one concrete way we can help young people experience that."
And the faculty's inclusion in the groups wasn't as much a way to oversee and advise, as much as get to know and work with their students on a different level. "They wanted to interact with the kids and take part in this day with them," Kaufman said.
"So many people couldn't understand why we were doing this and not charging anything," Kaufman said. "Not on service day. This is our way of giving to the community and helping those who need it."
willingness to do the work before them, Kaufman observed.