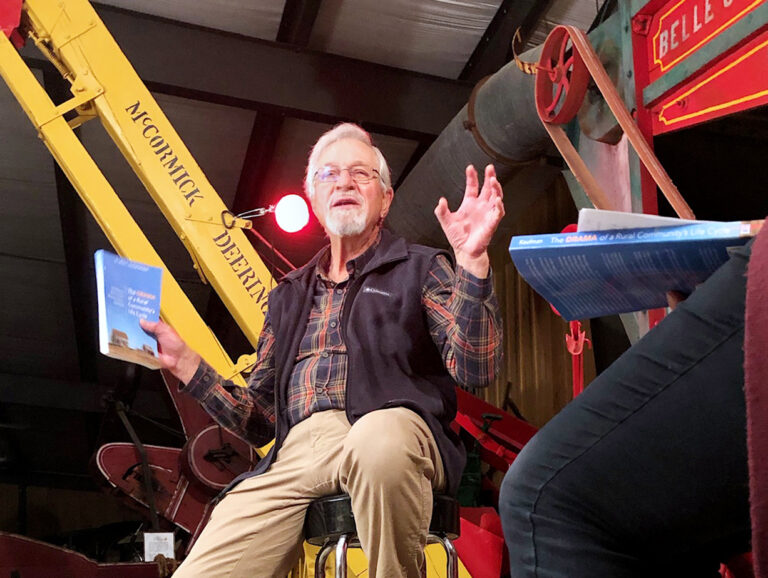 news, photo day
EXPLORING THE DRAMA
A large threshing machine was the backdrop for a stimulating conversation about the agrarian roots – as well as the future – of a rural South Dakota community at Heritage Hall Museum & Archives in Freeman last week.
Local author S. Roy Kaufman sat down with Marnette (Ortman) Hofer, executive director and archivist of the Freeman museum Tuesday morning, Nov. 24, to talk about his latest book, The Drama of a Rural Community's Life Cycle. The conversation, fittingly held in the agricultural exhibit area in the Unruh-Tieszen wing of the museum, was recorded by Nathan Schrag for the museum and is available on the museum's YouTube channel; just search Heritage Hall Museum and Archives. A direct link is available with this story online.
"We wish we could have done this as a public event," Hofer says, "but in the interest of health and safety in the current environment, we're sharing this using social media."
Kaufman describes the book as "an attempt to chronicle the birth, growth, maturity, decline and rebirth of the larger Freeman community."
Kaufman has a deep and abiding interest in the history of the Freeman community. He grew up on a farm in rural Freeman and, after pastoring five rural churches in Canada and the United States, returned and retired here. He has been curator at the museum for the past eight years. He also brings a philosophic and ethical perspective shaped by his experiences serving rural congregations for four decades.
"Agrarian cultures always carry in their life the agricultural wisdom and the faith heritage and values that form their cultural life," he says. "Rural communities are always a work in progress at some stage of their life cycle."
"We wanted to get an inside peek at his motivations and to learn a bit more about why he put it together," Hofer said of the conversation she had with Kaufman. "We wanted to know why he thought it was important to write this book."
The conversation reveals all of that and more.
Kaufman talks about his personal history and growing interest in rural culture and his evolving views and perspectives.
"Agrarian culture is shaped by the way that people relate to the land – how they farm," he says, noting that even within a given community, there are differences and unique approaches to agriculture based on values and faith perspectives.
"To understand the culture, you have to understand these communities … how they function and how they live."
In the introduction to his book, Kaufman writes "This book and the story it tells are designed to describe some of the dynamics that enable rural communities and agrarian cultures to survive and thrive even in the midst of the imperial forces that have always exploited and oppressed them."
Kaufman begins with a focus on the land and then delves into the evolving relationship between the inhabitants of the earth and the earth itself. He explores the native culture that was here before immigrants arrived in the 1800s and the "doctrine of discovery." The middle section of the book looks at how the Freeman community matured in the 20th century – what was gained and what was lost. The final section is centered around both challenges and successes of efforts to revitalize the community in the current century.
"The agrarian cultures of the Freeman community are at a crucial time in their nearly 150-year history on this land," Kaufman said. "Local agrarian cultures need to re-invent themselves, both as local cultures and as agricultural entities in order to build a renewed rural community."
"I appreciate that he took this big view and then zeroed in the details," Hofer says. "That seems key to me."
Hofer likens Kaufman's approach to a device commonly used in film – opening with the wide shot and increasingly narrowly focusing on a specific area.
"It almost feels cinematic," she says. "It's like these satellite views of the universe and you see the Earth; you zoom in and see North America. Then further you see the Great  Plains, southeastern South Dakota and then down to Freeman.
"To fully understand this community, we need the wider view, not just each of the little stories. You realize you're just a pebble in such a vast universe," she said. "But," she adds, "every moving piece affects the rest."
"At their best," Kaufman says, "agricultures understand they are called by the creator to participate in the unfolding of creation and life for the welfare of the whole creation."
"Our calling as humans is not to manage the world. It is rather to grow in our understanding of our place within the drama of life and reaction in which we find ourselves."
"His book runs the gamut – from pure history to theological implications; it's all-encompassing," Hofer says. "I appreciate how well researched it is and how thoroughly documented his history pieces are.
"It's almost a love letter to his home community," she says. "You feel his passion for the community. You feel his voice and it's a lonely voice."
Kaufman acknowledges that in the book.
"I often felt quite lonely, like a voice crying out in the wilderness," he writes.
"I respect the choices every farmer makes for his or her operation," Kaufman says. "There is no right way to farm and rural communities like Freeman are on a journey of discovery, as the changes in agricultural technology for the past century have shown. When we observe clearly harmful effects of our agricultural practices on the soil, plants, and animals in our care, we need to keep exploring other ways to farm. No one is to blame for how they farm. The failures, if such they be, are communal rather than personal. But together we can keep exploring agricultural practices that mitigate the damage agriculture can inflict on the soil, plants, and animals in our care."
But, he continues, "I finally began to realize that I was not alone."
Kaufman writes about the emergence of Rural Revival, a non-profit organization that meshes with his perspectives and includes "like-minded farmers and community members for support, networking and collaboration."
While the book focuses on Freeman – with a specific focus on the Mennonite church community here – Kaufman and Hofer agree the message goes far beyond that.
"The story is universal," Hofer said. "This is a scenario that plays out all over the world. It is a 'drama' that plays out all over the world."
"Birth, growth, life, death," Kaufman says. "It's a continual process and we're all in it somewhere. It's a challenge for us to figure out where we are in the drama. Which act are we in? Is it death or is it a new birth?"
In addition to resonating with area residents because of the local history and stories, Kaufman believes his book will appeal to those interested in South Dakota history, faith communities, educators, community developers, conservationists and, of course, those in the ag industry.
The timing of the interview – two days before Thanksgiving – is not coincidental.
"This is a traditional time to give thanks," Hofer says. "But it's also a time to reflect on not only what we have but to use what we have in responsible ways."
In the final chapter of his book, Kaufman writes this:
"Traditional agrarian cultures throughout the world and throughout history understand food to be sacred. It is sacred because it is the stuff of life; it is what sustains human life. It is sacred because its presence is always perceived to be a gift, something given to us in a sacred and mysterious process of growth.  We plant seeds and till the plants for food, but we have no ability to make seeds grow or plants produce their crop.  We breed and tend animals for the food products they offer to us, but their lives are always a gift given to us and for us."
Kaufman is donating proceeds from his book to Heritage Hall Museum & Archives. It is for sale there as well as online at Amazon.com. The museum is open weekdays from noon to 4; you can also call 605-925-7545.