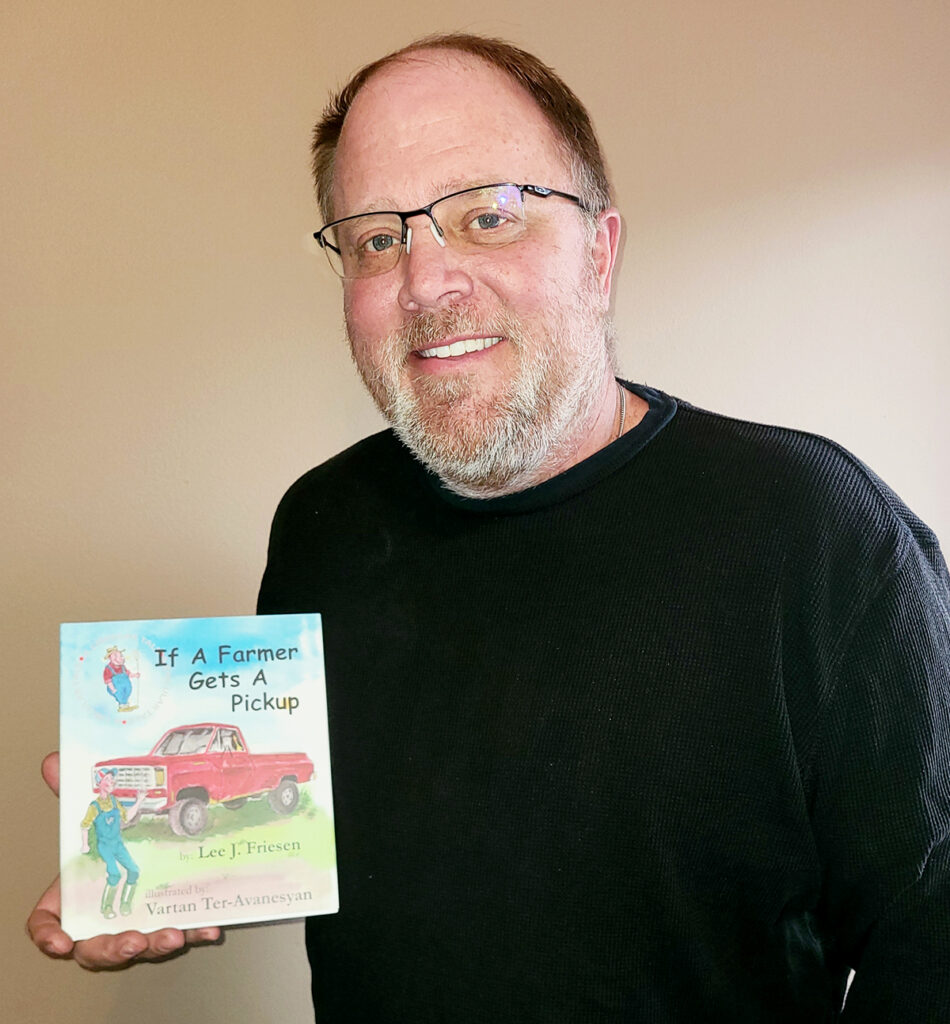 news
CREATIVE WITHIN
JEREMY WALTNER  – PUBLISHER
The home in which Lee Friesen was raised in the 1970s and 80s was one that encouraged creativity. Growing up at 113 N. Elm in Menno, Lee and his siblings — older sisters Catherine, Mieca and younger brother Shawn — were always invited to express themselves and go after whatever it was that piqued their interest.
"With every hare-brained idea we had, I can still see my mom kind of nodding her head, saying 'hmm, sounds interesting' when she probably thought that actually sounded crazy," says Lee, the third child born to Donna and Leroy Friesen, who was a veterinarian in Menno for many years and also had a small acreage just west of town. "They never discouraged us from chasing our dreams."
That "free range" mentality and encouragement to "go for it" set the foundation for Lee's latest project — a new children's book called If A Farmer Gets A Pickup released earlier this fall. The short, heavily-illustrated story is told in the same cadence and pattern of the popular children's book If You Give a Mouse a Cookie by Laura Numeroff. It's the first in a series of "If You Give …" adaptations and is a circular tale of a boy giving a cookie to a mouse and then the mouse requesting numerous things to go along with it, from milk and a straw to a scissors and a broom, before the Mouse finally asks for another cookie.
In Friesen's iteration, a farmer's purchase of a pickup sets off a series of additional acquisitions ranging from livestock and machinery to land and buildings. There's also a rubber chicken pictured on each page, just for fun, and then a challenge for the reader at the end of the book — a blank page to write his or her own tale.
"Reading and writing are two of my favorite things to do," he writes. "I bet the more you read and the more you write that you will love to do both more and more."
After all, he told The Courier, "Every person has a book inside of them; it's just a matter of sitting down and making it come out.
That's what he did with If A Farmer Gets A Pickup.
Ideas lead to book
Friesen, a 1988 graduate of Menno High School who has an undergraduate degree in ag education and a master's in computers, has dabbled in other projects. He has a comic series called Murphy's Law Farm (available through murphyslawfarm.com) and, years ago, considered a storybook series for kids in conjunction with Character Counts through the school that never materialized.
But the idea for If A Farmer Gets A Pickup stuck, largely because the concept of a circular tale is largely what he knows. That makes his debut book semi-autobiographical; a farmer himself, Friesen raises corn, soybeans, hay, cattle, sheep and goats on his farm a half-mile west of Olivet.
"The primary idea (for the book) came from farming itself," he said. "I would be farming and think of a piece of equipment that I needed, and you'd get that piece and then next thing you know you need another piece of equipment, or at least thought you needed it, and it kind of snowballed from there."
The start of the book came about two years ago while Friesen was in a hotel room for work. Just for fun, Friesen said he opened a blank PowerPoint file and started "goofing around" with clip art and built on that. He eventually printed it out and put it together like a book.
"As soon as I laid it down I thought, 'You know what? If I refine this, I might actually have a real book here.' So I just kept working at it and here we are today."
The process
Friesen said the actual writing of the book included ideas written down as they came, in the Notes section of his phone or on a random sheet of paper or even the backside of a label on a role of twine.
"Ideas would come from everywhere," he said, "but I literally followed the life of a one-year operation on a farm."
The writing took countless revisions, rewording and the adjustment of pages and included a rough sketch of the artwork using stick figures and clip art.
"And then I wrote down descriptions of exactly how I wanted each page to look like."
It was then a matter of finding an artist from a pool of thousands who are available for this kind of work. Friesen found his guy in Vartan Ter-Avanesyan, a Russian native who today lives in New York state and has illustrated books for major publishing houses ranging from Simon & Schuster to Random House. Friesen settled on Ter-Avanesyan primarily because he liked his style, made contact and the two formed a partnership.
While the artist was solely responsible for how the illustrations look, all pages were designed and built by Friesen using Adobe software — primarily Illustrator and Photoshop. That included understanding page bleeds, decisions about fonts and the placement and adjustment/scaling of the illustrations provided by Ter-Avanesyan.
He also had to settle on the size of the book, the number of pages and, of course, a printer.
"It was all a fairly extensive process," he said, noting it included applying for his own unique ISBN (International Standard Book Number) for the barcode. He calls it a good example of you don't know what you don't know.
"You just keep researching and studying and learning and growing from there."
As for finding a bona fide printer, even during the writing process, Friesen wasn't even so sure he was going to take it that far.
"At first it was just a for-fun spoof," he said. "And then when I really got into it and got the artwork and things set in place, I thought I wanted to take this to the next level and have a really nice book made."
There were two criterias for the printer, he said: economical and willing to do a low volume run.
"Most places I had gone to wanted to do 10,000 or 20,000 copies," Friesen said. "I just never would have been able to afford something like that. Plus, what would I do with that many copies?"
Friesen knew of a number of international printers through a previous job that included licensing work with John Deere and Case IH so went down that route, settling on a company from China, with an initial print run of 1,000 copies.
"The hope is I go back and do more and more and more," he said.
Here and now
The process of finding an illustrator and printer unfolded largely at the same town starting about a year ago, and earlier this fall Friesen got his first look — and feel — of If A Farmer Gets A Pickup. The hardcover book includes a dust jacket, measures 11 inches diagonally, with the story itself spanning 34 glossy pages.
"To be perfectly honest, it was surreal," he said of finally getting the book in his hands. "When I pulled that first book out of the box, I couldn't believe it; I was really impressed with the way the finished product looked. I felt really fortunate to be able to work with some really good, qualified people. I had a lot of family support through the process, as well."
That family includes his wife, Michelle; their oldest son Seth, who just graduated from South Dakota State University; second son Aiden, who is a freshman at SDSU; and daughter Addisyn, an eighth grader in Menno.
Lee's father passed away a little over a year ago and his mom still lives in Menno.
Now a published author, Friesen couldn't be happier and notes that, while his parents were always encouraging and supportive of his creative endeavors, he wasn't much of a writer or artist growing up.
"If my English teachers from high school, and my grade school teachers, if they found out — or when they find out — I wrote a book they'll probably be shocked," he said. "I was not the student that one would expect to publish a book."
Copies of If A Farmer Gets A Pickup are available at ifafarmergetsapickup.com and also at the mercantile store in the front lobby of Heritage Hall Museum and Archives in Freeman. It's open noon to 4 p.m. weekdays.