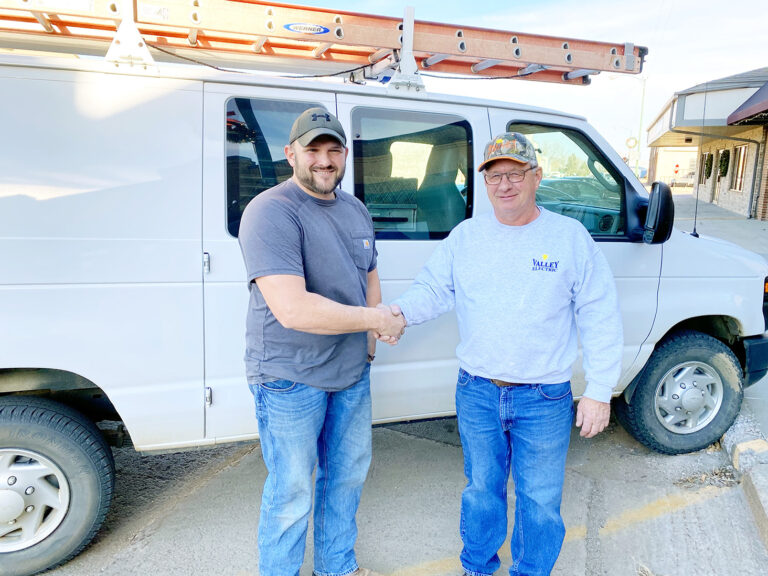 news
SWITCH AT VALLEY ELECTRIC
JEREMY WALTNER  – PUBLISHER
Fifty-five years after Orville A. Waltner established Valley Electric Service as his own business — named for Valley Township south of town, where Waltner lived — the Freeman-based business is under new ownership.
Ryan Sorensen has purchased it from Ted Pidde Jr., in a sale that was finalized Tuesday, Dec. 29.
Pidde will continue to work for Valley Electric "as much as he wants," said Sorensen, as will current full-time employee Micah Graber. But it will be Sorensen's boat to sail with the help of his wife, Amy, and the support of their four sons: Tate, 13; Brody, 10; Hayes, 8 and Nash, 3.
This was the plan when the Sorensens moved to Freeman in 2014. Ryan and Amy, who celebrated their 19th wedding anniversary on Tuesday — the day the business sale was finalized — had been living in Elk Point and were looking to make a move closer to home. Ryan is a 1998 graduate of Freeman Public while Amy grew up in Bridgewater as Amy Guischer and graduated from there in 1999.
"She had wanted to make Freeman her home, too, and I had asked Ted about a year before about coming back," said Ryan, who had worked for Pidde during a summer in high school and remembers enjoying it. "He said, 'Yeah, let's try this out.'"
"That was kind of the plan right away," Pidde said of Sorensen eventually taking ownership of the business. "We talked about it on the phone even before I came back — that I would like that opportunity if it ever came."
So why now?
"I'm tired," Pidde laughs. "I just think it's probably the right time for me.
"I'm happy for him. I hope it works out good for him like it did for me."
Then and now
Both Pidde and Sorensen say their interest in the field of electricity began in vo-ag class at Freeman Public. While Sorensen went on to earn a two-year degree from Mitchell Tech — and then another degree in SCADA (Supervisor Controls and Data Acquisition) after a third year — Pidde never received any formal education after graduating from Freeman Public in 1973. He says he considered going to tech school and remembers seeing Waltner at work on the construction site of what is now Great Western Bank and asking what he thought of the idea.
"He said, 'If you want a job, I'll give you a job,'" recalls Pidde, whose was in his early 20s at the time and had only ever worked at his dad's grocery store, Ted's Market. "That's how it happened."
Pidde ended up working for Waltner until 1987 when he went on his own and has enjoyed serving the larger Freeman area.
"There's a lot of great people out there," he said. "I like working for them and visiting with them — just a lot of great memories. A lot of fun."
Pidde's fingerprints are spread across the town, including at memorable locations like Merchants State Bank and Freeman Regional Health Services. He's also passed on jobs that he felt were just too big, like Sterling Hall.
"I knew there was no way I could handle it," he said. "You've got to know your limitations."
"That's something I'm going to have to learn," Sorensen said. "It's hard for me to turn something down but I'm also smart enough to know that, if you don't have the man power, you've got to pass it on and take care of the other things around town."
Sorensen says the family move to Freeman six years ago has been "outstanding" and has nothing but positive things to say about his hometown. "Nothing is like home," he said. "It's the people; everyone accommodates each other and there's always someone there to help you out when you need something."
He loves how everybody waves.
"It's something very little but it's amazing how big a difference it makes," Sorensen said. "It makes you feel like you're welcome.
"It's just a great community and nice to be back."
And now he's a business owner.
"I'm just excited to keep serving the community," Sorensen said. "I'm going to try my hardest to make everything work as well as Ted did and am blessed to have the opportunity."