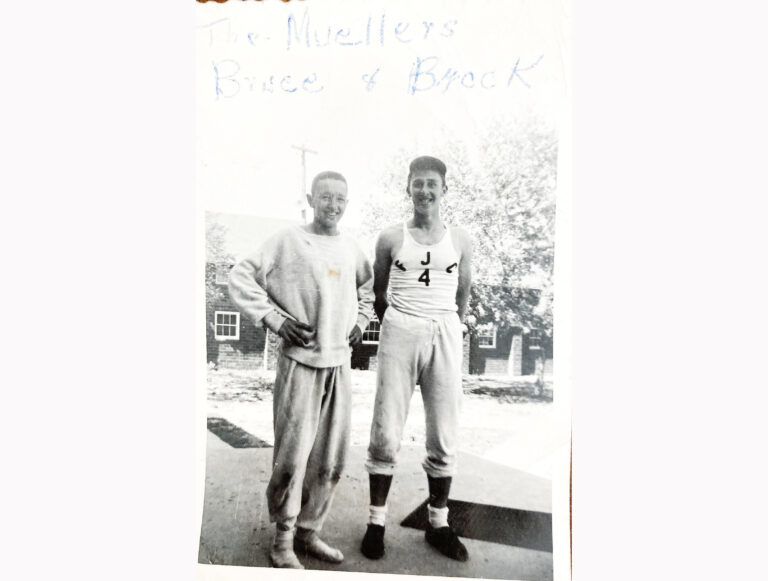 news
COURIER CLASSIC: A TARNISHED GOLD MEDAL
TIM L. WALTNER  – FROM THE COURIER ARCHIVES
As Freeman's Bruce Mueller was competing in the South Dakota Centennial Games in Sioux Falls last week, he couldn't help recalling a track meet of 35 years earlier. Last week he won six gold medals, just like he did on a May afternoon in 1954.
It is a 35-year-old bittersweet memory.
It was 1954 and Mueller was a sophomore at Freeman Junior College. Mueller and Gordon Brockmueller, also a sophomore, were the core of a rather loosely structured FJC team.
In some circles, they were known as the "Mueller Brothers" — Bruce "Moose" Mueller and Gordon "Brock" Mueller. That invention came about when Les Helgeland, a newspaper sports reporter, noted the similarity in their last names and mistakenly identified the two as brothers, Brockmueller recalls.
The two were close friends and took delight in allowing the misconception to go uncorrected.
The FJC track team was excited about participating in the annual Yankton College Invitational Friday, May 7.
The Monday evening before the meet, a freshman at Freeman Academy was driving to a class party when a wheel came off his car. Vandalism was suspected and school officials called for a confession from the student body.
When no one stepped forward, school president Ronald von Riesen announced that all extra-curricular activities — academy and college — would be canceled until someone admitted to the vandalism.
That put a college play and music concert in jeopardy. And the Yankton College Invitational Track Meet.
As the week progressed no one had offered a confession.
Thursday evening, Dennis Graber, a member of the FJC track team, called Mueller and told him "we're going." The word was being spread that the track team would compete in Yankton, the school's decree not withstanding.
Mueller recalls student reaction to the incident: "It wasn't being fair to us. It didn't involve us. It was an academy matter, we were in the college."
And he said, "We thought the school was being too harsh."
Friday morning the FJC track coach, Robert Vogt, called Yankton College coach Carl Youngworth, informing him the FJC team wouldn't be coming because of school disciplinary action.
Friday morning, three members of the FJC track team — Mueller, Brockmueller and Harris Haar, and Arden Dewald, also an FJC student — gathered to leave for the meet.
"The rest chickened out, I guess," Mueller says.
Arriving in Yankton, Dewald, playing the role of assistant coach, checked in the FJC team with meet officials.
"We were told your team wouldn't be competing because of some problems," they told Dewald.
"These boys weren't involved," Dewald responded.
Whether it was the ingredient of defiance, the challenge of being outnumbered or simply the sheer love of competition, the small team was ready. "We were pumped," Mueller recalls.
And what took place that afternoon is the thing of which legends are made.
Combining forces — Mueller in the sprints and Brockmueller in the distances — the "Mueller Brothers" won the meet between them! They defeated the track teams from seven other schools: Dakota Wesleyan, General Beadle Teachers (Dakota State), Norfolk (Neb.) Junior College, Sioux Falls College, Southern State Teachers (Springfield), Wayne (Neb.) State and Yankton College.
The official record, however, as reported in the Yankton Press and Dakotan, shows that it was "Mueller and Brockmueller (who) compiled a total of 46 points to walk off with the title."
Mueller won the high hurdles (16.6), the low hurdles (14.3), the 100 (10.8), the high jump (5-8), the long jump (19-10) and the shot put (40-1), setting several school records in the process. He placed second in the 200. Brockmueller won the mile (4:51.6), setting a new school record, and placed first in the two-mile (10:54.9) and second in the half mile. That earned the team 46 points — and the Yankton College Invitational Track Meet Title. Southern was second with 42 1/2 and Yankton finished third with 30. It was only the second time Yankton had lost a track meet on their own track since 1931.
"Arden was keeping points and we were six points ahead of Southern State Teachers (Springfield) going into the final event, the mile relay," Mueller recalls. First place was worth five points and FJC had the championship in hand. "We don't have to run the relay," Dewald told them. "We were relieved," Mueller recalls. "But we'd have run it if necessary to win," drafting Dewald — who was not out for track — as the fourth man. "It's a good thing we didn't need the points," Dewald says with a laugh.
But even as they were receiving their medals and the team trophy, "We knew there was a serious problem," Mueller says.
Their accomplishments made a public proclamation of their participation in the meet, a fact they knew would not be well received by the school officials who forbade them to go. By the time the team returned to Freeman, "People had already heard it on the 6 o'clock news," Mueller says.
Monday morning, Mueller walked into his 8 a.m. biology class and laid his book on the table. His teacher, track coach Vogt, told him, "Bruce, I guess you won't be needing those books. Dr. von Riesen wants to see you in his office."
As Mueller was making his way to von Riesen's office, he met Brockmueller. "Gordon, I guess you won't be needing those books" Mueller told his teammate.
"Boys, have a chair," von Riesen told the duo as they entered the president's office. "We like to win track meets," he said. "but not at all costs. You went against our rules."
And, therefore, Mueller and Brockmueller were suspended for two weeks. "That's about all the school there was left," Mueller recalls. "I thought that was harsh."
And then von Riesen announced, "We are going to take the trophy back to Yankton."
The official records show that Springfield won the 1954 Yankton College Invitational. Freeman's points were taken away, "Just like we were wiped off," Mueller says.
Brockmueller and Mueller were the only ones suspended. The name of Haar, who failed to place in any of his events, never appeared on any entry forms and Dewald had been only a spectator. Since they hadn't skipped any classes, they escaped punishment.
The incident was reported across the state and Mueller and Brockmueller received some sympathy. "We were actually heroes to the young people," Mueller says. "We were innocent … And they never did have anyone confess or did they ever prove there was vandalism involved in the accident."
Dewald agrees. "We felt, 'why should we be punished?' It was an academy problem. The college should never have been involved."
"Those guys had trained all year," he says. "All of a sudden, it was being taken away from them."
The school let Brockmueller's and Mueller's school records set in the meet stand. "I could never quite understand that," Mueller says.
And they were allowed to keep their medals.
But Mueller never graduated from Freeman Junior College. He could not bring himself to return to make up the two weeks he had been suspended; "I was a little bitter."
He ended up losing a full quarter of credits, but made up the course work later and eventually graduated from Bethel College in North Newton, Kan., where he continued to run track.
Brockmueller, on the other hand, returned to complete his studies and graduated from Freeman Junior College.
"I don't feel any bitterness toward the school," he says today.
It was a great performance and a team effort, Brockmueller admits. But he is quick to praise Mueller's exploits on the field. "Bruce is one of the greatest athletes that's come out of this community. He was a natural. He had the explosiveness to run and that spring to jump that natural athletes have."
For Mueller, the accomplishments of that May day are unforgettable.
"The more I ran, the better it got, it seems." And he noted the stamina required for Brockmueller's outstanding performances in the mile, the two mile and the half mile. "It was our best team performance."
But it was never recognized officially at Freeman Junior College, even though Yankton College let the FJC team championship stand. The 1954 Yankton College Invitational Track Meet trophy mysteriously disappeared; no one claims to know what happened to it.
But the "Mueller Brothers" know where it should be — in the Freeman Junior College trophy case.