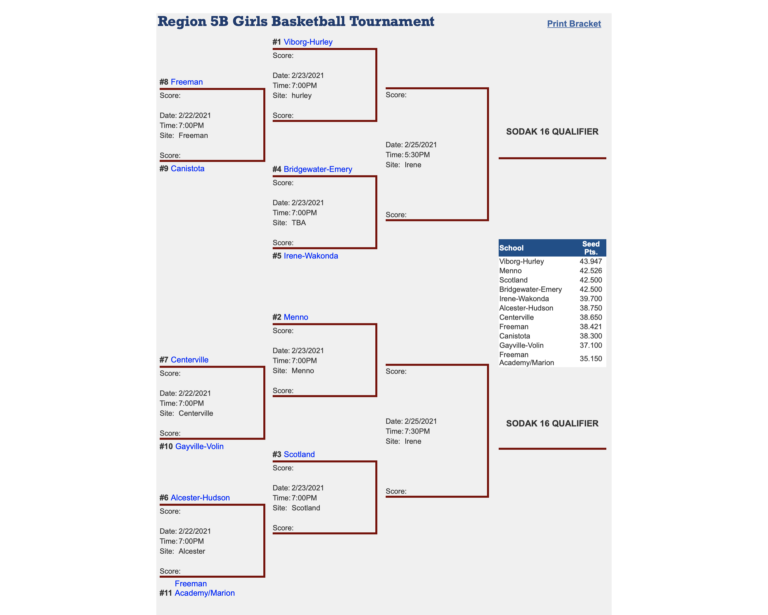 sports
GIRLS REGION TOURNAMENT BRACKET SET
The Region 5B Girls Basketball Tournament bracket is set, and Freeman Academy/Marion and Freeman Public will both play at 7 p.m. Monday night, Feb. 22, with Menno taking the court Tuesday.
The Bearcats (2-18) are the No. 11 seed and will face No. 6 Alcester-Hudson (8-12) in Alcester. The Flyers (5-14) are No. 8 and will host No. 9 Canistota (6-14). Menno (13-6) is the No. 2 seed and will host the winner of No. 7 Centerville (9-11)/No. 11 Gayville-Volin (5-15) at 7 p.m. Tuesday.
Viborg-Hurley (15-4) is No. 1 and will play the winner of the Freeman, Canistota game while
Scotland (15-5) is No. 3 and will play the winner of the Alcester-Hudson, Freeman Academy/Marion game. Both of those games will be Tuesday.
Tuesday's other game features No. 4 Bridgewater-Emery (12-8) against No. 5 Irene-Wakonda (8-12).
Tuesday's winners will advance to the third round Thursday, Feb. 25. Games are at 5:30 p.m. and 7 p.m. in Irene, with the winners advancing to the SoDak 16 on March 4.
Here are the final seed points from Region 5.
Viborg-Hurley 43.947
Menno 42.526
Scotland 42.500
Bridgewater-Emery 42.500
Irene-Wakonda 39.700
Alcester-Hudson 38.750
Centerville 38.650
Freeman 38.421
Canistota 38.300
Gayville-Volin 37.100
Freeman Academy/Marion 35.150