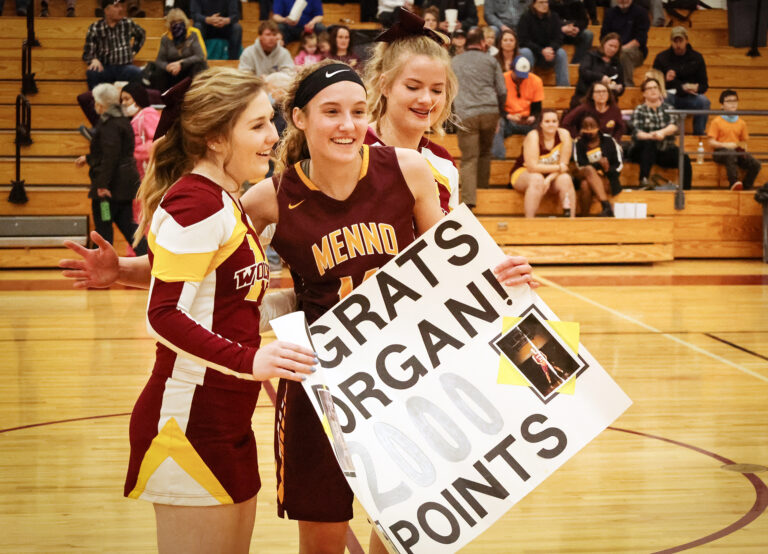 sports
EDELMAN SURPASSES 2,000 POINTS
JEREMY WALTNER  – PUBLISHER
Morgan Edelman sensed something was up during the school day last Thursday when a number of people asked if she was excited about that night's game in which the Wolves were to travel to Marion for their regular-season finale — a game in which the senior would surpass 2,000 career points.
"I kind of caught on, but I didn't know how many points I needed or exactly when in the game it would happen," said Edelman, who had reached 1,000 points as a sophomore and started wondering about the possibility of doubling that even back then.
"When my junior year came around and I had another good season I thought, 'Wow, if I have another good season, I'll probably be able to hit 2,000," she continued. "I didn't really think much about it this year, but I was thinking I had to be close. I just went out there and kept playing hard and figured it would come eventually."
Turns out it came with 4:08 left in the first quarter of the Feb. 18 game against Freeman Academy/Marion. Edelman needed just seven points to reach the milestone and quickly piled up six with three field goals in the open court. Points 2,000 and 2,001 came after Edelman rebounded her own miss from close range and put it back for two.
The game was stopped immediately and the Menno crowd held up signs and large gold balloons showing the number 2,000. All fans rose to their feet in a congratulatory applause, cheerleaders presented her with a hand-made sign on posterboard saying "Congratulations Morgan!" and she was gifted a commemorative ball.
"This is what can happen when you devote yourself to something bigger than yourself," Menno Superintendent Tom Rice said over the public address system, as Edelman exchanged hugs with teammates and coaches. "It's not about one person; in order to achieve these heights, it takes a whole team. Congratulations, Morgan."
Edelman finished the game with 29 points, putting her at 2,022 for her career. She is the 24th player in South Dakota girls basketball history to reach 2,000 points and stands at 22nd all time, just in front of Rachel Dick of Marion and two points behind Kathy Falk of White Lake. Depending on what happens in postseason play this week, Edelman could slide into the No. 20 spot currently held by Freeman's Brooke Hermsen, who finished with 2,030 points in 2004. Mandy Koupal of Wagner is 19th with 2,065, Megan Mahoney of Sturgis is 18th with 2,081 and Courtney Stapp of Newell is 17th with 2,091.
The all-time leading scorer in South Dakota is Jill Young of Mitchell Christian, who in 2007 reached 3,317 points after breaking Wakonda's Becky Flynn's mark of 3,268 set in 1992.
More on Morgan
This is the third milestone Edelman has enjoyed. She reached 1,000 points as a sophomore and, last season, broke both Jeanette Ulmer's girls basketball scoring record of 1,381 set in 1993 and Menno's all-time basketball mark of 1,396 set by Matt Fischer in 1994. Reaching 2,000 points last week was obviously another highlight.
"It was really incredible," she said of the moment. "I've been playing Menno basketball for six years and it was great to see everyone supporting me and encouraging me like that."
As Rice said in his comments over the public address system, Edelman acknowledges the role her teammates have played over the years.
"I have appreciated all my teammates ever since I was a seventh grader," she said. "I know I would never be able to do this without any of them, or without my coaches. Especially these last two years I've been face-guarded a lot and my teammates have been helping me out and encouraging me when I get down — finding a way to get me open and get me the ball."
Edelman is a two-time all-state and four-time all-conference selection and will likely enjoy those honors again in 2021. And while she's looking forward to playing basketball at Dakota Wesleyan in Mitchell after graduating from Menno in a few short months, she knew early this week there was still work to do.
The Wolves have their eyes on a strong finish at this week's Region 5B Tournament, where they are the No. 2 seed and were scheduled to host Centerville Tuesday night with a likely showdown against No. 3 Scotland on Thursday — with a trip to the SoDak 16 on the line.
Edelman and the Wolves know they can play with the best of them. Menno lost earlier this season to Hanson (16-3), Ethan (17-3) and Corsica-Stickney (18-2) by a combined nine points.
While surpassing 2,000 points was unforgettable, what would be even sweeter is what every team covets — a trip to state.
"That would be incredible," she said. "We haven't been to the state tournament since the early 2000s. Getting back there has been a team goal of mine — it would be great to put Menno Wolves girls basketball back in the conversation."