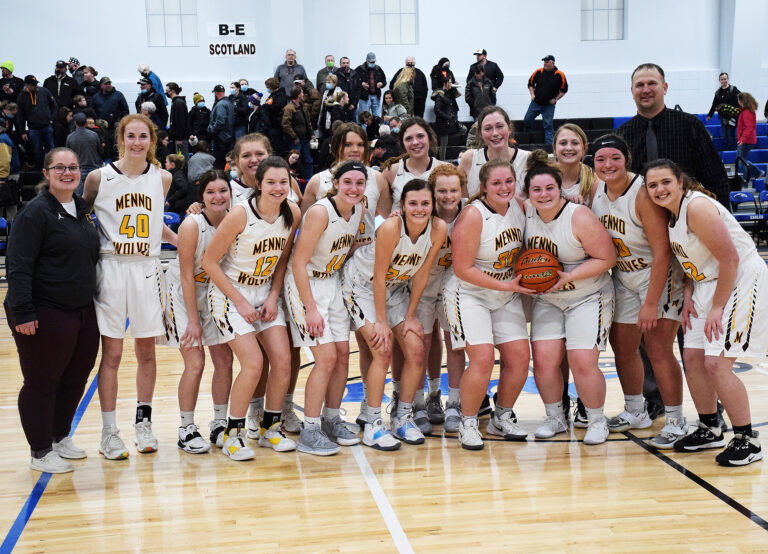 sports
MENNO GIRLS ARE 32 MINUTES AWAY
JEREMY WALTNER  – PUBLISHER
Just 32 minutes of solid, well-played basketball is all that separates the Menno girls from what would be their first State Basketball Tournament in more than 20 years.
It's a scenario that is possible at worst and plausible at best.
That's the assessment from head coach Doug Hall, who will be pacing the sidelines when the Wolves take the court against Herried/Selby Area at James Valley Christian in Huron Thursday, March 4 in the SoDak 16. Tipoff is 6:30 p.m.
"We've got a chance to win, but we definitely need to go out and play well," said Hall, who last week watched his team advance through the Region 5B Tournament with a 46-42 win over Centerville and a 48-37 victory over rival Scotland in the third and final round. "It's going to be a challenge, no doubt, but I'm happy with where we're at. I'm happy with the way (the SoDak 16 bracket) fell."
Menno will have to contend with both a 6-foot, 4-inch center, senior Rylee Rossowand, and a dangerous guard, senior Rachel Fiedler, who has a career scoring total of around 1,800 points and is a legitimate threat from long-range.
"We're definitely going to have to be aware of where they're at," Hall said.
But the Wolves have proven they can challenge some of the best teams in the state, playing Corsica-Stickney, Ethan and Hanson close during the regular season; all have been top-five Class B teams this year, with Corsica-Stickney finishing the regular season No. 1.
Menno lost to the Jaguars 55-51.
Region 5B play
This is a veteran Wolves team that has no doubt had its sights set on a trip to the SoDak 16 for a number of years. It's also a team that knew that, with the leadership of five seniors — including all-stater Morgan Edelman and the skilled play of Jesse Munkvold — that the 2020-21 season was the year.
But Menno needed to take care of business in region play first. That meant the second-seeded Wolves first needed to get through a scrappy Centerville team in the second round and then take care of business in the third round — the SoDak 16 qualifier.
Menno won its game against Centerville, but the Tornados gave the Wolves all they could handle in what ended up being a 46-42 final.
"They've got a nice team," said Hall, who noted the Wolves hadn't played the Tornados since Centerville's girls program abandoned its varsity schedule in 2016-17 but has since bounced back impressively. "There isn't a single player on their roster that I had an experience with."
Hall said Centerville's carefree and loose play gave Menno some trouble, and their solid shooting kept the game close. The Tornados connected on five three-pointers and shot 52 percent from two-point range for the game, resulting in a 14-14 tie after the first quarter and just a 29-23 Wolves lead at the half.
"They came out, played composed and were deliberate about what they wanted to do," Hall said of Centerville, which went into the game 10-11 but riding a four-game winning streak. "It wasn't what I expected. It was pretty close throughout. We were never to a point of feeling comfortable."
Menno did extend its lead to double-figures in the fourth quarter, but the Tornados clawed their way back and actually had a good look at a three-pointer that would have tied the game with under 5 seconds to play.
"I was standing dead behind that shot and it looked pretty good," said Hall.
But the ball bounced hard off the back of the rim, and one of two free throws by sophomore Abby Bender made it a two-possession game with just seconds to go, and that was that.
"I walked (into the locker room) and I told them that was a good high school basketball game," said the coach. "I definitely re-affirmed to them that they beat a good team. I would rather it be like that than go in and beat somebody by 40. I don't think that teaches you much going forward; you need to deal with and learn to overcome that type of emotion and energy moving through these next rounds."
Munkvold's 21 points led the offense for the Wolves while Edelman chipped in 11 points and added seven rebounds, four assists and had nine of Menno's 12 team steals. Hall said Edelman's defensive prowess is often overshadowed by her scoring ability.
"Steals don't get a lot of press," he said, but that is a critical part of the game, especially with Edelman defending up top. "In the position she plays, 65, 70% of those steals are going to lead directly to points. On the flip side, those are the kind of turnovers that we talk about that we don't want to have, because that's what happens."
Menno forced Centerville in 20 team turnovers.
The Wolves' second-round win on Feb. 23 put them in a matchup against neighboring rival and third-seed Scotland two nights later — a game that had an extra level of intrigue for Hall and assistant coach Aisha Abbink; both are from Scotland and were prolific scorers when they played for the Highlanders.
"We both have very strong ties to Scotland so there were some different layers to it," Hall said. "Just having friends there, it just brought a different dimension to it from our perspective, and from the team's perspective, as well. They have friends over there."
But make no mistake about it: Especially considering what was at stake, the Menno/Scotland showdown was a rivalry game if there ever was one, and one that the Wolves happened to control from the start, even if it took them some time to get going on a brand-new basketball court in a brand-new Irene gym.
"I don't know if it was just the new gym or the significance of the game, but it was kind of jittery and intense to start," said Hall. "There were a number of turnovers, but I thought we played really, really well in the second half and got a lot more deliberate with our offense and did a lot of good things.
Menno held Scotland scoreless for most of the first quarter and led 8-4 heading into the second before opening up a 21-12 lead at the half. The Wolves maintained a 35-24 lead going into the final eight minutes before claiming the 48-37 win and a spot in the SoDak 16.
Hall says the Feb. 25 win over Scotland was a sweet moment for the girls and one that will stick with them.
"It was fun; it was a lot of fun," he said. "Just seeing their reactions; I'll never forget that game."
Neither will the players.
"It's something they'll remember for a long time," Hall continued. "That's the good of sports — the memories."
Hall credits the Wolves defense for getting them through the region tournament unscathed; giving up just 79 points in two region games is something to be happy about.
"Our defense got the job done in both games," he said.
He's hoping for a similar result Thursday night in Huron and can't help but get excited about the prospect of getting to state.
"To get there is a buzz that you'll never forget," he said. "It's just everything — the crowd reactions, the businesses up town putting stuff on their windows. It's just a cumulative thing that's hard to explain.
"The energy after the region game was really good and was a lot of fun," he concluded. "If we can put 32 minutes together and find a way to pull off a win against Herried/Selby, it will be in excess of that."
Regardless of what happens, though, this year's SoDak 16 qualifier is bigger than just a game.  It is a moment.
"It's obviously a big step for the program."
Menno was last at a Girls State B Basketball Tournament in 2000, when they finished sixth. The Wolves fell one game short in 2003, 2004 and 2005.