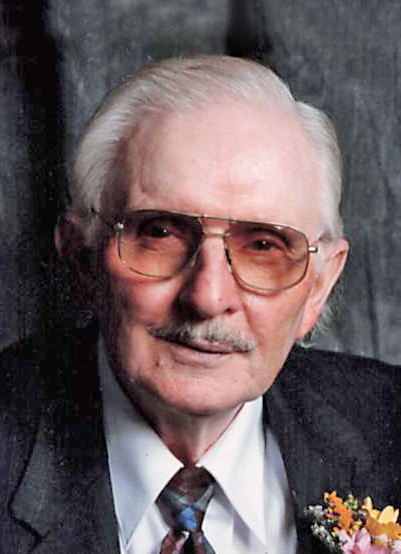 obituaries
Waldo Hofer: 1924-2021
Waldo Hofer, age 96, of rural Hitchcock, S.D., passed away Monday, Feb. 22, 2021, at his home. 
His private family funeral service was held at 10 a.m., Monday, March 1 at the Kuhler Funeral Home. Burial will be in the Ebenezer Cemetery, rural Doland, S.D.
Memorials are preferred and may be directed to the James Valley Christian School or Byron Bible Camp.
Waldo Clarence Hofer was born in rural Hitchcock on Dec. 24, 1924, to Peter S. and Elizabeth (Glanzer) Hofer. He graduated in 1942 from Hitchcock High School. Following graduation, he attended mechanics school in Fargo, N.D. He returned to farm with his father.
At the age of 19 years, on April 16, 1944, Waldo married Stella Hofer of Doland, at the Ebenezer KMB Church on a Sunday morning after Sunday school. In June of 1945, he accepted Christ as his personal Savior during revival services conducted by evangelist Solomon Walter at Ebenezer Church. Stella had done the same, and they were later baptized together. He became a member of the Ebenezer Mennonite Brethren Church and attended Emmanuel Church after Ebenezer closed.
During his younger years, Waldo served on the Hitchcock and James Valley Christian School boards and was an avid supporter of Byron Bible Camp. He was a life-long learner and was often told to put the dictionary away at the supper table. He loved to retell stories from a Dale Carnegie class he took in the 70s. He followed the news of the day and stayed in touch with current events. Waldo was a progressive farmer, who at various times, raised sheep, milk cows, confinement hogs, and cattle. Even in his 90s, he was known to take out a fence for a neighbor or two. He was a fanatic about exercise and had various pieces of workout equipment in his home. 
Waldo died on Feb. 22, in his childhood home, at the age of 96 years, one month and 28 days. He was independent, still driving his vehicle, watching the news, texting and Facetiming his family, and doing his own shopping, cooking and laundry. 
He was preceded in death by stillborn twin sisters; his parents; his wife, Stella; and his sister, Mary Ruth (J.W.) Kleinsasser. 
Grateful for having shared his life are his four children: Elliott (Doris) Hofer of Huron, S.D., Priscilla (Richard) Walter of Bridgewater, S.D., Brenda (Glen) Follmer of Wichita, Kan. and Melodie (Chris) Harris of Cheney, Kan.; nine grandchildren: Michael Hofer of Denver, Colo., Evelynn (Erik) Ober of Hitchcock, Colleen (Jason) Petty of Norfolk, Neb., Suzanne (David) Janovec of Omaha, Neb., Jessica (Seth) Aronson of Waterloo, Iowa, Derrick Walter of Marion, S.D., Dustin (Amy) Walter of Bridgewater, Angela (Jake) Sees, of Colton, S.D. and Brittany (Nate) Schmidt of Cheney; 28 great-grandchildren: Leah, Kayla and Jaisa Petty, Kaden, Kasen, Kielynn, Karsen and Kinsley Ober, Jonas, Anaya and Ezra Janovec, Sydney, Jared, Rebecca, Asher, Ruth and Arwyn Aronson, Kassie and Cameron Walter, Maycee, Vanessa, Callie, Jullia and Desiree Walter, Dustin and Angel Sees and Jack and Aria Schmidt.