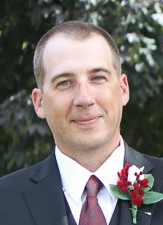 obituaries
Justin Baer: 1980-2021
Justin Baer, 40, of Rapid City and a 1999 graduate of Freeman High School passed away on Saturday, February 27 in Huntsville, AL from a work related accident. Further arrangements are pending.
Justin Tyler Baer, 40, of Rapid City, S.D., passed away while surrounded by his family on Saturday, Feb. 27 in Huntsville, Ala. from injuries sustained in a work-related accident.
Justin Tyler Baer was born on Nov. 5, 1980 in Caledonia, Minn. to Donovan and Lois (Brokaw) Baer. In 1984 the family moved to Ethan, S.D. before settling in Freeman, S.D. in 1991. He was Baptized in Caledonia and Confirmed in rural Freeman at St. Boniface Catholic Church.
The second of four brothers, Justin was a busy little guy always keeping his brothers in line. One story goes that his big brother, Christopher, decided to test out matches near some hay bales that were lining the foundation of the house. Thankfully Justin's calm demeanor and level head led him to grab the hose and save the family home. He was always doting on his younger brothers, Michael, Brian and Joshua.
Justin always knew what he wanted and was determined to get it. He was the only lefty of the brothers, which is just one of the ways he was uniquely different from the rest of the boys. His first job was working during the summers for the city of Freeman. He enjoyed this position and continued it throughout high school.
Justin loved computers and firearms. The money that he earned at his summer job purchased the family's first computer. He spent time with his brothers during high school, trap shooting and hunting whenever the chance came along.
After graduating from Freeman High School in 1999, He went to SDSM&T in Rapid City, S.D. for one year; from there he began working at Hills Materials. It was during this time he met the love of his life, Cris Gross. They purchased a house together in Rapid City in 2003 and have been enjoying a wonderful and loving relationship ever since.
In 2011 Justin began his career at GREX. He enjoyed the people he worked with and traveling the USA, seeing the country from the railroad. He would often send pictures of the amazing scenery he was experiencing to Cris and his family. It is believed he enjoyed time in every state and parts of Canada. While traveling he made it a point to visit friends and family all over the country.
Happy for having shared his life are his longtime girlfriend Cris Gross of Rapid City; parents Donovan (Theresa) Baer of Sioux Falls, S.D. and Lois Baer of Jamestown, N.D.; brothers Christopher (Andrea) Baer of Turkey Ridge, S.D., Michael Baer of Rapid City, Brian Baer of St Paul, Minn. and Joshua (Natashia) Baer of Sioux Falls; grandmothers Dorie Baer of Omaha, Neb. and Joanne Brokaw of Ashley, N.D.; nieces Genevieve, Joanne and Emalyn; and nephews James, Jorgen, Micah and Toby; along with a host of aunts, uncles, cousins and great friends.
He is preceded in death by his grandfathers, Lawrence Baer and James Brokaw and his fur baby, a dog named Jack.
The family takes comfort in knowing Justin will live on in others thanks to his decision to become an organ donor, and in the vast collection of memories we will always cherish.