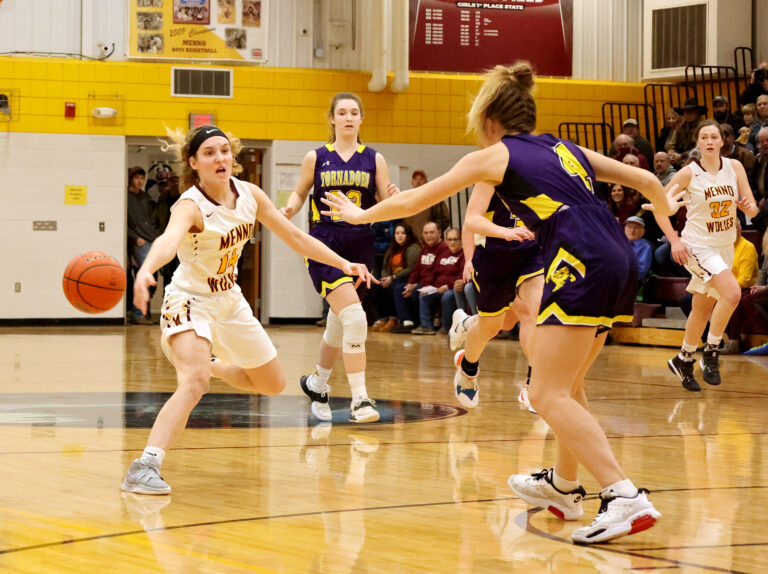 sports
EDELMAN NAMED CORNBELT MVP
Menno senior Morgan Edelman was named to the Cornbelt Conference All-Conference First Team for her play on the basketball court during the 2020-21 season and was also honored with the Cornbelt Conference MVP. Her classmate, Jesse Munkvold, was named to the second team, as was Freeman Public senior Rijjy Peterson. Both were third-team selections last year.
This is Edelman's fifth all-conference selection and fourth time on the first team.
The all-conference teams were announced Tuesday, March 16. Hanson was the Cornbelt champion with a 7-0 record.
The three teams are as follows:
First team
Morgan Edelman, senior guard, Menno
Sydney Voss, senior forward, Viborg/Hurley
Annalyse Weber, sophomore guard, Hanson
Julia Weber, junior guard, Bridgewater-Emery
Nora O'Malley, junior guard, Irene-Wakonda
Second team
Kenedy Koepsell, senior guard, Howard
Mekiah Campbell, senior forward, Hanson
Rijjy Peterson, senior forward, Freeman
Nevaeh Ronke, senior forward, Viborg-Hurley
Jesse Munkvold, senior guard, Menno
Third team
Kerrigan Schultz, senior forward, Bridgewater-Emery
Kate Connor, sophomore forward/center, Howard
Coral Mason, sophomore guard, Vib-Hurley
Mckenzy Kinke, senior forward, Canistota
Emma Marshall, eighth-grade guard/forward, Irene-Wakonda