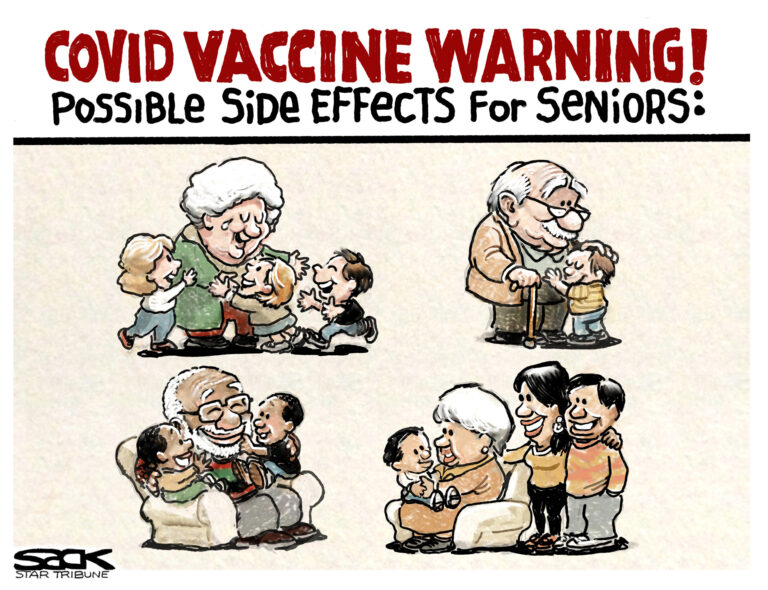 opinion
PERSPECTIVE: VACCINATION IS HOW WE GET BACK TO NORMAL LIFE​​​​​​​
The ongoing COVID-19 pandemic has ruined much of our lives over the last year. We've been separated from family and missed holidays and big life events. The end is in sight because of the massive rollout of vaccines against SARS-CoV-2, the virus that causes COVID-19. We must still stay vigilant as we bring the worst pandemic in over 100 years to a close in the United States.
To get back to normal, we need to generate herd immunity, with over 80% of the population having protective immunity against the virus. Herd immunity will severely limit the virus from spreading from person to person and also limit the number of people that become severely infected and die as a result of COVID-19. Vaccines are the safest, fastest, and best way to generate herd immunity against the current virus. However, we need to maintain physical distancing, mask wearing, and extra personal hygiene measures until herd immunity is achieved.
How vaccines work
Vaccines work by providing your body with a sample of the virus, in the case of the current vaccines, the spike protein. Your body's immune system has trained immune cells that recognize foreign things and will kick into action when they encounter the spike protein from SARS-CoV-2. Your body will then educate itself on the structure of the spike protein and begin making antibodies that can eliminate the virus upon exposure and immune memory cells that can rapidly ramp antibody production back up if they encounter the spike again.
Herd immunity is dependent on the generation of antibodies, a small molecule that latches onto the virus and prevents it from infecting you and spreading to other people. Antibodies can be generated after natural infection or vaccination. However, antibodies induced by vaccination are superior to those generated by infection, so you should not solely rely on immunity from infection to provide protection. During infection, the SARS-CoV-2 virus expresses a lot of proteins that our immune system can generate antibodies against. However, only those against the spike are useful for generating protective immunity. In contrast, vaccination only induces antibodies against the spike, and doesn't dilute the immune response with antibodies against these other viral parts.
It takes about 2-3 weeks after first exposure to something foreign to generate an antibody response, with optimal protective levels of antibodies being achieved by 6 weeks post vaccination. After this, you are much less likely to catch the virus, have a symptomatic infection, and transmit the virus to others.
Approved vaccines & how they work
The FDA has approved three vaccines for emergency use. Two of these vaccines, Pfizer-BioNTech and Moderna, administer a molecule called mRNA, which allows for your own cells to briefly produce spike protein that can be used to generate an antibody response against. Every cell in your body produces thousands of mRNA molecules at any given moment, which are then made into proteins that allow for that particular cell type to function properly. These vaccine platforms take advantage of this normal process to make our bodies the manufacturers of the spike protein that we will generate an antibody response against. The administered mRNA only sticks around for minutes to hours, but during this time, enough protein is made to generate an antibody response against it. A vaccine boost at 3-4 weeks leads to optimal antibody responses in people that have not been exposed to SARS-CoV-2 prior to vaccination. Accumulating evidence suggests people that were previously infected only need one dose of either of these vaccines to generate the optimal antibody response.
The third vaccine produced by Johnson & Johnson (J&J) similarly delivers the genetic information on how to generate the spike protein to our cells, allowing for our bodies to manufacturer the spike. The J&J vaccine works by inserting the instructions on how to make the spike protein into a common cold virus, known as an adenovirus, that has been altered to be non-replicating, so it cannot spread past the first cell it enters. Unlike the mRNA platforms, the J&J vaccine allows for expression of the spike protein for days to weeks. As a result, people only need to receive one dose of the J&J vaccine to generate the optimal immune response.
Why the vaccine is safe
Vaccines are one of the safest medical interventions ever created. The safety of the current SARS-CoV-2 vaccines are no different than other vaccines you have received and underwent the same rigorous safety and efficacy trials as any other vaccine.
Clinical trials are broken down into 3 phasesthat assess safety (Phase 1, 2, and 3) and efficacy (Phase 3). Efficacy can only be determined once enough people within the trial (either within the vaccine group or placebo) become infected. As we are in the middle of a global pandemic, the number of people that needed to become infected to assess efficacy was quickly achieved, allowing for results from Phase 3 trials only 3-4 months after doses were administered. Ongoing safety monitoring is being performed by the CDC, with over 50 million people receiving the vaccine no major adverse events reported. You can enroll at vsafe.cdc.gov if you wish to help with the monitoring program.
The Moderna and Pfizer-BioNTech are the first approved vaccines to use the mRNA technology for the purposes of vaccinations. However, the mRNA technology is not new and various other mRNA-based therapies have been in clinical trials for 10+ years with no known long-term side effects. Additionally, the technology used in the J&J vaccines have been in clinical trials for 20+ years with no known long-term side effects.
Many people have experienced various reactions to the vaccine, notably local injection site pain, fever, chills, headaches and fatigue the day of and the day following vaccination. This is a completely normal reaction to the vaccine and just simply means your body is recognizing the spike protein as foreign and mounting an immune response against it. You may also experience swollen lymph nodes in the armpit of the arm you received the vaccine in, which just means that your immune system is actively ramping up to produce antibodies against the spike. Mild reactions to vaccination have generally been greater for the mRNA vaccines (Moderna and Pfizer-BioNTech), while few negative reactions to the J&J vaccine have been observed. I personally received the Pfizer-BioNTech vaccine and felt fine after the first dose but was pretty fatigued for a day after the second dose. So, anticipate having an easy few days of work directly after each dose.
Why you should get the vaccine as soon as you can
The sooner you're vaccinated, the sooner you (and your family) can start to live a normal life. All three vaccines are highly effective at preventing you from becoming infected. Most importantly, all three vaccines are nearly 100% effective at preventing severe COVID-19 that can lead to hospitalization and 100% effective at preventing death.
Pregnant and breastfeeding mothers should get vaccinated to provide protection to unborn children and infants. Parents of children of all ages should be vaccinated as well, to prevent the spread of virus from children to parents and vice versa. Limiting spread amongst family members will make going to school much safer for children and adults. Notably, children generally have milder infection than adults, but children can transmit the virus to susceptible adults. There is also some evidence that children may have lasting health effects following infection, as can adults. The vaccine has not been approved for use in children and infants, but clinical trials are being rolled out for children under 10 years old.
You still need to take precautions
Until we reach herd immunity, we need to still practice physical distancing, wear a mask, and take extra precautions when out in public with people who have NOT been vaccinated. Even though you are vaccinated, you still have the potential to become infected and transmit the virus further. If you are vaccinated, it is safe to meet with other people that are vaccinated or unvaccinated people that are low risk for severe infection, such as vaccinated grandparents seeing unvaccinated grandchildren. The most effective way to prevent the spread of SARS-CoV-2 is by wearing masks and maintaining at least 6 feet distance from unvaccinated people or other people that you do not know their vaccination status.
There is also the spread of viral variants of concern, which are viruses that have mutated to circumvent antibodies that eliminate the virus. These variants are NOT widespread within the US. However, they have the potential to become widespread if we open up and relax precautions before herd immunity is reached. The more they spread, the more opportunity they have to mutate further and become better at evading our immune system. The rapid spread of these variants as well as new variants could make the vaccines obsolete if we aren't cautious during this critical time and don't continue to press toward herd immunity as soon as possible. We are all in this together and we are only as strong as our weakest link.