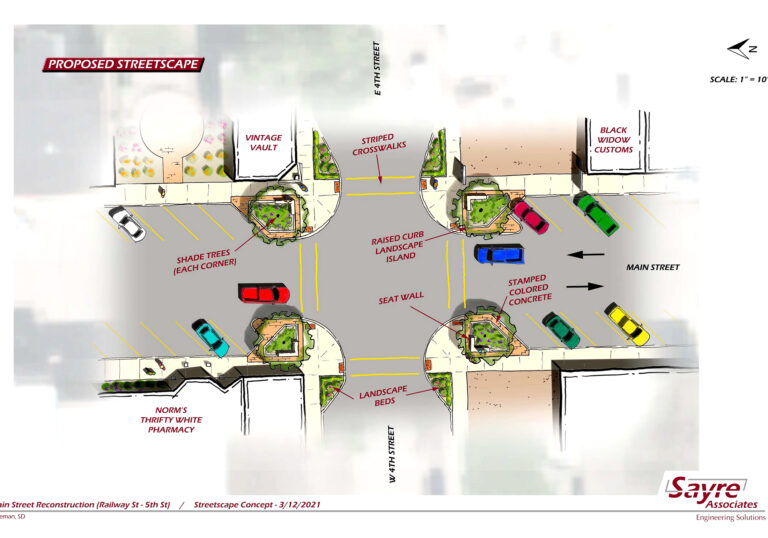 news
CITY LOOKING AT MAIN STREET DETAILS
JEREMY WALTNER  – PUBLISHER
With the proposed rebuild of Freeman's Main Street beginning as early as 13 months from now, city officials are starting to think about details of the project — specifically what kind of decorative elements should be included in the project, if any.
Meeting in regular session last week Wednesday, March 17, Paul Korn of Sayre Associates updated the Freeman City Council on the status of the estimated $3 million downtown capital project that would see Main Street rebuilt from the North County Road to Fifth Street, as well as Railway from the AMPI corner southwest to Juniper.
With the clock ticking on the next steps — a pavement recommendation in April/May and project geometrics like street width, curb and gutter and sidewalk layout — the council is going to have to make some decisions, Korn said. Specifically, he encouraged city officials to consider "streetscaping," a series of decorative elements built on corners throughout the three-block downtown corridor.
"It's a quality-of-life thing," Korn told the council, explaining that the streetscaping, or landscaped bump-outs, could include a tree, plant bed, grasses and perennials and an area for seating on 12 corners from Fifth Street north to Railway. "It's an aesthetic improvement that softens the pavement and mortar and improves the atmosphere and environment.
"It would break things up and give downtown "a little bit of a different appearance."
There are other benefits, Korn said.
With built-in seating, those who work in the downtown area could enjoy a break and/or a cup of coffee on a nice day;
The streetscaping would help define the primary downtown business district;
It would encourage others to enjoy the Main Street environment; "I think you would see pedestrian traffic increase," Korn said;
It would shorten the travel distance across the roadway, therefore improving pedestrian safety;
It would slow traffic; "They can be a speed control measure," he said.
Korn said he wasn't looking for a decision at the March 17 meeting, but he would need some direction within the next month.
"These are things that effect how we move forward with our design," he told the council.
Councilor Charles Gering questioned what kind of impact the streetscaping would have on visibility at the intersections and councilor Charly Waltner wondered about their impact on snow removal and also who would maintain them.
"If you're not going to keep it up, it's not going to look good," he said.
And Duane Walters, city water superintendent who was at the meeting, said they would be a snow removal "nightmare."
Councilor Doug Uecker asked Korn if there are communities in which the streetscaping has been incorporated into the design of the roadway, "that a guy could talk to, maybe even go see."
Korn says Sioux Falls incorporates similar elements throughout its downtown area, and Larchwood, Iowa did a Main Street project a few years ago "and incorporated way beyond what we're proposing here. That's a smaller community that comes to mind."
What additional cost the streetscaping would add to the project was not discussed at last week's meeting and Korn said the city would have some other options to help spruce up the downtown area if the council chose not to pursue the design as presented.
Mayor Michael Walter said public input would be important to the discussion moving forward and is encouraging community residents to weigh in.
"The public may give us some input," he said.
Other points
Korn brought up several other points during his visit with the council last week.
One of the questions that had emerged in earlier conversations was whether some of the sidewalk width could be sacrificed for a wider roadway — one foot on either side.
"My preference would be to keep as-is and not reduce the width of the sidewalk," Korn wrote in his notes to the council. "The new curb is not as tall as the existing curb, which will enable vehicles to pull ahead further."
He also noted that a wider roadway typically results in increased traffic speeds, "which is not desired on Main Street."
One alternative he suggested was widening the parking stalls from 9 feet — tight for most pickups and SUVs — to 10 feet.
Korn also asked if the city would be interested in a new light that has a more historic feel as opposed to the style of poles and fixtures currently in place, which are owned by NorthWestern Energy. He said his lighting consultant will provide some examples for the council to consider.
"If you're going to get decorative lighting, it has to be good lighting," Waltner said, "and not just look good."
New lighting is already included in the project's estimate, he said, and Sayre Associates will be working with West Plain Engineering on that aspect of the project. That means the city's downtown lighting would no longer fall under the jurisdiction of NorthWestern Energy.
"I'm sure it would not hurt their feelings to not own those light poles anymore," council president Terry Jacobsen said.
Korn said Geotek Engineering will be in town within a few weeks for soil borings to determine fill and pavement recommendations and he will be in touch with city employees to discuss utility logistics and concerns going forward.
Korn's proposed timeline he presented to the council earlier this year shows public meetings this summer, advertise for bids by fall with work taking place from April to October of 2022.
Korn, who is from Freeman originally, said he is excited to be working on this project.
"As a native of Freeman, it's an honor to help the city," he told the council, noting that of all the projects he has worked on, this one would "be a highlight."