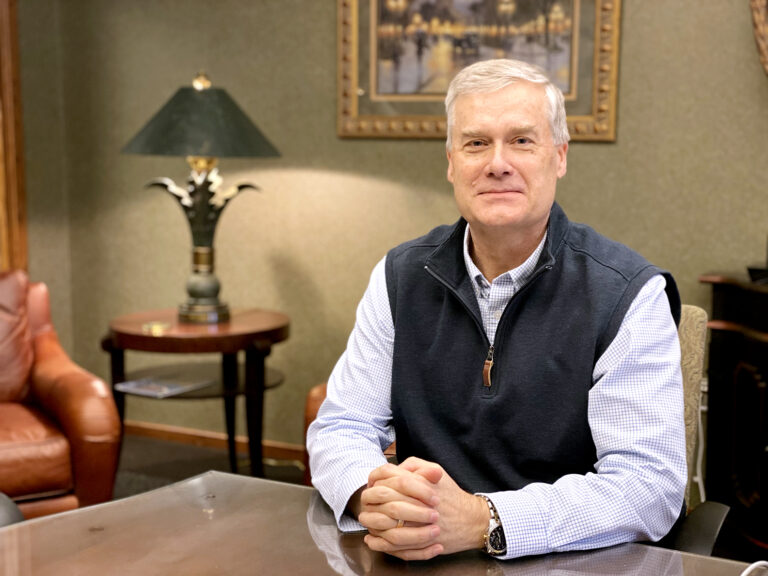 news
CORONAVIRUS ONE YEAR LATER: BEHIND CLOSED DOORS
When the last one out locked the front doors at Merchants State Bank in Freeman at the end of the day on Friday, March 20, who could have guessed that those same doors would remain closed to the public for more than a year.
But that has been the case in response to ongoing concerns about the coronavirus pandemic as the Merchants State Bank has relied on online banking, drive-up service and scheduled in-person appointments to take care of its customer's needs. Whereas other financial institutions only closed their doors temporarily, the local bank has been closed to walk-in traffic the entire past year.
It was a calculated decision.
"From my perspective, or the management of the bank's perspective, our first fiduciary responsibility we saw was for the safety of our employees and our ability to meet the needs of our customers," said Freeman resident and businessman Dean Dreessen, president and CEO of Merchants State Bank who has been with the independent financial institution for 31 years. "Our entire business is based on our customer relationships. Almost everybody who banks here talks about the professionalism and the courtesy and the confidentiality from our entire staff, so (closing the doors) was tough. We're a relationship business."
That Merchants State Bank in Freeman serves as headquarters for branch locations in Hurley, Viborg and Irene was a major factor in the decision to lock the doors.
"This is the main office," Dreessen said. "We don't have an operations center in Mitchell; we don't have an operations center in Sioux Falls."
And with banking as computerized, specialized, secure and encrypted as is today, "it became very clear that we needed to keep our (key operations) people safe," he said. "So those people immediately went on shifts where they were two weeks on, two weeks off, and they still are."
That effort, even if there had been or would be an outbreak at the bank, ensures that the key day-to-day operations would continue. Keeping the front doors locked to walk-in traffic has been an extra measure of safety to mitigate the possible spread of COVID-19, and it's worked. Merchants State Bank in Freeman has seen just two confirmed cases of the virus and there has been no disruption in service.
Yet Dreessen recognizes the challenges for customers who want that personalized experience.
"Why do I have to go through a drive-up; I want to walk up to a teller," he says.
But Merchants State Bank has and continues to see lending customers and those who want to open up a new deposit account by appointment, being sure to sanitize the meeting area beforehand and wearing masks when appropriate.
"We've been trying to be respective, professional and courteous," he said.
Dreessen said that, like so many others, Merchants State Bank didn't know to what extent it would have to respond to the threat of COVID-19 in those first few weeks and month or two, even beyond locking its doors to the public.
The bank equipped itself with pandemic supplies that would become familiar — a touchless thermometer, plastic shields, rubber gloves and masks — and used a checklist of screening questions recommended by Dr. Ken Kirton, who was a strong local voice in response to COVID-19 early on.
"We never got to a point where we used all those things, but everybody was so scared of Covid," Dreessen said. "Nobody knew what grabbing the tail of that tiger would be like, but at the end of the day, if we are overly cautious, you'll never know. If we were underly cautious and had an outbreak and did not have the appropriate staff to take care of the day-to-day needs of our banking customers, then we have failed as an organization.
"That was the driving force behind our decisions."
The other element that marked 2020 at Merchants State Bank as it related to the coronavirus was navigating the waters of the Paycheck Protection Program (PPP) loans.
Financial institutions like Merchants State Bank worked closely with the Small Business Association at the state level, who shared information through daily webinars as it came to them from the SBA at the federal level.
"Our entire lending staff would sit in the board room — six, eight feet apart from each other — and we'd put it up on the projection screen," Dreessen said. "Everybody would write their own notes and, when the webinar was done, we'd sit there and have a 30-minute discussion about what we heard and what questions we had. And that happened at every location."
Dreessen charged senior lending officer Steve Fuhrmann and Josh Huth, branch manager in Irene, with overseeing and establishing procedures for the PPP loan program locally.
"It was a very fluid process," he said. "There was so much information, so many details coming out so fast, that I think everybody felt a little bit of frustration. It was new and didn't always make sense. But we got through it because of the work we did — because we all followed the same protocol and had the same message when we dealt with our customers.
"We probably asked for a little more documentation than the SBA may or may not have required, but we're the ones who had to certify that application to the government."
Going forward
Dreessen says he's as eager to get back to a new normal as anybody else and hopes that, with employees and more and more people from the general population getting vaccinated, that can happen relatively soon.
"It's been a long year," he said. "I don't regret the decisions that we've made; as I said before, you're never going to know if you've been overly protective, but you sure will know if you've under-protected your staff and your customers.
"Everybody still got to do all the business they wanted to do," Dreessen continued. "It may have been differently logistically, but you still got your loan. You still made your deposits. You still have internet banking."
And, ultimately, Merchants State Bank stayed as safe as it could possibly be in response to a dangerous virus.
"There has been some loss of life," Dreessen notes. "There are a lot of people who think it's just like having a cold. Where, maybe it was for them, but everybody reacts differently to this disease. There are no guarantees. So we try to find the best way to carry on with business and life with as many precautions as possible."