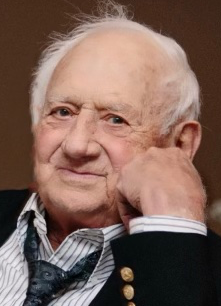 obituaries
'Doc Al' Tieszen: 1928-2021
Alvaro (Doc Al) Tieszen passed away peacefully early in the morning on March 17, 2021. He was 92 years of age. He was born July 17, 1928 to Fred and Helen Tieszen of Marion, S.D. 
Al grew up on a farm south of Marion and attended country school Prairie District #16 through 8th grade – and then attended Marion High School, graduating in 1946. After high school, Al attended Freeman Junior College before moving to Chicago in 1948 to attend National University of Health Sciences Program, graduating in 1952 as Doctor of Chiropractic Medicine, and joined the Tieszen Clinic in Marion as a chiropractor. 
Two months after graduation, Al was drafted into the Marines. He was initially stationed in San Diego before spending 67 days on a ship to Korea during the Korean War. When he talked of his experience in the Marines and his time abroad (a total of 2 years), he was proud to share that while many people were 'sick' during this journey, he fortunately never had any problems on 'the boat' to Korea.
After Korea, Al returned to Marion and was a successful chiropractor in The Tieszen Clinic. He loved helping others. As a chiropractor, Al often shared that he never considered what he did as a job. It was "pure joy" to do what he was able to do. Over time, as his practice became more successful, his clients would come from near and far. They lovingly referred to him as 'Doc Al' – a title he not only deserved, but was humbly proud to be called wherever he went.
After returning from Korea, Al learned how to fly. He enjoyed flying his father to baseball games all across the country. The time with his father was special for Al. I think to Al, it was a way of giving back to his father, all that his father had given to him.
Al had many passions during his time in Marion. He was instrumental in establishing a little league baseball program in which he helped coach. Al shared that some of his best memories were when he was able to hand out baseball gloves to kids who didn't have one – but more so, he was proud to demonstrate good sportsmanship. Al shared that after games, whether they won or not, he would ask the kids 'did you have fun?' They would of course say 'Yes!' To Al, that is what mattered most – and he loved being a part of it!
To know Al, meant you knew how much he loved the game of golf – every aspect of the golf experience. During the 1980's, Al and Donnie Dains, were instrumental in getting the trees planted that now allow those who golf at ParMar Valley Country Club, to enjoy the picturesque scenery that accompanies you from one fairway to the next. And soon, on the tee box to fairway #5 there will be a bench dedicated to Al, reminding golfers, as well as others, to 'Keep your eye on the ball' – something many of us heard if we were fortunate enough to have a golf lesson (or just some friendly advice) from Al. He so loved the game of golf, that Al and Diana were fortunate to have been able to golf in all 50 state capitals – and collect endless memories while doing so. 
Al's passions also included fishing, downhill skiing, hunting geese or pheasant, and telling stories. What made Al so charming, was the joy he exhibited when he was able to share those passions with others. Al loved when family and friends would fish with him. Whether it was a 'happy' minnow he needed or his gleefulness when the kids would holler 'fish on,' Al was always just as excited to see others love the sport as much as he did!
Then there is the story of how Al and Diana first started dating. Initially, he led Diana to believe that he knew how to downhill ski. Let's just say it didn't take Diana long to figure out that Al was telling her a story. Thus, by Christmas that same year, Diana knew if they were going to be successful in their relationship, Al would need ski lessons. Within a year, Al was so accomplished at downhill skiing, they went to the French Alps and skied the slopes of the infamous mountain. He never once fell that day– and never did break a bone. And as they say, the rest is history. Al had found the love of his life.
When it came to goose hunting or pheasant hunting, I think most of those stories have either been shared numerous times – or, more likely, were never meant to be shared. From what I gather, it wasn't the hunt that was the best part of it for Al, it was spending time with those who were along for the hunt. Making memories and then sharing those memories were what made those trips so special. 
Al is preceded in death by his parents, Fred and Helen Tieszen, two brothers in law, Dwane Decker and Wayne Kingsboro, and Pam Kneip. 
Grateful for having shared his life are the love of his life, Diana Lee; his sisters Jackie/Verma Decker and Violet Kingsboro; Beth Deckert; Sandy (Alon) Spektor; Laurie (Randy) Hoek; Patti (Dennis) Lee; Dianna (Ed) Gustafason; Kenneth (Nancy) Decker; Stephen Decker; Jerry (Sherry) Decker; William (Patty) Decker; Ronald Decker; and James (Robin) Decker; along with numerous nephews, nieces and many, many loving friends.
Al's favorite charities were the American Heart Association, the Helpline Center's Walk to Prevent Suicide 2021, the MS Society and the Heifer International program.
Al's ashes will be buried next to his parents in the Tieszen Cemetery west of Marion at a later time with close friends and family present. Future celebrations of life will be held this spring and this fall. Arrangements by Hofmeister Jones Funeral Home.