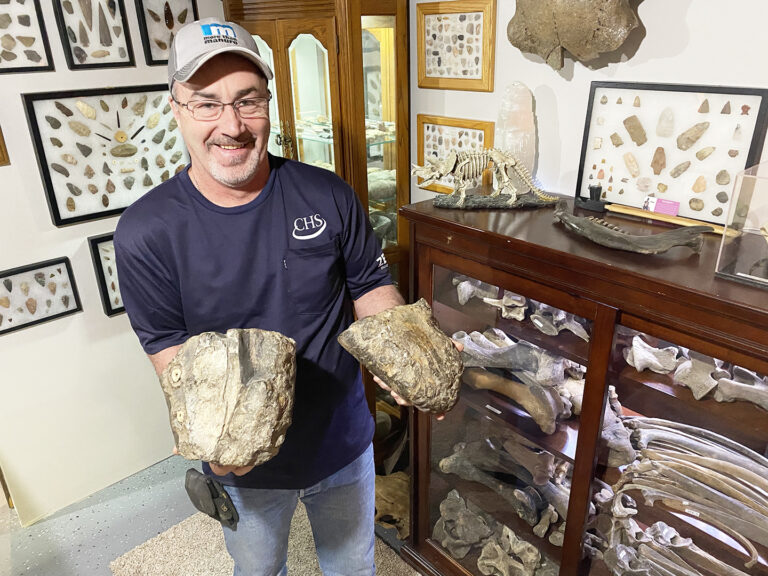 news
NEW: MOSASAUR AT THE MUSEUM
JEREMY WALTNER – PUBLISHER
If everything goes the way Terry Waterman expects it to go, Heritage Hall Museum & Archives will be home to replica of a mosasaur skull this summer.
Waterman, a member of the museum's board of directors and an avid collector of rocks and fossils, is taking the lead on the project and working closely with the South Dakota Institue of Geology in Hill City to have them create an authentic replica of the extinct reptile, a dinosaur-like creature.
Heritage Hall Museum & Archives will then purchase that replica and create a new display that will hopefully attract new visitors.
"We don't know all the details yet, but we're trying to turn it into as big a deal as we can," says Waterman, who hopes the mosasaur will be particularly appealing to families with younger children. "This will give people another reason to come in here and develop some new interest and help support the museum in a critical time.
"We need to continue to do projects like this to keep up interest of our museum here in town."
"Kids are going to love it, but it's going to be of interest to people of all ages," said Marnette Hofer, archivist and executive director of the museum. "Just for them to imagine that these crazy creatures used to be here — that's awesome."
Background
The mosasaur project isn't something that just grew out of thin air. It's actually rooted in the recent discovery that the museum has in its possession two fossils from a mosasaur skull that had been donated by Dr. Isaac P. Tieszen — Freeman resident Ruby Waltner's father — in the late 1930s.
And it makes sense.
The museum's roots go back to 1911-12 when the first collection of rocks and minerals was donated, and it grew in the late 1920s and 1930s after Benjamin P. Waltner, instructor of agriculture at Freeman Junior College, encouraged the community to bring in "interesting rocks and fossils" for his students to study.
In fact, in those years it was actually known as "a museum of geology and mineralogy."
Waterman notes that the fossils were originally labeled as "an ancient alligator, which isn't too far off the truth," he said.
Mosasaurs were, in fact, reptiles and closely associated with snakes and lizards. The largest of the mosasaur family grew as long as 50 feet in length and, according to fossileguy.com, "mosasaurs were sleek, streamlined and fast! They had flipper like paddles for arms and legs and a tail fin. They propelled themselves by mainly moving the large fin on their tail in a side-to-side motion. Mosasaurs were also covered in smooth scales which were very dark in color."
Waterman calls the museum's fossils "a very unique find" and notes it comes from a skull that measures 4-feet in length. But over time, as the museum grew, evolved and changed locations multiple times, the fossils was mistaken for ordinary rocks — because they look like rocks — and simply put on a pile with others.
"They just didn't know they had it," said Waterman.
Hofer notes that Waterman's background and interest in anthropology makes him a good fit for involvement with the museum — something that certainly paid off with the discovery of the mosasaur fossils.
"We have had this for close to 100 years; it's been in the collection and nobody knew what to do with it," she says. "And then Terry came along, has the expertise and knows what to do with something like this. What a great thing for our museum."
Discovery
Waterman, who does some reconstruction work as part of his interest in fossils and expansive collection, had originally hoped to restore the skull himself, at least in part.
"So I took the mosasaur home with me," he said. "I thought maybe this winter I would try to do some reconstructing of it — rebuild some teeth so you could at least get a feel for what it is. Because right now it just looks like a couple big rocks; the lay person wouldn't know what it was."
But Waterman soon discovered it was too big of a project to take on himself, so he contacted an acquaintance at the South Dakota Institute of Geology before eventually concluding the fossils were "too far gone to spend the kind of money that needed to be spent on it."
Then a Plan B emerged.
Waterman learned that the Hill City institute had a replica of a mosasaur on hand and had the molds and the means to build one for the museum. It would be to scale, he said, based on the size of the museum's fossils.
The idea, Waterman said, is to display the replica along with the original fossils "so people can understand that these rocks are really a skull."
A larger fossil display could accompany the mosasaur and become its own attraction.
"It would be a new entity that might attract younger kids who want to bring their parents along," he said. "The museum has been working hard to get some new things going and this is another great way to get more traffic through there."
Drumming up interest
Waterman's leadership on the mosasaur project has also included fundraising; he estimates that the replica and its display will cost $4,000. As of early this week, the majority of that had been raised.
"I've visited with some donors and business owners and have been pleased with the response," he said. "It's come quick."
How soon the replica is completed and arrives at Heritage Hall Museum & Archives for display will be based on when those final funds can be secured, but Waterman expects the museum's mosasaur will be ready for public viewing no later than the end of July.
Waterman has also worked with the local schools in promoting the project. Part of that was to generate interest among the young generation, the other part was for the display itself.
"People like me, we like to name our dinosaurs," he said.
So Waterman invited sixth graders at Freeman Public and fourth, fifth and sixth graders at Freeman Academy to write about their favorite dinosaur, tell a story about that dinosaur and name that dinosaur. Whichever student was the most creative, Waterman said, be given the opportunity to name the museum's mosasaur.
"The schools were awesome and the kids were great," he said. "Everybody has had a good time with this."
As for his involvement with the museum, Waterman is thrilled he was asked to work closely with the museum and serve on its board. It wasn't until he started learning more about Heritage Hall Museum & Archives — and seeing its vast collection — that he understood what a gem it is.
"When I came into the museum the first time after they asked me to come and look at their rocks, I was literally amazed that a town of 1,300 people have a museum like we have here," he said. "You can go to a lot of big cities and not see something as nice as what we have here in Freeman, South Dakota.
"What I like about it is that there's something for everybody," Waterman continued. "It doesn't matter what your interest are; you're going to find something that you will enjoy."
To read more about Waterman's interest in fossils — and his own, vast collection — check out the 5-Minute Interview on page 6A.