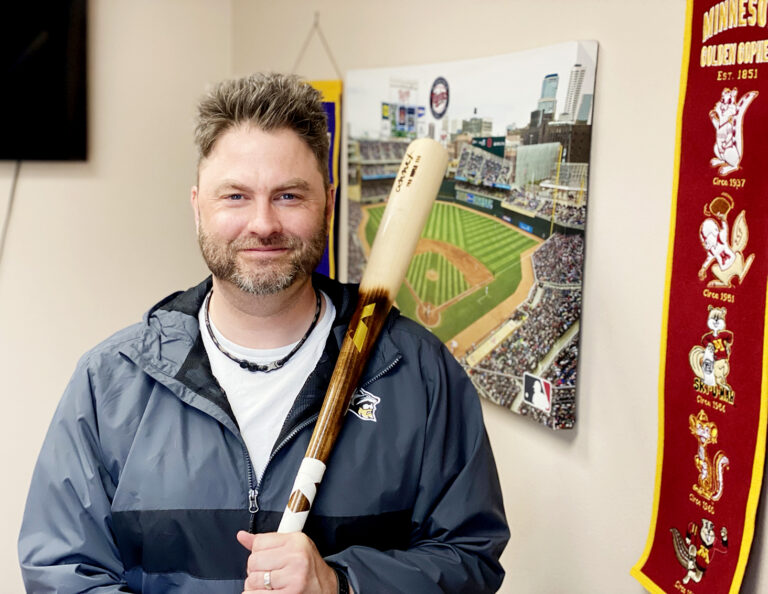 photo day
PHOTO OF THE DAY: MR. BASEBALL
JEREMY WALTNER  – PUBLISHER
Kory Foss believes that, when it comes to the wide world of sports, it doesn't get any better than baseball — a game he calls the "greatest in the world."
It's no surprise, then, that when Foss arrived in Menno to take over as preK-8 principal and head boys basketball coach last year, one of his first orders of business was working on getting high school baseball started.
The initiation came at one of the first Menno Board of Education meetings he attended, when a couple of board members asked him about getting a legion team started through the South Dakota VFW, which is active in youth baseball of all ages.
"They knew my background," said Foss, who grew up in the Twin Cities, was an all-state high school baseball player, pitcher on Augustana College's 2003 North Central Conference national championship team — the only one the Vikings ever won as part of the NCC — and then a successful high school and legion coach at Winner/Colome before coming to Menno. "If you follow me on Facebook, it's not hard to figure out that I'm a baseball guy."
Foss told the board members that getting a team started through the South Dakota High School Baseball Association would be the first step toward legion ball, and that set in motion a series of events that has led to the Scotland/Menno Trappers, who on Sunday, April 18, will play their first game in Menno as a new team. First pitch against Elk Point is set for 2 p.m.
"The biggest thing is growing baseball," said Foss. "Scotland and Menno are both great baseball towns. I knew Menno was just from being here a few months and going to amateur games. What a great, supporting and well-run program. It's shocking that they didn't have high school baseball here. As far back as we can look, nobody can tell me that Menno has ever had high school baseball.
After getting the green light to look into it and settling in, Foss got to work. He figured Menno wouldn't be able to field a team on its own, so he reached out to Ryan Robb, a coach in Scotland whom he knew through his time in Winner/Colome. Scotland was in a high school baseball co-op with Bon Homme at the time, but only sending a few players.
Foss says Robb, the football coach at Scotland, then sent a message to his student-athletes tapping their shoulder about playing baseball with Menno and, 30 minutes later, Robb got back to Foss: "I've got a ton of kids."
Foss, too, saw a positive response to his own inquiry — "right off the bat the numbers jumped" — and the two coaches estimated there would be anywhere from 20 to 28.
"For spring ball," Foss said, "those are serious numbers."
But the work was just beginning.
Because Scotland had been committed to Bon Homme, Foss had to plead his case with coaches and members of the South Dakota High School Baseball Association, which he did over Zoom meetings, finally convincing them to let Scotland play with Menno instead.
"They were really excited about that many kids possibly playing who weren't before," Foss said. "But I had to convince them here's why I think baseball for Scotland and Menno would be right and why I think it would be successful, and the board unanimously approved us."
With that, the Scotland/Menno Trappers were born, but there was still plenty of work to do. From purchasing uniforms, bats and balls, catching equipment and other gear, it's no small thing to get a baseball team started. Foss said youth ball programs in both Menno and Scotland helped with upstart costs, as did others, like the Menno Mad Frogs who purchased new baseballs for the team.
There have been a lot of people involved in really great ways," said Foss, who has been coaching the team with Joe Keppen from Scotland. "Like I said, two great baseball towns."
Menno opened their spring season at Canton on April 3 and Foss remembers watching his players warm up on the field before the game.
"They'll all out there," says Foss, "and they've got their jerseys on and their pants and belts and their hats and they all match, and we have our gear in the dugout ready to go, and our lineup card is filled out, and I looked over at Joe and I said, 'Did you ever think we would get to this point?' We were actually on a field, playing."
The Trappers have had, and will continue to have, their work cut out for them. They are in what Foss says is the toughest region in the state, "no ifs and or buts about it. I've been around long enough to know that Region 1 is the cream of the crop.
"You have a lot of fears early on," Foss said. "We're playing some really good teams and you wonder if you are going to be able to stand on the same ball field. But we've hung around."
Indeed, the roster of 23 competed well in their first two games against Canton and Beresford — "take away one bad inning and we've been right there" — and have benefited from strong team chemistry between the neighboring towns.
"We're building," said Foss, who notes that 10 players are from Menno and 13 from Scotland. "A lot of kids are coming out for the first time, just because Scotland and Menno fit together so well. That's why I like the football co-op and think that, in the end, we're going to be together in a lot of things."
And he's excited to introduce Menno to high school baseball on Sunday.
"It's such a well-oiled machine here," he said. "The people who do concessions, that take care of the field, that do the announcing, do the scoreboard; they're just all so excited to have high school baseball here."
You can put Foss in that camp, as well.
For a schedule, go to freemansd.com.