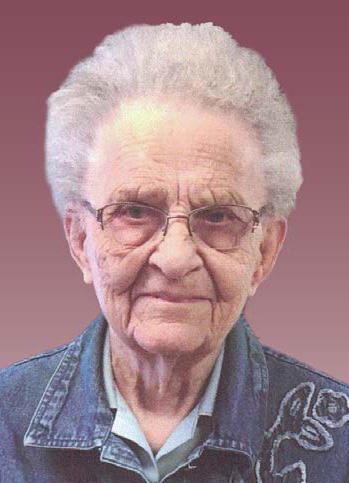 obituaries
Rose Loewen: 1919-2021
Rosa (Rose) Loewen was born Jan. 11, 1919 to Ferdinand and Maria (Engbrecht) Schoenwald on their farm west of Marion, S.D. God graciously took Rose home April 14, 2021 at Jenkins Living Center, Watertown, S.D. at the age of 102 years. Rose was the fourth oldest of 11 children.
Rose received her elementary education in Dicks Country school and one year of high school in Dolton, S.D. In her youth Rose was baptized upon her confession of faith in God and joined the EMB Church near Marion.
On July 16, 1939 Rose married Albert J. Loewen. To this union a daughter was born. After their marriage, Rose joined the Silver Lake MB Church where she participated in various activities until its closing in 2003.
Rose and Albert started their married life together managing the Marion Gross Hatchery for three years and then a move to Sioux Falls for one year. After that they took up farming for 35 years in the Dolton area. After their farm sale in 1977, they moved to Freeman.
Rose was a farm wife for many years and also employed at the Stanley Corner Cafe for some time and at the Freeman Community Hospital as a nurse's aid. She enjoyed sewing and making many of her own clothes and numerous items for MCC and her family. (daughters note – the yellow suit mom is wearing in the casket, is one that she sewed except for the red blouse, an item she purchased. Mom chose these items over five years ago as her choice to be worn for her burial.)
After 63 years of marriage Albert passed away due to a stroke. They were fortunate to celebrate both 50th and 60th anniversaries. What a joy to know that believers do not say a final goodbye, while death breaks our earthly ties, we have the sure hope of those who die as believers are living in the presence of Jesus.
Grateful for having shared her life is daughter, Julaine and husband Larry Wittmeier; grandsons: Troy (Spring) Wittmeier of Merriam, Kan. and Todd (Nancy) Wittmeier of Watertown, S.D; great-grandchildren: Sara (Charlie) Carman of Rapid, S.D., Shane (Joanna) Wittmeier of Watertown, Dylan (Heidi) Wittmeier of Tracy, Minn. and Zachary Wittmeier of Merriam, Kan; great-great grandchildren: Calvin Carman, Lydia Carman and Benjamin Carman of Rapid City; sisters-in-law Grace Schoenwald of Salem, S.D. and Ann Lowen of Sioux Falls, S.D.; and numerous nieces, nephews and friends.