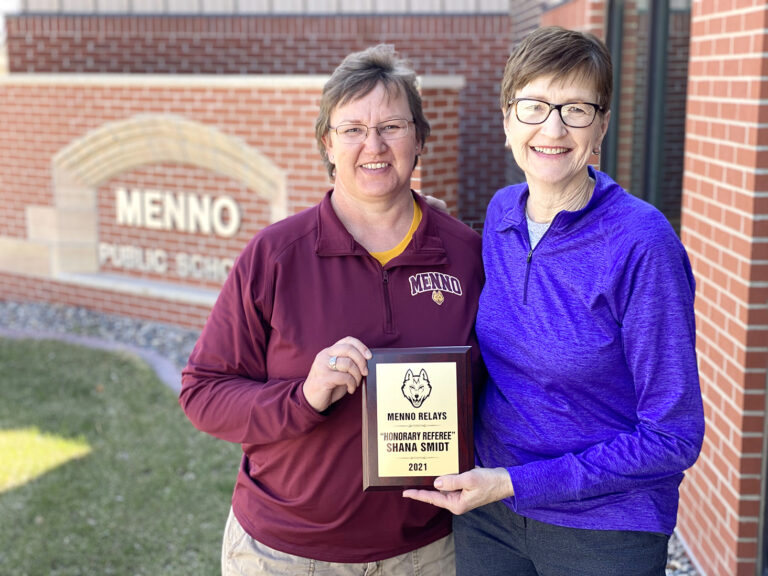 photo day
PHOTO OF THE DAY: HONORED!
Jacque Liebl, left, athletic director at Menno Public School, stands with Shana Smidt, the 2021 honorary referee at last week's Menno Relays, outside the city/school library Tuesday morning. Smidt graduated from Freeman High School and earned her teaching degree in music education from the University of South Dakota. After beginning her career in Bloomfield, Nebr., Smidt began her career at Menno in 1978 working as a music teacher, substitute teacher, librarian and Spanish instructor.
Smidt has been a strong supporter of Wolves athletics and fine arts throughout her entire teaching career and has worked numerous track meets over the years.
"She enjoys her interactions with staff and students and is thankful for relationships she has formed during her career," said public address announcer Martin Sieverding in announcing the award at last Thursday's track meet. "She plans to be a frequent presence at school events and would like to do some substitute teaching — if they'll have her."
Here are the honorary referees since the track and field renovation a decade ago
2010 – Erv Ptak, Jim Woehl, John Woehl
2011 – Jim Oplinger
2012 – Daniel Mettler
2013 – David Herrboldt
2014 – Jill Haberman
2015 – Jim Sattler
2016 – Jo Auch
2017 – Daryl Miller
2018 – Martin Sieverding
2019 – Deb Schaeffer
2020 – season canceled
2021 – Shana Smidt