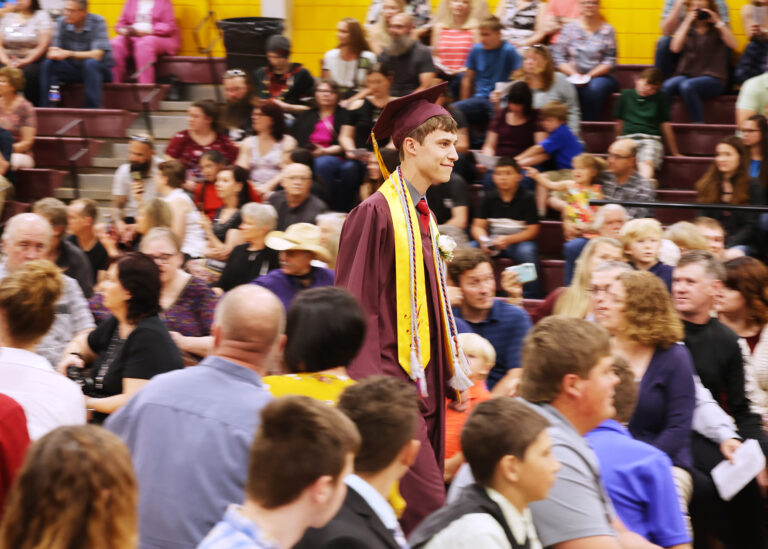 news
WOLVES CLASS OF 2021 SAYS GOODBYE
JEREMY WALTNER  – PUBLISHER
One of the most academically accomplished classes in recent memory said goodbye to Menno Public School Saturday afternoon, May 15 at a commencement that revealed the work ethic, accomplishments and wide-ranging personalities of 19 graduating seniors.
But much of the focus was on the high-level of achievement exhibited by Menno's Class of 2021.
Five graduated with 4.0 GPAs or higher.
Fourteen of the 19 seniors graduated as Regent Scholars, meaning they finished with four units of English, four units of algebra or higher mathematics, four units of science, three units of social studies, two units of modern or classical language or two units of career and technical education (or a combination thereof), and one unit of fine arts.
"What you need to understand is that we have a lot of students here who not only have jumped up to the bar, but they are actually clearing," Menno Superintendent Tom Rice said during Saturday's graduation. "We have students here who have close to a full year of college done through dual credit courses. There's a lot of great things going on at Menno High School."
School Counselor Trisha Fischer, in her remarks on Saturday, noted a comment made at the May 10 awards ceremony by Athletic Director Jacque Liebl, who said that in her 26 years at Menno, she had never seen a class this accomplished.
Fischer then addressed the graduating eighth graders directly.
"Take a look at the scholarships, the honors, the things that this class has achieved," she said. "You have the opportunity to do that now, too. When you're asked to do extra credit, do it. If you have to study for an extra hour at night, do it; it will be worth it."
Menno's graduation included addresses by Student Council President Morgan Edelman, National Honor Society President Brady Fergen and Senior Class President Jesse Munkvold that included words of thanksgiving and congratulations that were sometimes reflective, occasionally lighthearted and oftentimes profound.
Whether it be our families, our teachers, our friends, or our coaches, we all have something to be thankful for," Edelman said. "We will always remember the patience, grace, and encouragement you have all shown to us throughout the years."
Fergen urged his classmates to always give 100% "except when you are giving blood" and Munkvold said the past 13 years has been "nothing short of fun."
And, in his opening statements, Rice reminded the Class of 2021 that this was not an ending, but a beginning.
"Commencement is what happens right after graduation," he said. "So commencement is simply a start to something."
But Rice, who is finishing his first year as superintendent in Menno, also reflected on his time with the seniors.
"Over this last year I have had the pleasure to get to know these young men and women," he said. "I have been honored to be part of their highlights and even some of the lows. I have been honored to listen to them. I have been honored to give them some advice. And I have been honored to even play around with them a little bit when time permitted."
And Rice encouraged them to heed the words from 1 Corinthians, chapter 16, verse 13:
Be on your guard. Stand firm in faith. Be courageous. Be strong.
"My hope is that this guides you as it has guided me since my graduation 35 years ago," he said.