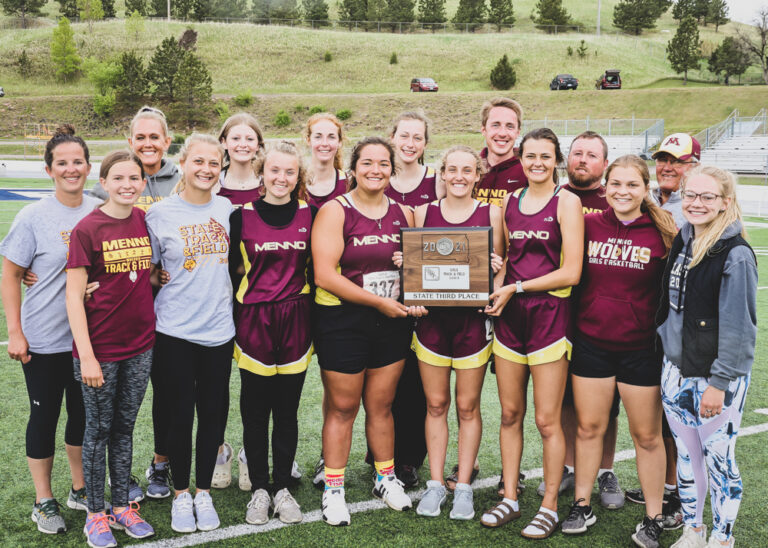 news, sports
THIRD!
JEREMY WALTNER  – PUBLISHER
In the week leading up to the 2021 State B Track Meet, Menno girls coach Ryan Liebl was quietly thinking that his team could crack the top three in the team standings and even told that to the girls before action began in Rapid City last Friday.
But Jesse Munkvold questioned her coach's optimism.
"We were lined up and ready to go and Ryan was telling us how things could pan out," says Munkvold.
But the 2021 graduate of Menno High School, who last week represented the Wolves in the open hurdles and on two relay teams in her final official event as a student-athlete, was unsure.
"I did have my doubts," she said. "In my mind I was like, 'That's going to be really hard.'"
Classmate and teammate Morgan Edelman had similar reservations.
"When coach said we had a chance at placing at state, I was like, 'no way,'" said Edelman, who competed at state in the 800, pole vault and, like Munkvold, on two relay teams. "I was not expecting that at all."
But that's exactly what happened at the 2021 State B Track Meet at O'Harra Stadium in Rapid City Friday and Saturday, May 28 and 29.
Not only did the Wolves bring home a shiny new plaque for the trophy case, their third-place finish was the best in program history.
"I actually started crying because I was so excited," said Munkvold. "Just being there with Morgan and how it all came together – and all our teammates were there at the end — I'm just so happy it ended the way that it did."
Edelman calls it "memorable and crazy — and a lot of fun."
Gaining momentum
While the two senior standouts had their doubts early on, by Saturday morning, after a half-day of competition, the Wolves found themselves in fifth place behind leader Colman-Egan, followed by Burke, Dell Rapids St. Mary and Ipswich.
That in and of itself would have been a fine position to end with, said Munkvold.
"I would have been OK with fifth," she said, "but as things played out, we realized there was a chance we could move up."
And that's exactly what happened.
By Saturday afternoon, thanks largely to a runner-up finish by Raygen Diede in the shot put and a third-place finish by Edelman in the 800, the Menno girls had moved from fifth to fourth place and were within striking distance of third. With one race to go — the 4×400 — the Wolves trailed Burke 37.5 to 39 and knew that, since the Lady Cougars weren't competing in that final event, a seventh-place finish would do the trick.
They also knew they needed to overachieve, because the team of Munkvold, Ashton Massey, Kaelie Derby and Edelman went into the race seeded 13th.
"Again, I was like, no way, because how our 4×400 was ranked," Edelman said.
Munkvold acknowledged there was pressure to perform, "but that was nothing new," she said. "All season long, it was always up to the 4×400 relay team to get the points if we needed them."
And Massey recalled the Region 5B Meet one week earlier, when the girls team title came down to that final race.
"It brought me back to region because we had to beat Centerville to win it," said the freshman.
Menno, of course, did.
"That was my motivation," said Massey.
"I told them they had to get seventh and, sure enough, they went out and did it," Liebl said not long after the final team points were announced. "Third was the goal coming into the weekend, but I didn't know it would come down to the mile relay like that. It was awesome."
The road to 39.5
The Wolves knew going into the state meet they couldn't keep pace with heavily favored Colman-Egan, which ended up winning the Class B title with 116 team points, tying Ipswich for the most points ever scored at a Class B state meet.
They also knew they wouldn't likely keep up with Dell Rapids St. Mary, which brought a host of top-three performances to Dunham Stadium and — sure enough — ended up second in the team standings with 66 points.
But they also knew a strong team finish was well within reach, given their trio of outstanding student-athletes – Edelman, Munkvold and junior Raygen Diede – as well as those two relays that had been running together for years.
Edelman went into the state meet third in the pole vault and fifth in the 800, Munkvold was sitting third in the 100 hurdles and sixth in the 300 hurdles and Diede was ranked first in the discus and third in the shot put.
All three went on to earn points in their individual events.
Diede, who this season set the school record in both weight events, turned in the best performance for the girls with a second-place finish in the shot put on Saturday, earning the Wolves eight points. She did so with a personal best of 38-4 — four inches better than her top incoming throw.
Diede didn't have quite the luck in the discus the day before, coming up almost five feet short of her incoming best. While a throw of 120-10 had her with the lead going into the finals, De Smet's Mackenzie Zell went 121-07 and Scotland's Delanie VanDriel threw a 123-11 to lock up the top two spots.
"Yeah, I was disappointed, but it just wasn't my day," Diede said. "Two other girls threw their PRs and I was consistent with what I've been doing. Going into the weekend I put it all in God's hand and whatever happened was God's plan."
Edelman accounted for 11½ of Menno's 39½ team points, thanks to a third-place finish in the 800 and a tie for third in the pole vault. Even though she missed out on her personal goal of breaking 2:25.00 in the 800, her 2:27.28 clocking was a personal best and put her two spots in front of where she came in
As for the pole vault, she kind of shrugs at falling short of 9-0, instead tying for third with a day-best 8-09.
"Pole vault is not my favorite thing," Edelman said.
Munkvold's points came in the hurdles — six of them for a third-place finish in the 100 and one for an eighth-place finish in the 300. She said she was satisfied with her showing in the 100 hurdles — the first time at state in the event — even if her effort in the preliminary round wasn't stellar. Munkvold got off on her steps toward the end of the race and ended up going over the last hurdle with the wrong leg.
"That slowed me down a little bit," she said, "but I knew if I got into finals I could redeem myself."
Still, Munkvold ended up winning that prelim in 16.57 and then clocked a 16.18 in the final — a personal best that was good enough for third place overall.
She wasn't quite as happy with the 300 hurdles, a race she had run at state her freshman year, just missed out on in 2019 and never got a shot at in 2020 because of the coronavirus pandemic.
"I was hoping to run a little faster and a little better," said Munkvold, whose time of 50.02 was s bit slower than her incoming best of 49.75. "But I was happy I at least made it onto the podium, even though it wasn't my best run of the year."
Diede, Edelman and Munkvold did what they had to do to put the Menno girls in a position for a strong team finish. But it was the two relay teams of Derby, Edelman, Massey and Munkvold that made the difference.
Early Saturday afternoon — running the sprint medley relay comprised of Derby and Munkvold in the 200s, Massey in the 400 and Edelman in the 800 — the Wolves finished more than 6 seconds better than their incoming best to wrap up fourth place in 4:26.39 and set a new school record in the process.
That meant five more points.
Then, just two hours later, running Massey-Munkvold-Derby-Edelman in the final event of the state meet, the Wolves turned in that seventh-place performance in the 4×400 that got them to third in the final team standings. The team did it with another personal best of 4:21.06, more than 4 seconds better than their incoming best of 4:25.82.
"It was awesome," said Derby. "There's always pressure on the 4×400 because it's the last race of the day, so that's the one we count on. It came down to that again and my teammates helped me a lot — that really encouraged me."
The freshman admitted she was nervous going into that final event — "I felt like I was going to puke" — but ran to a PR on the third leg of the race and caught a girl at the end to put Edelman in a position to finish strong on the anchor carry.
"I was shocked," she said after seeing the video board display the final results showing Menno seventh in the 4×400 and, shortly thereafter, third as a team. "Just very, very happy. This is one of the best seasons the girls have ever had. It still is a shock to me."
"It means so much to me," Massey said Monday, two days removed from the Rapid City experience but still full of adrenalin. "Getting to run with that group one last time — we made history, and to do it with those girls, I'm still on a high. I smile every single time I think about it."
Massey also gave a shout-out to senior Carly Herrboldt, who ran with her on the 4×800 relay team that also competed out west last week. That was the first of three relays in which Massey competed.
"Before the race I was so nervous," she said. "Carly calmed me down so much; her energy and her attitude toward the 4×800 set the tone for me."
She also credits coaches Kari Zeeb and Liebl for getting her in the right frame of mind.
"Kari and Ryan told me before the relays what they thought I could do," she said. "They were so supportive. They believed in me and that made a big difference."
All of it added up to an unforgettable weekend out west.
"The whole season we've been doing really good, but I didn't know we would be able to go into state and do something that big," Diede said early this week. "Unreal. Realizing what we did was awesome, but it still doesn't seem real."
"It's definitely up there," Edelman said when thinking about where this ranks on her list of accomplishments as one of the best student-athletes Menno has ever seen. "Right up there with that Sweet 16 game."
"The kids deserve all of it," said Liebl, who one week before state track watched the Menno girls win their first region track title in school history. "They've worked their butts off all year, especially these last two weeks. I'm just so happy for the girls."
"I unpacked my stuff yesterday (Sunday) and I pulled out my spikes and it hit me a little bit — that high school sports are over," said Munkvold, who will continue her education at Dakota State this fall but will say goodbye to competitive athletics. "It makes me feel kind of sad, but I'm also happy with how it ended.
"I'm just glad that, as a team, we could make that kind of impact and leave that behind — knowing that's how people will remember us."