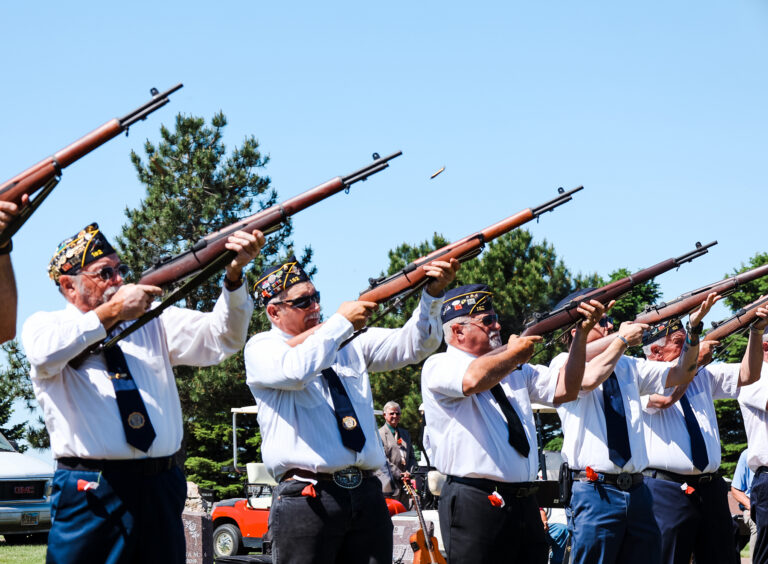 news
A MENNO SALUTE
JEREMY WALTNER  – PUBLISHER
The firing squad of the Rames-Bender Post 152 of the American Legion stood at attention as former commander of the post and Retired Staff Sergeant Shirlene Simonsen read the names of 354 men and women from the Menno area who served in the Armed Forces and have passed away — some of them in combat. Moments later the men in uniform raised their arms and fired off a volley of three rounds representing the 21-gun salute, the sound of gunfire piercing the air of what was a picture-perfect, 70-degree Monday morning, May 31.
It was a moving, somber and patriotic demonstration at a Memorial Day service once again held at the Menno Cemetery in front of dozens of men, women and children who had assembled to remember those who served their country and have since lost their lives.
"God of power and mercy, you destroy war and put down our earthly pride," prayed Bob Rennolet, commander of the American Legion Post 152 and emcee of Monday's Memorial Day observance, in the opening moments of the 10:30 a.m. program. "Banish violence from our midst and wipe away our tears, that we may all deserve to be called your sons and daughters. Keep in your mercy those men and women who died in the cause of freedom and bring them safely into your kingdom of justice and peace."
The 2021 address was offered by Maurice Bueber, who has spent his life in the Tripp area where he farms and has an auction business and serves as a lay pastor. Bueber, 70, told The Courier he was in school when he was drafted for Vietnam and was preparing to report to basic training in Kansas when the war ended.
"I never did serve in the military," he said, "but I was sure ready to go."
"I listen to the stories of the folks that came back to school having been in Vietnam and it was a hard war to fight," Bueber continued. "There were really some gruesome stories, but they did their job and weren't appreciated very much when they came home.
"But when you serve your country," he said, "you do what you have to do."
In his remarks Monday morning, Bueber focused on the one constant that has been with the country since the beginning — even before George Washington and his army won independence over the British.
That is, God's hand in the fabric that has woven together the United States.
"We live in the greatest nation in the world," he said. "In fact, we may live in the greatest nation in the history of the world. We have opportunities, freedoms and privileges here that are the envy of the world. Was that all by coincidence, or was it the providence of God?"
Bueber took the audience back 400 years when the Mayflower landed at Plymouth Rock in Massachusetts and noted that, before these new settlers left their ship, they made a covenant with God known as the Mayflower Compact.
"In that covenant, they vowed that they would bring this new nation to become a nation that would serve God," he said, "that would take his word throughout the world."
In that first year, more than half of the 120 people who had landed at Plymouth Rock died.
"But they remained faithful."
Bueber then took the audience to 1776, when a new nation of 13 small colonies declared their independence from British rule — the most feared political power in the world.
"What chance would they have?" he said, noting that the very first flag of the Colonial Army was a white sheet with that included a palm tree and the words, "An appeal to heaven."
"George Washington understood that on their own those small colonies would never defeat that great power of Britain," Bueber said. "So he was on his knees in an appeal to heaven."
In the war that followed, weather frequently favored the revolution and enabled them to gain the upper hand that ultimately led to British surrender, "realizing they were not just fighting the colonies, they were fighting God himself."
Twelve years later, he said, the Continental Congress was struggling to come up with a document to help guide the new country until Benjamin Franklin reminded the rest of the Founding Fathers that it was a call on the divine for help that aided them in war.
"We need to do that now," Bueber said. "From that day forward, every day of the convention was started in prayer for guidance, and in the next month a document came out of that convention that is maybe only second to the Bible itself — the Constitution of the United State of America."
In the 240-some years since, he acknowledged that it has been a struggle to maintain the republic that was established in Philadelphia in 1787.
"We have had enemies from without who seek to destroy us," Bueber said. "We have had enemies from within. It has been a constant battle. There has been much blood shed, but the republic still stands.
"The providence of God has been part of that the whole time."
That includes the World War I era, when President Roosevelt and the United States learned that chemists in Germany had figured out how to split an atom and were trying to develop an atomic bomb.
In 1941, after Japan's attack on Pearl Harbor, the Manhattan Project began and the United States began its own successful development of the atomic bomb ahead of the efforts of both Germany and Japan.
"Now I'm not saying the atomic bomb was a good thing," Bueber said. "But can you imagine how you and I would have lived for the last 80 years in this country had the Nazis gotten that bomb first? Was that coincidence or was that providence of God?"
Bueber also noted that the United States has observed a National Day of Prayer every year since 1951. Established by Harry Truman and passed by Congress, it was originally held on July 4 before being moved in 1983 to the first Thursday in May.
Since 1951, it has been customary for the president to issue a proclamation asking the nation to come before God on its knees, and for clergy to meet with both chambers in prayer.
In 1951 Harry Truman petitioned Congress that there should be a National Day of Prayer.
"But times are changing," Bueber said. "This year, May 8, 2021, when the president gave that proclamation, it was the first time ever there was no mention of God."
Not only that, he said, but clergy were not invited to Capitol Hill.
"We are fighting a battle in this nation," Bueber said. "There is an element here that is trying very, very hard to draw us away from God. And sad to say, our government is becoming less godly.
"It falls on us, then, to stand up, to let our views be known that we choose to be a nation under God," he continued. "We need to be people of faith. We need to let the world know we are people of faith." Bueber said countless men and women have died fighting to preserve the freedoms Americans enjoys.
"Wouldn't it be a shame that on our watch, because we failed to stand up against things in this country that we know are against those things of God, that we would lose those freedoms for our children and our grandchildren?
"The battle is not now on the shores of Normandy or in the Southeast Pacific; the battle is right here in the United States, and we are the soldiers. We need to engage."