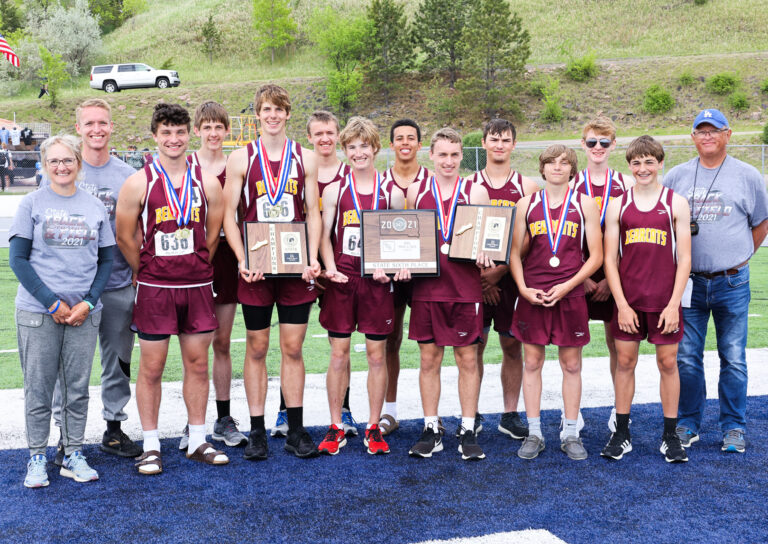 news, sports
FAM BOYS FINISH 6TH
JEREMY WALTNER  – PUBLISHER
There were a number of questions that accompanied the Freeman Academy/Marion boys to last week's State B Track Meet in Rapid City. Would the 4×800 live up to expectations and run to a win? How would the sprint medley do in a competitive field? And what would senior Titus Roesler's final act as a standout runner with the Bearcats look like?
By 3 p.m. Saturday afternoon, there were but two questions remaining: How should the boys stand for the team photo, and who should hold the hardware?
Freeman Academy/Marion had a decent amount of it, thanks to wins in not one but two relays, as well as a sixth-place finish in the Class B team standings. The Bearcats ended the day-and-a-half meet, held at O'Harra Stadium at the South Dakota School of Mines and Technology May 28 and 29, with 39 team points.
FA/Marion did it on the shoulders of the winning 4×800 and — surprisingly — sprint medley relay, which generated 20 points for the Bearcats.
Roesler finished third in the 3200 (6), fourth in the 800 (5) and fifth in the 1600 (4), and junior Thalen Schroeder tied for fourth in the high jump (4).
"That was pretty exciting to be able to do that," said Suzanne Koerner, who coaches the team alongside Jerry Kippes. "We kind of figured that we could score 30 to 35 points and wasn't sure how that would come out in the end, but I thought we could maybe nab sixth."
Roesler suspected it was possible, too, after going through all the incoming times and calculating where teams would finish if they competed as advertised.
"I had gone through seeding and scored everything and we were sixth," he said. "I think we all knew we had a shot at it."
Objective one was for the Bearcats to run a successful 4×800 relay on Friday. The team of Quincy Blue, Malachi Myers, Schroeder and Roesler had the top incoming time of 8:34.84 and were heavy favorites to come out on top.
"I just felt confident — probably as confident as I have felt of any race," said Koerner. "I didn't think we would have any problems with it. Their goal was to slip into the 8:20s and they were awfully close."
The Bearcats ended up shaving more than 4 seconds off their incoming best and finishing in 8:30.17 — well ahead of Hanson's runner-up showing of 8:37.34.
That first day of competition also included Roesler's 3200 and Schroeder's high jump.
While Roesler finished third in the race — just as he had gone into it — Schroder never reached his best incoming height (6-1) and second-place seeding and ended up tied for fourth after clearing only 5-09. Still, points were points and at the end of the day on Friday, the Bearcats had 20 of them.
Roesler got the team started on Saturday morning with a fifth-place finish in the 1600 — two spots lower than his incoming seeding — but the Bearcats would make up for it three hours later when the sprint medley relay team of Keaton Preheim, Gavin Haggerty, Blue and Schroeder took the track.
"I was hoping we would place," Koerner said of the quartet that came in seeded sixth with a 3:49.84 clocking and went out first in a time of 3:47.24. "The medley was clutch. That was one race I didn't not expect to do that well in."
Koerner noted that the Bearcats' best incoming time was with Roesler as the anchor, but the senior had been used up in four other events so FA/Marion had to turn elsewhere. Blue had been the choice earlier in the season, but on Saturday morning, the coach said she opted to put Blue in the 400 and give the anchor 800 to Schroeder.
"I think both guys were very happy with the switch," Koerner said. "Thalen felt strong and wanted to go for that 800 and Quincy knew he had an open 800 and was very happy to move to the 400. I think it was in our best interest to switch it out."
There's no telling, of course, how it might have played out the other way, but Schroeder dazzled with a gutsy 800 that put the Bearcats in a position to win the race.
"Thalen really came through," Koerner said. "That's the best I've seen him at any meet."
"He had a lot of mental strength to hang on," said Roesler, who watched his teammate take the lead in the fastest section of the relay before being passed up by Bison senior Jonathan Burkhalter, who won both the 1600 and 3200 over Cody Larson of Wagner. "We all knew that was the only person who would challenge him and he did a great job of staying right there."
Burkhalter ended up edging Schroeder in the section, but Schroeder's hard run paid dividends after the race when Bison was disqualified for a handoff outside the exchange zone. The Bearcats' time was the next-fastest, giving them their second relay win of the meet.
"The medley was a great surprise," said Roesler. "Just incredible."
Had Bison not been disqualified, they would have finished with 43 points to the Bearcats' 37 — and in sixth place.
"To be up that far and to get that extra help with Bison disqualifying — that was the difference," Koerner said.
The open 800 was the Freeman Academy/Marion boys' final event, which ultimately gained the team five more points thanks to Roesler's fourth-place finish. His time of 2:04.42 was just under his incoming best of 2:04.24, but still outstanding considering it was only the second time in his career that he competed in an open 800. The first came at the Don Diede Relays and was easily good enough to qualify him for state.
"That's something I wish I could have done more of," Roesler said of the shorter races, instead falling into the distance pattern earlier in his high school years. "The 3200 and 1600 you have to be patient. The 800 is just all out."
Roesler said finishing fourth in an open event he had run just one other time was one the highlights of a state track meet that he carried on his back.
"Obviously Titus's contributions come in many forms, but over this weekend in particular, his placings and points were crucial. He was our lynchpin, our cornerstone. And no one works harder. That's been said many times before; you can see the respect, not only from his teammates, but other schools, coaches and athletics. You know when they see it, it is so."
Freeman Academy/Marion was also represented by a number of other track and field athletes at last week's state meet, including sophomore Jada Koerner, who went into the competition with strong times in both the 1600 and 3200 and a key part of the Bearcats' 4×400 and sprint medley relays.
But a bug earlier in the week had knocked her out, and by Wednesday evening, her mother and coach was wondering if she would even be able to compete.
She did, "but just didn't have enough time to come back from it," Koerner said. "There just wasn't enough in the tank."
Koerner ended up 10th in the 3200 and 12th in the 1600 while the 4×400 and medley relay teams finished 14th and 13th, respectively.
"It was so sad to see," said the coach. "She obviously feels bad for herself, but she feels like she let the rest of her team down, too. I'm just glad she got to compete. Those are the life lessons you can bring to the sport. It's not something you wish for, but you take it and you learn from it and grow from it and become stronger.
"She'll be back."
And it shouldn't diminish from her season and the season that the entire girls team had. Koerner said she improved her time by 35 seconds in both distances races, "and we did a lot of good things as a team — as a little tiny girls team. They'll all be back."
For a rundown of the FA/Marion representation at state, see the box above.