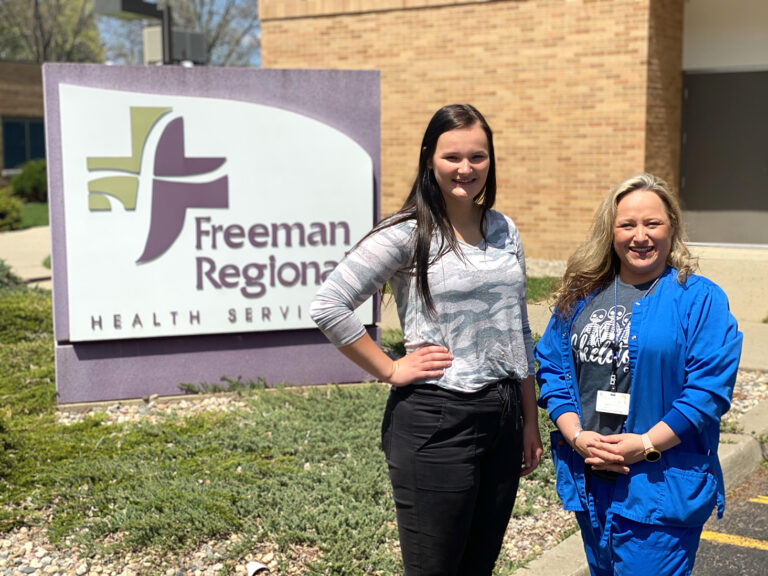 news
BUILD S.D. + FRHS + GOOSSEN =Â WIN-WIN-WIN
JEREMY WALTNER  –  PUBLISHER
Young adults heading into a world of post-secondary education frequently face some tough questions, like, "What course of study to pursue?" and "How am I going to pay for college?" and "Will I even be able to find a job once I graduate?"
Not Rachel Goossen.
The 2021 Freeman High School graduate has her foreseeable future all set up, thanks to a partnership between Freeman Regional Health Services (FRHS) and Build South Dakota, a new $50 million scholarship program kickstarted by a $25 million donation from T. Denny Sanford.
Build South Dakota works with sponsors like FRHS to cover the cost of tuition at one of four in-state technical colleges offering more than 80 courses of study: Lake Area Technical College in Watertown, Mitchell Technical College, Southeast Technical College in Sioux Falls and Western Dakota Tech in Rapid City.
The understanding is that, after completing their course work, the student will return to work for their sponsor for at least three years after graduation.
"It's an amazing program — absolutely wonderful," says Joey Totton, who has been the director of radiology at FRHS for the past three years. "She's guaranteed a place of employment when she gets out for at least three years and we're guaranteed an employee for at least three years. That's an amazing tradeoff."
Not only does Goossen know where she is going — Mitchell Technical College — what she will study — radiology — and where she will work — FRHS — she also knows that her schooling will be paid for.
"She's not coming out with years of student debt," Totton said. "It's a win for everybody."
It's also a win for Freeman.
"I think when students return to the communities they graduate from, it is such a big plus for everybody involved," she said. "She's going to know a lot of the people and they're going to know her; they're going to feel comfortable with her, and she's going to be comfortable with them."
That Goossen benefits, too, really does make this a win-win.
"Kids going into school, they don't know what they're going to be doing, they don't know where they're going to be going, and the medical market is peaks and valleys," Totton says. "There's millions of jobs out there and then there's none. There'll be sign-on bonuses and then you can hardly find a full-time job.
"With this, she can go into school absolutely knowing that, in two years, she's not going to have a problem. She's going to be able to walk out, she's going to take her boards, and she's going to be able to start her job. To be able to have that lifted off your shoulders before your first day of school has got to be a huge relief."
Goossen, who has been a CNA at Oakview Terrace since December, learned about the Build South Dakota Program as a student at Freeman Public. But she says it wasn't until she started visiting with FRHS CEO Courtney Unruh — and learned that the local health care facility would sponsor her — that she acted.
"We always had conversations at school about it, but after I started at Oakview Terrace and got to talking with Courtney, it really got me thinking about Build South Dakota," Goossen says. "It was a perfect opportunity and I reached out again to Courtney and we had that conversation."
Totton said the application window with Build South Dakota is narrow — January through March — which means the student needs to have their application for college in and accepted in a timely fashion so the sponsor can take the next step.
Goossen took her test, received a text within an hour that she had been accepted into the radiology program at Mitchell Tech, and FRHS took it from there.
"On our side, it was pretty easy," Totton said.
Unruh says FRHS's partnership with Goossen and Build South Dakota "feels great."
"Especially because I grew up here in Freeman, left and then returned, it's just been so rewarding," she says. "We want to build these relationships with these young adults and invest in them, because we know they will invest in our community, our clinic, our nursing home and our hospital. They will be caring for their family, friends and loved ones."
Goossen is FRHS's first sponsor and Totton said she hopes their partnership with Build South Dakota can benefit other students in the future.
"We just really want people to know about this program — that it's out there," she said. "It is very difficult sometimes to get people who aren't from small communities to come and work in smaller communities; they think the larger ones are better, that there's better pay and better opportunities. It's nice to be able to show them that they can come back — that it's not what they think it is. We hope that more people will catch on to this because it's an awesome program."
As for Goossen, she's excited to be able to return to her home community after two years in Mitchell. "I'm just really happy to be able to come back to Freeman," she said. "Family is really big to me and they're all around here. Just to be able to stay here and have a job after college — that's a really good feeling."
That desire to return to the Freeman area is a trend she has seen in her peers.
"There are very few who are like, 'I'm leaving; I'm getting out of here; I don't like this," said Goossen. "There are a lot who like the hometown feel, that small-town vibe and just knowing everyone and being comfortable in your town."
Unruh sees that trend, too.
"There's a shift where they're wanting to stay local and work at home and be close to family," she said. "I think that's a strong, powerful message for our small communities and why we need to support what we have here."