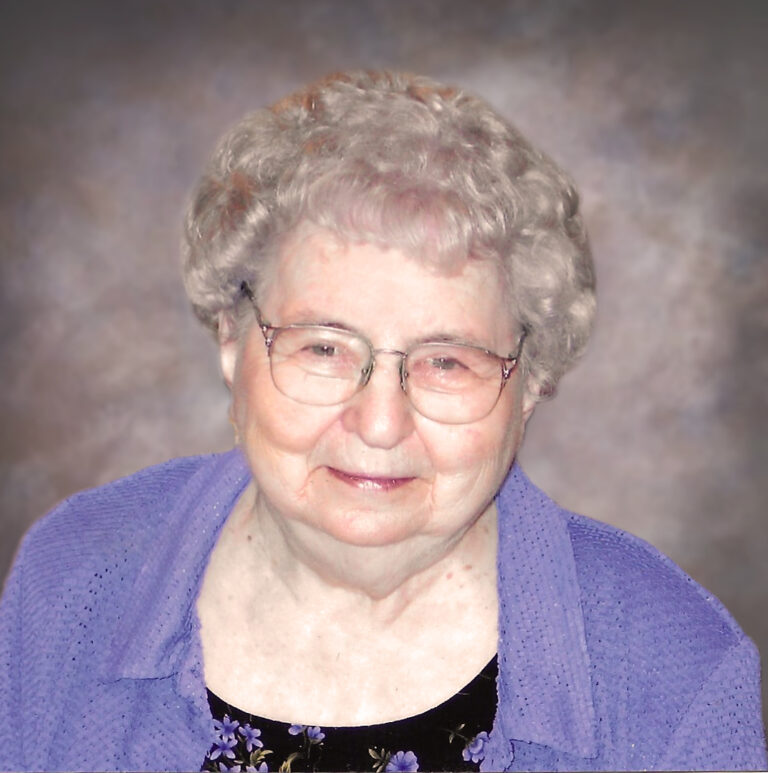 obituaries
Mary Wollman Hofer: 1920-2021
Mary Wollman Hofer was born July 12, 1920, the eldest of six children born to Andrew R. and Barbara (Glanzer) Wollman in Bridgewater, South Dakota. Mary passed away on June 19, 2021, while under Hospice Care at the home of Gary and Gloria Stahl in Torrington, Wyoming.
Mary is known to most folks as Missionary Mary Wollman, Our Sister/Sister-in-law, Mary, Aunt Mary, and Cousin Mary Wollman. A loving Step-Mother/Mother-in-law, Grandma Mary, Great-Grandma Mary (GG), and Great-Great-Grandma Mary, she is cherished by many.
On July 24,1938, Mary, along with twenty-three believers, upon the confession of their faith in Jesus Christ as their Lord and Savior, was baptized by Rev. David W. Tschetter and became a member of the Salem Krimmer Mennonite Brethren Church of Bridgewater.
Mary graduated from Freeman Academy in 1939, attended Freeman College, and taught in several country schools. She graduated from Grace Bible Institute, Omaha, Nebraska, in 1948 and graduated from Goshen College, Goshen, Indiana, where she received a Bachelor of Science degree in elementary education in 1951.
Mary was honored on a "Day of Farewell" on June 24, 1951, at the Salem KMB Church. That day she became "Missionary Mary Wollman" on her way to Addis Ababa, Ethiopia, to teach missionaries' children at Bingham Academy, a boarding school which is still in existence today as Bingham Academy Christian International School.
Mary taught at Bingham Academy for twenty-three years, after which she kept in touch with many students, especially those who later returned to the mission field as missionaries.
Upon retiring from the mission field, Mary cared for her mother before finding employment as a residential supervisor at the Yankton Area Adjustment Training Center in Yankton, SD, where she was employed until 1988.
On May 16, 1987, Mary married Edgar A. Hofer and not only became a wife for the first time at age 66 but also an instant grandmother. Mary loved playing the role of Grandma to two-month-old Karisa Hope. They developed a very special bond as Karisa grew older.
Edgar and Mary enjoyed 5½ happy years together living in Yankton, SD.  He went to his heavenly home very suddenly on December 26, 1992.  In 1999 Mary moved to Crown Pointe, an independent and assisted living facility in Sioux Center, Iowa, to be near her family.
In 2015 she joined the family by moving to Torrington, WY, where her granddaughter Karisa Bennett is the Executive Director and grandson-in-law Zach Bennett is the Facilities Director of Haven on the Rock Christian Camp in Ft. Laramie, WY. There she entered the Goshen County Heath Care Community.
On July 12, 2020, Mary celebrated her 100th birthday, and on October 1, 2020, due to COVID-19, Mary joined Gary and Gloria in their home where she was surrounded by family, including great grandchildren Daniel, Hope, David, and Baby James. She spent hours watching them play, working on her Bible Word Search puzzles, and watching hymns being sung on "Living Room Sing-a-long" and "Natalie Raynes" playing the piano on YouTube on the large screen TV. 
We have been truly blessed by the prayers, love, and joy Grandma Mary has brought to our family. What a delight to hear her recite many passages of Scripture! 
Those waiting to be reunited with her in heaven are her step-daughter and husband Gloria (Hofer) and Gary Stahl of Torrington, Wyoming; granddaughter Kerrie-Sue Stahl of Torrington, Wyoming; grandson Keith (Cassandra) Stahl of West Des Moines, Iowa, great-grandsons Makiah and fiance Grace of Spirit Lake, Iowa, and Chase of Ames, Iowa; grandson Kenton (SaraAnne) Stahl, great-granddaughter Kendra LeAnne Moberly, great-great-granddaughters Amelia, Audrey, and Kennedy, and great-grandson Kenton, Jr. (KJ), all of Liberty, MO; granddaughter Karisa (Zach) Bennett, great-grandchildren Daniel, Hope, David, and James of Torrington, WY; Mary's brother Sam of Huron, SD; sister Naomi (Ted) of Sioux Falls, SD; sisters-in-law Alma Wollman of Freeman, SD, and Karen Wollman of Menno, SD, along with numerous nieces and nephews.
Those who preceded Mary in death are her dear husband Edgar A. Hofer; her parents Andrew R. and Barbara Wollman; sister-in-law Mary Wollman; sister Susie and her husband James Evans; brothers Rueben and Simon; brothers and sisters-in-law Robert and Melina Hofer, Eugene and Martha Walter, and John Hofer, and great-granddaughter, Kristel Renae Hope Stahl.
Memorials are designated for Haven on the Rock, 560 Rim Rock Road, Fort Laramie, Wyoming 82212
Memorial Service will be held on Saturday, July 10th at 11 am at Salem MB Church of Bridgewater.